Web
Titan

Gateway
The Best Web Security Gateway solution to protect your company, users and network when on line.
Why Use WebTitan Gateway?
WebTitan Gateway is a web security and content filtering solution that offers best of breed malware protection, highly granular browsing policy controls and comprehensive reporting while seemlessly integrating into your existing network. It is delivered as a software appliance, run on your own hardware or in your virtual infrastructure. Higly scalable, functionally rich and easy to deploy and manage, it is designed to provide the best possible protection for your organisation when on line.
How does it work?
Set Up and Deployment Options
Deployed as an on premises gateway
Delivered as a software appliance which can be run as an ISO directly on your hardware or on your virtual infrastructure
Supports all the main hypervisors
Can be set up in full proxy or transparent proxy mode.
Supports HTTP/HTTPS
Fully scalable to thousands of users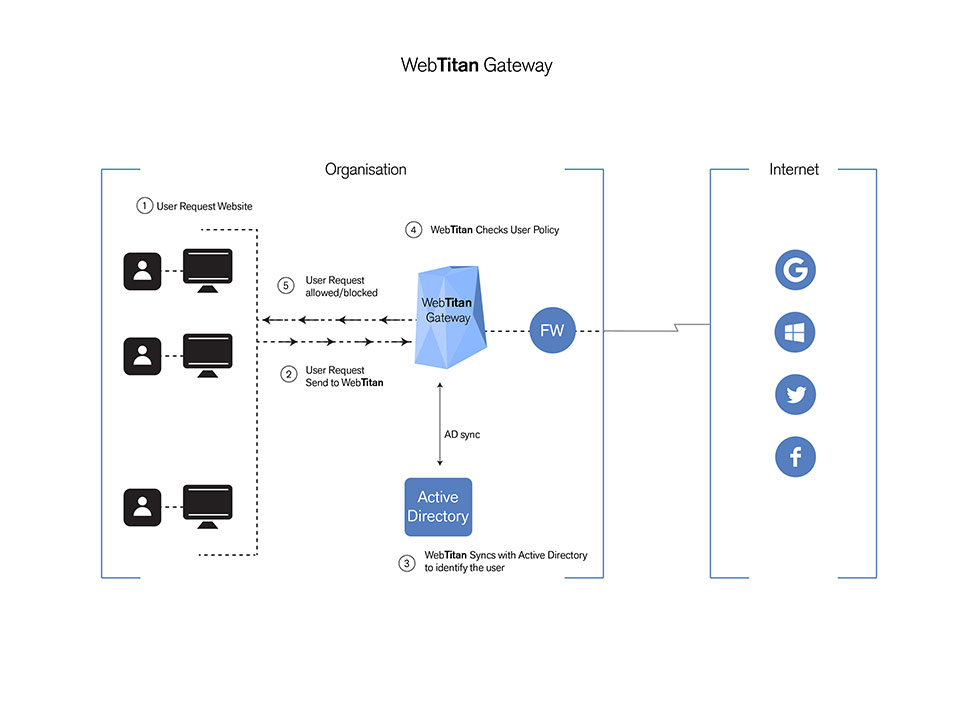 What can it do?
WebTitan Gateway fits easily and seemlessly into your existing network. It is functionally rich, offering multiple integration options, granular policy controls and comprehensive malware protection. All designed to be easy to use and simple to manage.
Integration and Management
Full and Transparent Proxy Options(inline pass through or WCCP)
Proxy Cache
Activite Directory/LDAP Integration
Client Auto Configuration, No Local Client Software Required
Automated Back Up and Restore Function
Automated Updating
Full Rebranding Options including Customisable Block Page
Full Diagnostic Tool Set
Protection
Anti Virus
Malware Protection
Phishing and Fraud Protection
Spyware Protection
Comprimised Websites and Spam Website Blocking
SSL/HTTPS Inspection
Compliance Made Easy
Granular Policy Engine, Per User and Group Policies
Catagory, Time, Bandwidth, Control Options
53 Website Catagory Options, plus 10 Customisable Catagories
File Type Controls
URL and Web Content Keyword Analysis and Blocking
Application and Port Blocking
Safe Search Integration with all the Main Search Engines, including Google, Yahoo and Bing
You Tube for Schools Integration
Domain Whitelisting and Blacklisting
Multiple Administration Roles, including Policy Managers, Reporting Managers and Admisistration Managers
Policy Violation Alert System
Reporting Features
Real Time Browsing View with Full Search Function
4 Predefined Report Groups – Behaviour, Security, Trend and Bandwidth.
37 Predefined Report Types. All Customisable Through Multiple Filter Options
Dynamic Drill Down Function
Automated Report Scheduling and Delivery
PDF and Excel Export Options
Syslog Integration
Auto Retention Period Alerting
WebTitan Gateway includes a full reporting suite. It gives a live view of your users browsing activity, fully searachable by multiple filters including time, user and catagory. It also offers predefined reporting options including behaviour, security, bandwidth and trend reports, all fully customisable through multiple filter options. All reports can be automated and scheduled and delivered by mail, pdf and excel.
"The ability with WebTitan to protect our users very simply and quickly requiring limited IT resources distinguished WebTitan from its competitors"
Need Help Ordering?
Call us on USA +1 5859735070 or IRL +353 91 545555
What We Do Is Better
Let's get started today