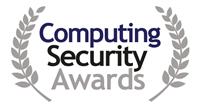 The 2017 Computing Security Awards ceremony will be taking place on October 12, 2017 in London. The gala event attracts cybersecurity firms from all over the world, all of which hope to leave with a prestigious award.
The Computing Security Awards are highly coveted. Each year, the best enterprise cybersecurity solutions are selected as finalists and are put to a public vote to determine the best loved, and most effective cybersecurity solutions. This year, there will be 33 awards presented to enterprise-class cybersecurity solution providers, resellers and distributors.
To be named as a finalist for the 2017 Computing Security Awards, a company must have gone the extra mile and developed a highly effective and easy to use solution to keep enterprises protected from an ever-increasing range of cyberthreats.
As always, the quality of the competition is strong. This year's finalists include new products that have come to market in the past 12 months alongside tried and tested cybersecurity solutions that have been tweaked to improve performance and block more threats.
TitanHQ is proud to announce that its enterprise-class spam filtering solution – SpamTitan – has been named a finalist in the 'Best Anti Spam Solution' category of the 2017 Computing Security Awards.
"This recognition showcases the strength of the SpamTitan range of security solutions," said Ronan Kavanagh, CEO, TitanHQ. "Our security solutions help thousands of companies worldwide to protect their organisations from malware, spam, phishing attacks and many other email and web threats. We provide powerful network security solutions that are easy to implement with multiple deployment options available."
The winners of each category are decided by a public vote. Readers of Computer Security Magazine and other IT professionals are now being encouraged to vote for their favorite security products. Votes for each cybersecurity solution can be placed on this link until October 5, 2017.
About SpamTitan
The past 12 months has seen the number of new malware and ransomware variants grow at an extraordinary rate. Email spam volume has increased once again and email is now the attack vector of choice for cybercriminals.
2017 has already seen major attacks on businesses and some of the largest malware campaigns ever conducted. Many of those attacks have targeted employees via email. The need for an advanced spam filtering solution has never been greater.
The SpamTitan suite of cybersecurity solutions has been developed to offer enterprises the best possible protection against email-borne threats. With SpamTitan, enterprises are able to quickly and easily protect their end users and networks from all forms of email-based attacks.
The solution is flexible, scalable, easy to deploy and manage, blocks more than 99.9% of spam and malicious emails, and has an exceptionally low false positive rate. Inbound and outbound emails are subjected to a wide range of tests to ensure only genuine emails are delivered and enterprise users are protected from malware, ransomware, phishing and social engineering attacks.
SpamTitan has recently been awarded 5 stars by the Spiceworks community for the effectiveness of the solution, ease of use, and industry-leading customer support. SpamTitan has also collected no less than 37 consecutive Virus Bulletin Spam awards.