Microsoft 365 is one of the world's leading software platforms, boasting over 120 million business users. Although the M365 spam filter offers a reasonable level of security, some businesses find it lacking against highly-sophisticated cyber threats especially phishing attacks. Because of this, many organizations are adopting a defense-in-depth strategy, using SpamTitan, to provide additional protection for their M365 users from advanced and persistent phishing threats.
SpamTitan Cloud works seamlessly with M365 allowing you supplement M365s native email security with award-winning phishing protection from a dedicated security provider.
SpamTitan email filtering includes many features to supplement the spam filter on M365, including advanced security like protection from phishing and spear phishing, Business Email Compromise, and zero-day protection.
SpamTitan includes many features to supplement the spam filter on Office 365, including:
SpamTitan focusses on a defense in depth approach protecting against malware threats, spear phishing attempts, and zero-day attacks.
Predictive techniques including Bayesian analysis, heuristics, and machine learning to block new varieties of spear phishing, whaling and zero-day attacks before they reach your mailbox.
Heuristic rules to detect phishing based on message headers et al. These are updated frequently to address new threats.
Quick deployment as a gateway or cloud-based solution.
Easy synchronization with Active Directory and LDAP.
Administered via a web-based portal. No agents required.
Spam Confidence Levels can be applied by user, user-group and domain.
Whitelisting or blacklisting senders/IP addresses.
SpamTitan is infinitely scalable and universally compatible.
The combination of these features ensures SpamTitan protects  users and businesses, using Office 365 from whaling, spear phishing, impersonation attempts, and business email compromise (BEC) attacks.
FAQ
How does SpamTitan better protect businesses from phishing attacks?
SpamTitan checks every URL in every email against blacklists of known phishers, spammers, and cybercriminals; and uses a process known as Greylisting to mitigate attacks from previously unknown malicious sources.
What does the Greylisting process consist of?
Greylisting is a frontend defense against phishing, spam, and malware which consists of returning all non-whitelisted emails to their source servers with a request to resend the email. Spammers´ servers are often too busy to respond to the request before the request times out.
What other benefits are there of using SpamTitan?
SpamTitan has a number of capabilities not present on Office 365. These include double anti-virus scanning, customizable content filtering rules (by spam score per user, team, department, etc.), and the ability to block specific types of attachments by user, team, department, etc.
What is the advantage of customizable content filtering rules?
With customizable content filtering rules, system administrators can apply higher spam thresholds to one department (i.e. Finance) and relax them for another (i.e. Sales) so that areas of the business more exposed to risk are better protected while (in this example) potential leads that might otherwise be rejected as spam are still delivered to recipients´ inboxes.
How much does SpamTitan cost after the free trial period?
This depends on the number of email boxes you need to better protect and the preferred payment option. You can find details of the payment options on our cost calculator page or you are invited to contact us for a no-obligation quote.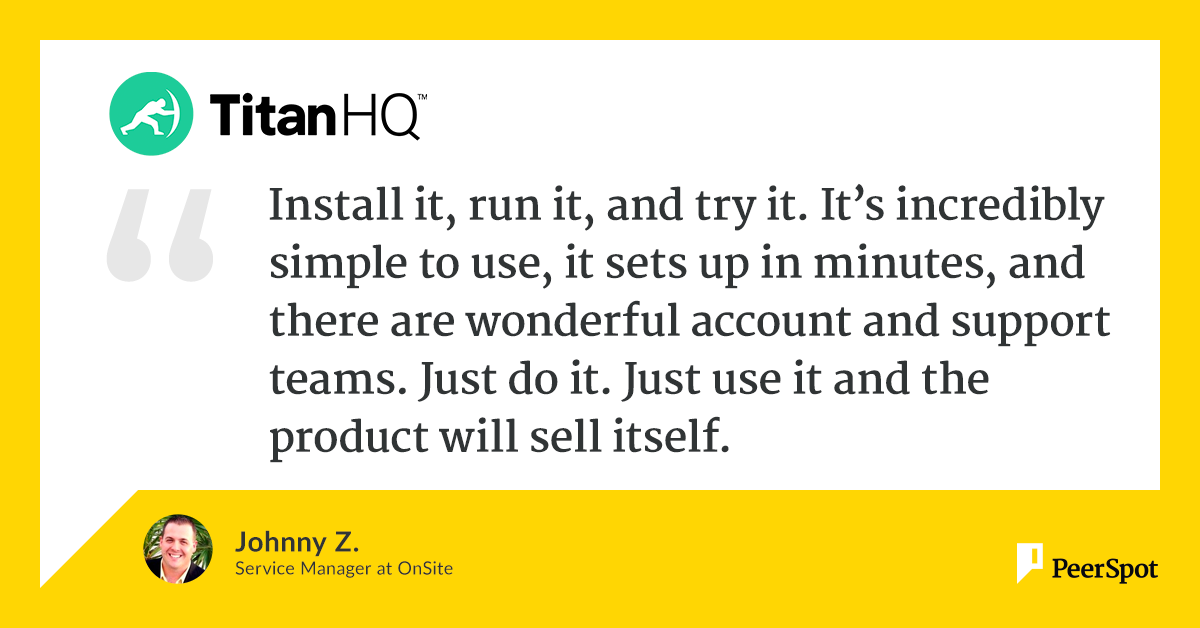 What We Do Is Better
Let's get started today