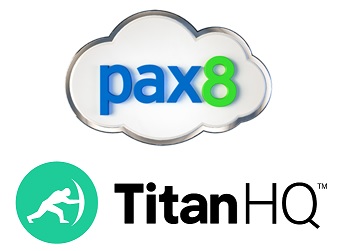 TitanHQ has announced a new partnership with Pax8. The partnership means Pax8 partners now have access to TitanHQ's cloud-based email security solution – SpamTitan – and its DNS filtering solution, WebTitan.
Pax8 is the leader in cloud distribution. The company simplifies the cloud buying process and empowers businesses to achieve more with the cloud. The company has been named Best in Show for two consecutive years at the Next Gen and XChange conferences and is positioned at number 60 in the 2019 Inc. 5000 list of the fastest growing companies.
Pax8 carefully selects the vendors it works with and only offers market-leading channel friendly solutions to its partners. When searching for further cybersecurity solutions for its partners, TitanHQ was determined to be the perfect fit. TitanHQ is the leading provider of cloud-based email and web security solutions for managed service providers (MSPs) serving the SMB marketplace and its cybersecurity solutions are much loved by users. This was clearly shown in the 2019 G2 Crowd Report on Email Security Gateways where SpamTitan was named leader, having achieved 4- or 5-star ratings by 97% of its users, with 92% saying they would recommend the solution to other businesses.
Phishing, malware, and ransomware attacks have all increased in the past year and the cost of mitigating those attacks continues to rise. By implementing SpamTitan and WebTitan, SMBs and MSPs can secure their email environments and block web-based threats and keep their networks secure.
SpamTitan provides excellent protection for Office 365 environments. The solution detects and blocks phishing and email impersonation attacks and prevents known and zero-day malware and ransomware threats from reaching inboxes. The WebTitan Cloud DNS filtering solution blocks the web-based component of cyberattacks by preventing end users from visiting malicious websites, such as those harboring malware and phishing kits.
Both solutions are quick and easy to implement, can be seamlessly integrated into MSPs service stacks and cloud-management platforms, and Pax8 partners benefit from highly competitive and transparent pricing, centralized billing, and leading customer support.
"I am delighted to partner with the Pax8 team," said Ronan Kavanagh, CEO, TitanHQ. "Their focus and dedication to the MSP community are completely aligned with ours at TitanHQ, and we look forward to delivering our integrated solutions to their partners and customers."