If you are looking for a Cisco Umbrella alternative, you are not alone. TitanHQ has helped multiple businesses change from Cisco Umbrella to WebTitan Cloud. In most cases, the main reason why businesses seek a Cisco Umbrella alternative is to save money; but – depending on which Cisco Umbrella plan you subscribe to – WebTitan Cloud can also help better protect your business against web-borne threats and give you more control over Internet usage.
One of the challenges of evaluating a Cisco Umbrella alternate is that there are four versions of Cisco Umbrella – ranging in capabilities from a basic (and not entirely effectively) web filter to a top-of-the-range Secure Access Service Edge (SASE) solution. This makes it difficult to conduct apples-for-apples comparisons especially with regards to price due to a lack of pricing transparency with both the licensing costs and the add-ons – some of which are necessary and one of which is mandatory.
Cisco Umbrella Review
The four versions of Cisco Umbrella are DNS Essentials, DNS Advantage, SIG Essentials, and SIG Advantage; and because the versions increase in capabilities as you go through the range, we have provided a synopsis of each version´s capabilities below.
DNS Essentials
DNS Essentials is the entry-level version of Cisco Umbrella. It blocks websites known to be harboring malware and published to conduct phishing attacks, blocks or allows Internet access by domain or category, and enables system administrators to create user policies and view activity reports – albeit at an additional cost if you integrate DNS Essentials with (for example) Active Directory.
The big problem with the DNS version of Cisco Umbrella is that it does not decrypt and inspect the content of encrypted websites. Therefore, if a website is not yet known to be harboring malware – or contains adult content that would normally be blocked by category – the filter will not be able to identify the content and the website will evade detection as a malicious or harmful website.
DNS Advantage
This version of Cisco Umbrella is more advanced than the entry-level version inasmuch as it supports SSL decryption and inspection and will block websites and files based on anti-virus inspection. It also blocks direct-to-IP traffic such as command and control callbacks that bypass DNS filters and can be integrated with the Cisco Investigate console to analyze threats (at an additional cost).
However, like the DNS Essentials version, DNS Advantage only blocks websites by domain, rather than by URL. This can create issues if, for example, you want to prevent users wasting time reading the sports pages of an online newspaper but want to give the finance team access to the online newspaper´s money pages. The same limitation applies to "allow" lists. It´s either all or nothing.
SIG Essentials
The first of two Secure Internet Gateway (SIG) packages improves on the DNS packages by providing more granularity over Internet usage. This version also comes with a cloud firewall that can be configured to block or allow specific IPs, ports, and protocols, while the anti-virus engine can be configured to scan previously benign files to check for previously disguised threats.
The drawback of this solution is that it is not a complete Secure Internet Gateway solution without subscribing to multiple add-ons (for example, outbound traffic scans) or overcoming limitations on services such as cloud storage scans. It is also important to be aware there is a mandatory charge for onboarding (applies to all versions) and an extra charge for priority technical support.
SIG Advantage
SIG Advantage has been acknowledged as a leading SASE solution by Gartner´s Magic Quadrant and this version of the Cisco Umbrella includes almost everything that is an add-on in other versions (except onboarding and technical support). Furthermore, you can enhance the capabilities of the SASE solution by taking advantage of Cisco Talos Incident Response (at a cost).
If there is an issue with this version, it is that it includes many features and capabilities that may exist in other security solutions already being used by the business (i.e., Microsoft Sentinel, Amazon Security Lake, etc.). Additionally, if the business does not have the technical abilities in-house to take advantage of all the capabilities, you won´t see a good ROI from SIG Advantage.
Cisco Umbrella Licensing
Each of the versions has a subscription-based licensing structure – the price of which varies according to the number of users, the length of the subscription, and the location of the business. The cost of add-ons is also calculated in the same way, offering economies of scale to larger companies in the "right" area who subscribe for the maximum five years.
Generally, the cost of Cisco Umbrella licensing has to be paid all-upfront, although some resellers allow monthly, quarterly, or annual payments. Additionally, while you might be able to get a better deal from resellers, you have to be sure that the deal you are getting includes all the add-ons you require to filter the Internet securely and effectively.
How Much Does Cisco Umbrella Cost?
Due to there being four different version of Cisco Umbrella, multiple add-ons, and a lack of pricing transparency it is impossible to answer the question how much does Cisco Umbrella cost. Some resellers advertise the DNS Essentials version with prices starting from $1.50 per user per month (for > 25,000 users/5-year subscription), but it is not possible to determine what this price includes.
Anecdotal evidence suggests the cost of the DNS Advantage version including mandatory onboarding and technical support is $2.70 per user per month for a business with 100 to 499 users. Even if other add-ons are included in the price, this still seems a little high compared with a Cisco Umbrella alternate such as WebTitan for which the equivalent cost per user per month id $1.58.
Is Cisco Umbrella Pricing Negotiable?
Although few businesses reveal how much they are paying for Cisco Umbrella, there does appear to be a range of prices published in user forums and comment boxes that imply you can get a discount off Cisco Umbrella pricing if you negotiate hard enough. What´s not clear is whether any discount off Cisco Umbrella pricing is from Cisco directly or from resellers.
Resellers is probably the best way to go if you are looking to protect a large number of users because resellers have profit margins they will likely be prepared to trim to get the business. Additionally, you can also play one reseller against another. However, beware of "introductory offers", as the price will increase significantly when the time comes to renew the subscription.
Can the Cisco Umbrella Price be Justified?
It depends on what your business needs. If, for example, you compare the anecdotal price of the DNS Advantage version against a Cisco Umbrella alternative such as WebTitan, you could save around 40% by switching to WebTitan. Even if you negotiate a deal for DNS Advantage, the version of Cisco Umbrella you get is still going to lack granular filtering to effectively control Internet usage.
However, if your business needs all the bells and whistles of the SIG Advantage version of Cisco Umbrella – and none of the SASE solution´s capabilities are duplicated in existing security solutions – you may feel the Cisco Umbrella price is justified. However, we would strongly suggest researching what else is available before committing to a long term subscription.
WebTitan Cloud: An Ideal Cisco Umbrella Alternative
Cost is not the only consideration when looking for a Cisco Umbrella alternative – you need to sure that your DNS filtering and Internet security solution is providing you with maximum protection against web-borne threats and maximum control over Internet usage. You can be assured of both with WebTitan Cloud.
For example, rather than updating threat databases retrospectively as some solutions do, WebTitan Cloud´s threat database is updated in "real-time" to mitigate the risk of emerging threats evading detection. Additionally, WebTitan Cloud includes "Zero-Minute" protection against emerging phishing threats.
With regards to maximum control over Internet usage, WebTitan Cloud allows system administrators to apply acceptable usage policies by user, group, department, or location. Policies can also be applied by time of day, or – for schools – by school year to ensure students only have access to age-appropriate content.
Finally, WebTitan Cloud has been developed to be easy to implement, configure, use, and maintain. We aim for minimal administrative overhead, but there will naturally be times when things don't go according to plan. In the event of a problem, all customers benefit from world class support at no extra cost (and in no priority order).
WebTitan Cloud Benefits for MSPs
One of the features of WebTitan Cloud that is particularly attractive to MSPs is the ability to host the solution locally within their own environment. Most businesses will choose to host WebTitan Cloud with TitanHQ, but the option is available if this suits you better. MSPs can also be supplied with WebTitan Cloud in white label format for rebranding and reselling.
Transparent pricing – including monthly billing
Multiple hosting options, including within your own data center
Product can be supplied in white label format for rebranding
No monthly minimums or yearly commitments
The product can scale to meet your needs (and shrink too if needed)
Extensive suite of customizable reports
Easy integration into existing security and customer management systems
World-class customer support included in the cost
Generous margins for MSPs
Access to an extensive library of support materials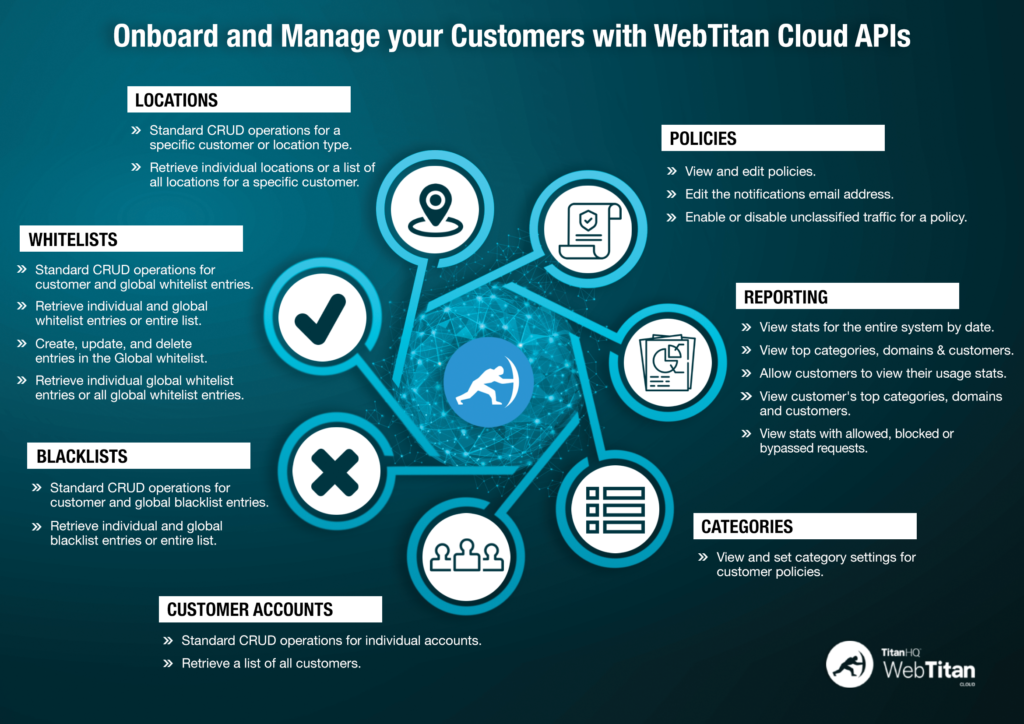 Book a Free Web Filtering Demo to Find Out More
If you have any questions about WebTitan Cloud, would like information on how you can switch from Cisco Umbrella, or would like a product demonstration, complete the form below and one of the WebTitan team will be in touch to organize a convenient time for your free no-obligation demo.
The demo will not only show how easy it is to set up WebTitan Cloud, but how effective it is at blocking web-borne threats and helping your business control Internet usage. The opportunity also exists to take advantage of a free trial of WebTitan Cloud to evaluate its potential as a Cisco Umbrella alternative in your own environment.