If you are looking for a Cisco Umbrella alternative you are certainly not alone. TitanHQ has helped hundreds of businesses change from Cisco Umbrella to WebTitan Cloud. In most cases, the main reason why businesses seek a Cisco Umbrella alternative is to save money. Cisco Umbrella pricing reflects the comprehensive nature of the product, but the Cisco Umbrella cost is seen as too expensive by many small- to medium-sized businesses who are only looking for malware and phishing protection and to control the websites their employees can access.
The cost of Cisco Umbrella is hard to justify for many SMBs and managed service providers (MSPs). The cost per user is considerably higher than many other solutions on the market. In fact, you may be surprised at just how much money can be saved by changing your web filter provider.
Cisco Umbrella Pricing
Cisco Umbrella pricing is not particularly transparent. For a start, you cannot easily find out how much Cisco Umbrella is likely to cost and there is no Cisco Umbrella cost calculator on the website nor any price list. If you search for information on Cisco Umbrella pricing online, you are likely to find prices from various resellers, but the prices are usually out of date. You can tell as they refer to the old packages of Cisco Umbrella Professional, Cisco Umbrella Insights, and Cisco Umbrella Platform.
Cisco Umbrella pricing depends on several factors, including the level of protection you want, the number of users you need to protect, and the contract term. You must also factor in any add-ons you may need. For instance, basic email-only support is provided but advanced support comes at an additional cost. Because there are many different options, you must contact Cisco for an individual quote for your business.
How Much Does Cisco Umbrella Cost?
For a business with 100 users, the cost of Cisco Umbrella in 2021 is $2.70 per user, per month. That is certainly a reasonable price given the level of protection provided by Cisco Umbrella, but there are Cisco Umbrella alternatives that are available for a fraction of the Cisco Umbrella cost that provide an equivalent level of protection against web-based threats and allow careful control of the types of content that can be accessed by end users.
If you have 100 users, you will be spending $270 a month on Cisco Umbrella, which is $3,240 per year. The Cisco Umbrella price is reasonable if you compare it to the cost of a malware infection, ransomware attack, data breach, or phishing attack, but it is possible to have a similar level of protection at a third of Cisco Umbrella Cost if you change from Cisco Umbrella to WebTitan Cloud.
How much can be saved by switching from Cisco Umbrella to WebTitan Cloud? The cost of WebTitan Cloud is $0.90 per user, per month. That adds up to a monthly cost of $90, which is $1,080 per year. Just making this simple change will save your business $2,160 per year!
Cisco Umbrella Licensing
Cisco Umbrella licensing is based on three packages of Cisco Umbrella. The most basic package is DNS Security Essentials, which used to be known as Cisco Umbrella Professional. The next tier of the product is DNS Security Advantage, formerly Cisco Umbrella Insights. The most comprehensive solution in the Cisco Umbrella family is DNS Secure Internet Gateway, formerly Cisco Umbrella Platform.
Cisco Umbrella licensing is based on the number of users that need to be protected, with the Cisco Umbrella price per user decreasing slightly the more users need to be protected. Cisco Umbrella licensing has a minimum contract term of 1-year, although longer contracts can be purchased with an associated discount. There is no option for paying monthly to spread the cost.
Can the Cisco Umbrella Price be Justified?
The Cisco Umbrella price has been set based on the comprehensive nature of the product, which does not only provide DNS filtering, but includes a host of other security features. Some businesses, especially large enterprises that have a huge workforce, are frequently targeted by threat actors and need an extensive suite of cybersecurity solutions to block attacks and conduct extensive investigations. For those organizations, the features included in the most comprehensive Cisco Umbrella package are likely to be attractive, and for those businesses the Cisco Umbrella price can easily be justified in terms of the protection provided.
For example, the DNS Security Advantage includes Umbrella Investigate, which provides deep context for investigations and uses an API to send Umbrella data to other security solutions. The DNS Secure Internet Gateway package includes a cloud-delivered firewall and a cloud access security broker to discover and block shadow IT. These features are not available in many other DNS filtering solutions and would need to be purchased separately if required. Small- to medium-sized businesses may find the additional features of the second and third tiers of the solutions to be surplus to requirements.
Since the features of the first tier of the Cisco Umbrella solution – DNS Security Essentials – are included in many other DNS filtering solutions that are sold at a fraction of the Cisco Umbrella price, it is understandable why many choose to purchase a different DNS filtering solution, especially since there are several features lacking in the most basic Cisco Umbrella package which many would feel are essential, as we explain below.
Cisco Umbrella Review
There are three versions of Cisco Umbrella for businesses use, as previously mentioned. Let's consider the top product package, Secure Internet Gateway (SIG) Essentials. SIG Essentials is the most comprehensive DNS security solution offered by Cisco. In terms of DNS security, the solution uses the same web filtering and content filtering mechanisms of the two cheaper packages. However, additional capabilities are included, such as the ability to decrypt and inspect all HTTPS traffic. In the DNS Security Advantage package, you can only decrypt and inspect SSL traffic for "risky" domains, and you do not have that feature at all in the most basic package.
Since threat actors often use encryption to hide malicious activity, SSL inspection really is important, yet for full inspection capabilities you need to pay for the top-level product. That top-level solution comes with other additional features, such as a cloud security broker for discovering and blocking shadow IT and a cloud-delivered firewall. Many businesses will already have a firewall that provides those capabilities.
The level of protection provided by the basic package will be insufficient for many SMBs, the middle package lacks important features available in many lower cost Cisco Umbrella alternatives, and the top level product includes feature that many SMBs are unlikely to use.
Given the high cost of the top level package and the availability of many Cisco Umbrella alternatives at a fraction of the cost, unless you really need all the features of SIG essentials, the alternatives from other providers should be fully explored as the cost savings are considerable.
An Ideal Cisco Umbrella Alternative
Cost is not the only consideration when looking for a Cisco Umbrella alternative. If you are changing solution provider you will need to make sure that the new product has all the features you need. Since WebTitan Cloud and Cisco Umbrella are built around the same core principles, in many respects the solutions are equivalent, but there are several features of WebTitan Cloud that are not available with Cisco Umbrella and there are some important benefits that come with WebTitan Cloud for SMBs and MSPs.
TitanHQ has a perfectly transparent pricing policy. You pay one price and you get all the features of the solution. There are no optional extras that bump up the cost and no premium packages to give you extra protection. Every user receives the same high level of protection. TitanHQ is also happy to negotiate with businesses and MSPs and enters into commercial arrangements that suit all parties.
One of the features of WebTitan Cloud that is particularly attractive to MSPs is the ability to host the solution locally within their own environment. Most businesses will choose to host WebTitan Cloud with TitanHQ, but the option is available if this suits you better. MSPs can also be supplied with WebTitan Cloud in white label form. TitanHQ branding can be removed from the solution to allow you to add your own branding if you so wish.
There may be times when you need to bypass filtering controls. To make this as easy as possible, we developed cloud keys. These can be used to bypass some or all of your filtering controls rather than having to change policies for a user and change back again when a particular task has been performed. Cloud keys can be set to expire after a certain number of uses or after a certain period of time.
We have developed WebTitan Cloud to be easy to configure, use, and maintain, but there will naturally be times when things don't go according to plan. In the event of a problem, all users benefit from world class support. Our skilled engineers and customer service staff are on hand to get you back on track quickly and painlessly. That applies to all users, even those on the free product trial. Support is not an optional extra that will cost you more money.
WebTitan Cloud Benefits for MSPs
As previously covered, there are key benefits of WebTitan Cloud over Cisco Umbrella for MSPs.
Flexible pricing including monthly billing
Multiple hosing options, including within your own data center
Product can be supplied in white label form ready to take your branding
There are no monthly minimums, yearly commitments, and the product can scale to meet your needs (and will shrink too if needed)
Fully transparent pricing
Extensive reporting
Easy integration into existing security and customer management systems through a suite of APIs
World-class customer support included in the cost
Easy implementation, use, and a low management overhead
Generous margins for MSPs
Access to an extensive library of support materials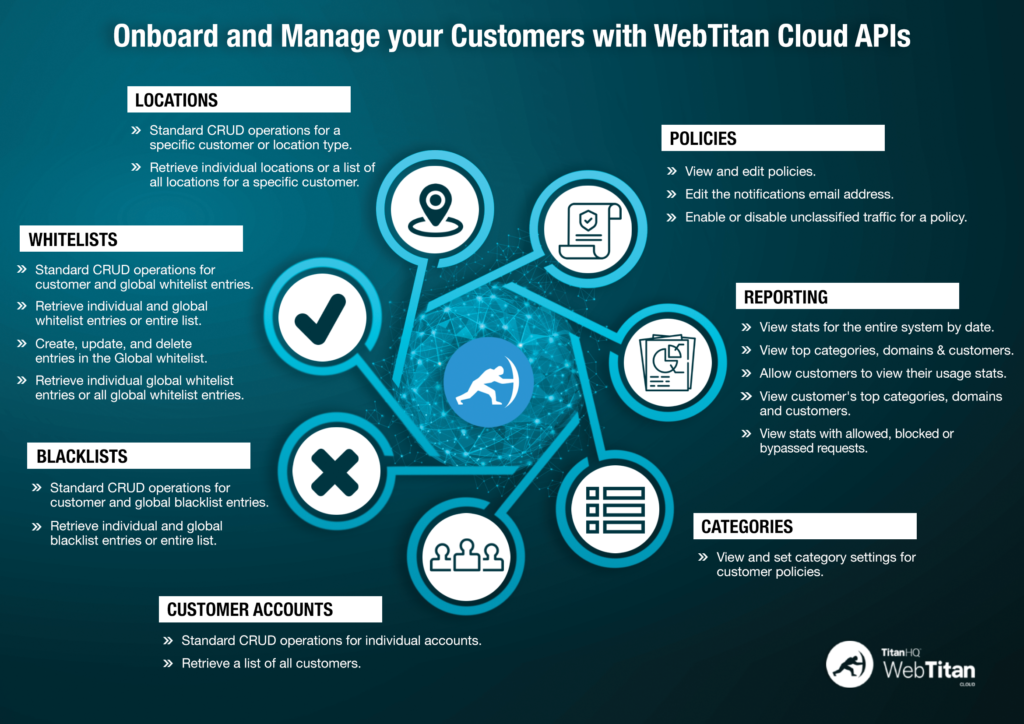 How do Users Rate WebTitan vs Cisco Umbrella
Not all web filtering solutions provide the same level of protection and many fail to live up to expectations one they are installed. In the case of WebTitan Cloud, not only can you save a considerable amount of money, our DNS filtering solution is easy to set up, use and maintain. Plus, if you ever experience any problems or need help, you benefit from industry-leading customer service.
Naturally we will sing the praises of WebTitan Cloud as we are trying to sell our product, but most users of WebTitan agree with us and love using the product. This can be seen on review sites such as G2 Crowd.
G2 Crowd is an independent business software review site that is trusted by business leaders to provide information on the best software solutions on the market. The site has more than 650,000 user reviews from verified users and gives you insights into products to let you know if they perform as well as vendors say they do.
Web filtering solutions are rated on whether they meet requirements, ease of use, ease of setup, ease of admin, quality of support, and ease of doing business with the company. WebTitan Cloud consistently ranks higher than Cisco Umbrella in all 6 categories.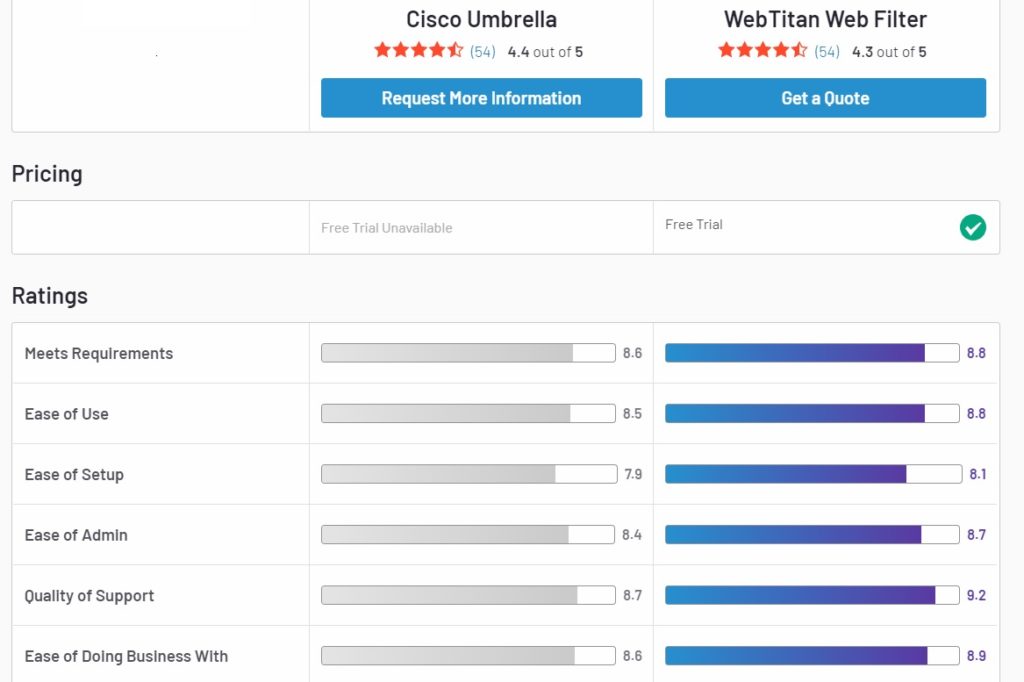 If you have any questions about WebTitan Cloud, would like information on how you can switch from Cisco Umbrella, would like a product demonstration or to sign up for the free trial, give us a call today and we will be happy to help. The sooner you get in touch, the sooner you can start saving money on web filtering!