G2 Crowd, the independent peer-to-peer business software review site, has published its G2 Crowd Grid® Summer 2019 Report for Cloud Email Security. For the third consecutive quarter, SpamTitan has been named the leading cloud email security provider having been awarded the highest score for customer satisfaction.
G2 Crowd is the largest tech marketplace for businesses. The site attracts more than 3 million visitors and contains more than 843,500 reviews from verified software users. The reviews and Grid Reports are relied upon by countless businesses to help them make better software buying decisions.
Each quarter, G2 Crowd produces Grid reports that highlight the key players in different software categories. The G2 Crowd Grids are used to rank software solutions based on market presence and user satisfaction and categorize each as wither a niche player, contender, high performer, or leader. To be named a leader, a product must have a strong market presence and high user satisfaction level.
Market presence is determined by the size of the company, its social impact, and market share. The user satisfaction score is calculated from amalgamated reviews from verified users of the software.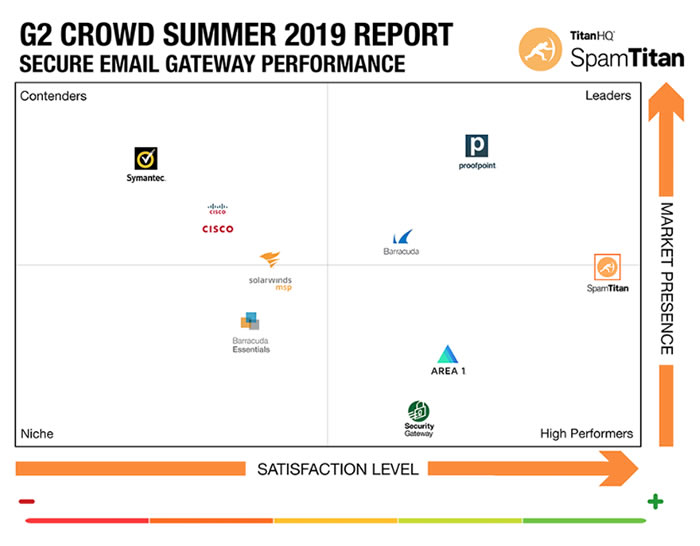 User reviews are important when choosing a software solution. If the software is difficult to use, fails to live up to expectations, or does not provide the required functionality, staff will avoid using it as much as possible. For a security solution that is particularly bad news.
The Summer 2019 report includes 9 email security solutions. SpamTitan achieved the highest overall customer satisfaction score – 97% – of all nine solutions by some distance. The next highest customer satisfaction scores were for Proofpoint Email Security & Protection (75%), Area 1 Security (69%), and Barracuda Email Security Gateway (61%).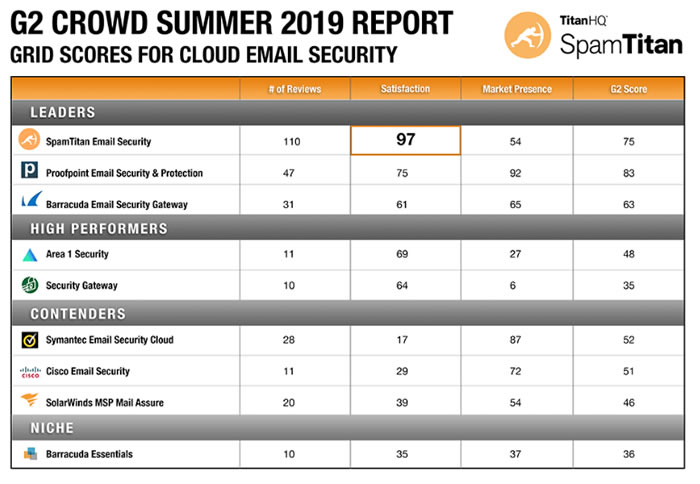 In addition to the Grid reports, amalgamated scores are included for six different customer satisfaction criteria: Ease of setup, ease of use, ease of admin, ease of doing business, quality of support, and meets requirements.  Once again, SpamTitan topped the list with the highest score for ease of setup (92%) and ease of use (92%) and was one of only two solutions that achieved scores of over 90% in each of the six categories.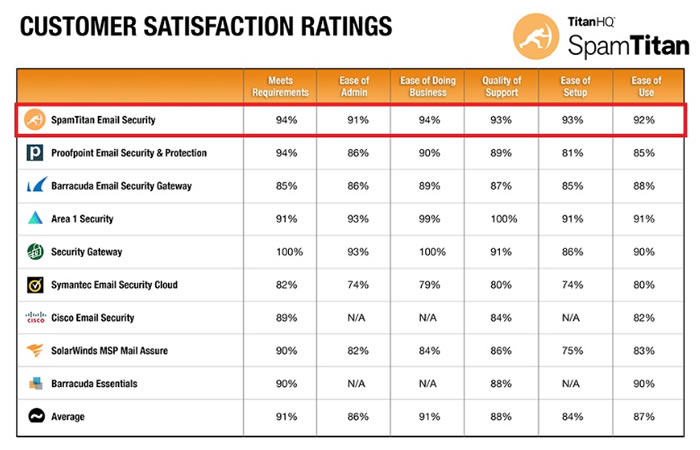 "The overwhelmingly positive feedback on G2 Crowd from users of SpamTitan is indicative of our commitment to ensuring the highest levels of customer success," said Ronan Kavanagh, CEO, TitanHQ. "That's an incredible achievement for a product that is significantly more affordable than the market leaders."