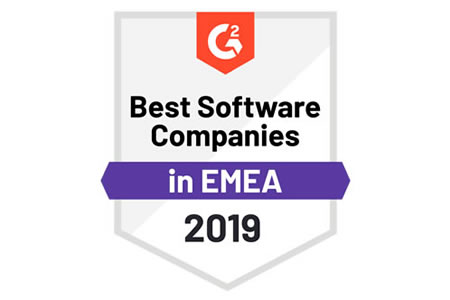 The global user review website, G2, is the go-to place to find reviews of business software and services. Unlike many other review websites, G2 gives users of the software and services the opportunity to provide their feedback on how the products perform. Millions of businesses use the website to make smarter buying decisions and select the best products and services to meet their needs.

This year, for the first time, G2 has launched a new Best Software Companies in EMEA list. To produce the list, G2 used the reviews of more than 66,000 users of the products of more than 900 companies. To be selected as one of the best companies is only possible if users of products and services have given their endorsement.
"G2's ever-expanding breadth and depth of product, review, and traffic coverage provide over 5 million data points to help buyers navigate the complex world of digital transformation", said G2 CEO Godard Abel. "In our Best Software Companies in EMEA list, we leverage this data to identify the companies our users tell us are best helping them reach their potential".
TitanHQ has developed a suite of advanced cybersecurity solutions to keep businesses protected from email and web-based threats and help MSPs serving that market effortlessly provide managed cybersecurity services to their clients.
"TitanHQ earned its place on the list thanks to the value our customers place on the uncompromised security and real-time threat detection we provide," said Ronan Kavanagh, CEO, TitanHQ. "The overwhelmingly positive feedback from on G2 Crowd is indicative of our commitment to ensuring the highest levels of customer success."