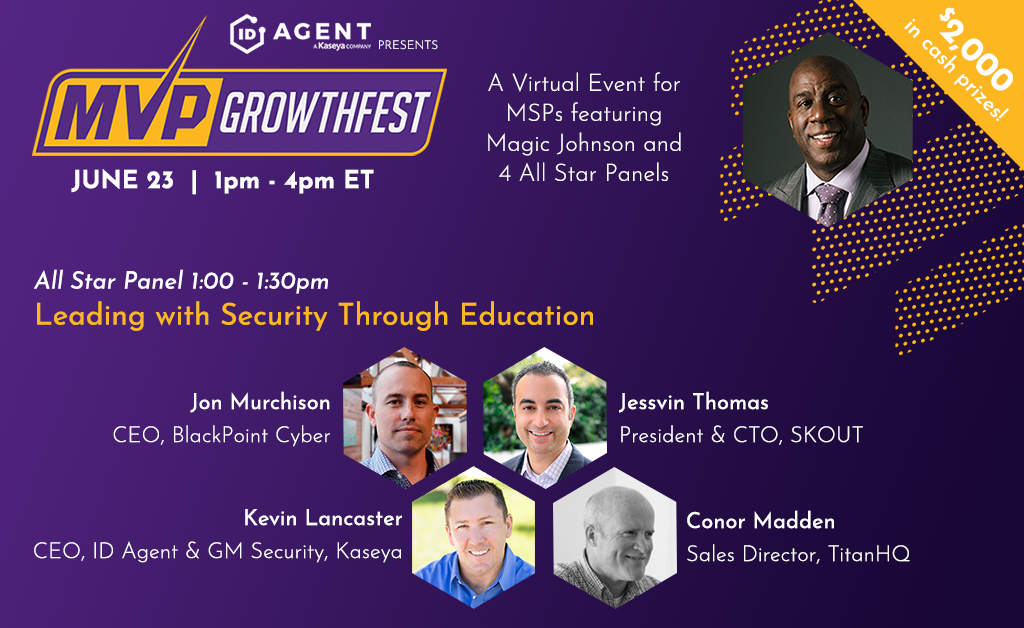 The COVID19 pandemic has created challenges for all businesses which are trying their best to adapt to a new normal. Businesses are slowing opening up their offices once again but it will be a long time before a return to "business as usual." In fact, massive changes have had to take place and life after lockdown is likely to be considerably different to life before it.
Managed Service Providers have also had to adapt, and many Channel companies have realized the massive changes due to the pandemic have brought a wealth of opportunities. They are not suffering as a result of the challenges but have adapted their operations and have gained considerable growth momentum. How have these forward-thinking MSPs turned the pandemic into profit? What have they done to grow their businesses in such difficult times?
On June 23, 2020, MSPs will have an opportunity to get answers to these questions and discover how they can grow their business and thrive during the pandemic and in a post-COVID-19 world.
In line with social distancing requirements, MVP GrowthFest is a virtual event where MSPs will have the opportunity to learn how obstacles that appear to be blocking progress are challenges that can easily be overcome.
MVP GrowthFest is a 3-hour event headlined by the 3-time NBA Most Valuable Player (MVP) Award winning superstar, Earvin "Magic" Johnson Jr. Magic Johnson will be providing insights into the obstacles he has faced during his life and how he succeeded through a combination of talent, tenacity, and a strong commitment to the community.
The event will celebrate the energy that powers growth and the drive to thrive in uncertain times and MSPs will be treated to four powerhouse panels where a combined 15 Channel All-Stars will be providing valuable insights and practical steps to not only survive the pandemic but use it as an opportunity to grow and thrive.
TitanHQ's Sales Director, Conor Madden, will be leading a security powerhouse panel and will explain how selling security is best achieved through education, and how this approach is essential for the modern-day MSP tech stack.
Currently, cyberattacks are occurring at unprecedented levels. Cyber actors having seized the opportunities COVID-19 has given them. MSPs can position their security stacks front and central and help businesses protect against these threats.
MSPs will naturally need the right solutions, and that is an area where TitanHQ can help, being the leading provider of cloud-based email and web security solutions to MSPs serving the SMB marketplace. TitanHQ solutions have been developed specifically to meet the needs of MSPs and are available at a price point that allows them to be packaged easily to significantly boost profits.
At the security powerhouse, attendees will also hear from:
Jon Murchison – CEO, BlackPoint Cyber
Kevin Lancaster – CEO, ID Agent & GM Security, Kaseya
Jessvin Thomas – President & CTO, SKOUT
Three further powerhouse sessions will be taking place at MVP GrowthFest giving MSPs further insights and assistance to grow their businesses and boost profits. There will also be $2,000 in prizes given out at the event.
Managing Through Change
Featuring:
Dan Wensley – CEO, Warranty Master
Joe Alapat – CEO & Founder, Liongard
Ryan Walsh – Chief Channel Officer, Pax8
Establishing Trust in the New Normal
Featuring:
Dave Goldie – Vice President of Channel, Cytracom
Ted Roller – Channel Chief, ConnectBooster
Andra Hedden – CMO, Marketopia
Frank DeBenedetto – Founder, AudIT
Leading & Accelerating through the Recovery
Featuring:
Tim Conkle – Founder, The 20
Dennis O'Connell – Vice President, Taylor Business Group
Ted Roller – Channel Chief, Zomentum
Advance registration is required