SpamTitan, TitanHQ's business email security solution, has been named leader in the Spring G2 Crowd Grid Report for Email Security Gateways.
G2 Crowd is a peer-to-peer review platform for business solutions. G2 Crowd aggregates user reviews of business software and the company's quarterly G2 Crowd Grid Reports provide a definitive ranking of business software solutions.
The amalgamated reviews are read by more than 1.5 million site visitors each month, who use the reviews to inform software purchases. To ensure that only genuine reviews are included, each individual review is subjected to manual review.
The latest G2 Crowd Grid Report covers email security gateway solutions. Gateway solutions are comprehensive email security platforms that protect against email-based attacks such as phishing and malware. The email gateway is a weak point for many businesses and it is one that is often exploited by cybercriminals to gain access to business networks. A powerful and effective email gateway solution will prevent the vast majority of threats from reaching end users and will keep businesses protected.
To qualify for inclusion in the report, email gateway solutions needed to scan incoming mail to identify spam, malware, and viruses, securely encrypt communications, identify and block potentially malicious content, offer compliant storage through archiving capabilities, and allow whitelisting and blacklisting to control suspicious accounts.
For the report, 10 popular email security gateway solutions were assessed from Cisco, Barracuda, Barracuda Essentials, Proofpoint, Mimecast, Symantec, McAfee, Solarwinds MSP, MobileIron, and TitanHQ. Customers of all solutions were required to give the product a rating in four areas: Quality of support, ease of use, meets requirements and ease of administration.
TitanHQ's SpamTitan was named leader based on consistently high scores for customer satisfaction and market presence. 97% of users of SpamTitan awarded the solution 4 or 5 stars out of 5 and 92% said they would recommend SpamTitan to others.
SpamTitan scored 94% for quality of support and meeting requirements. The industry average in these two areas was 84% and 88% respectively. The solution scored 92% for ease of use against an industry average of 82%, and 90% for ease of admin against an average value of 83%.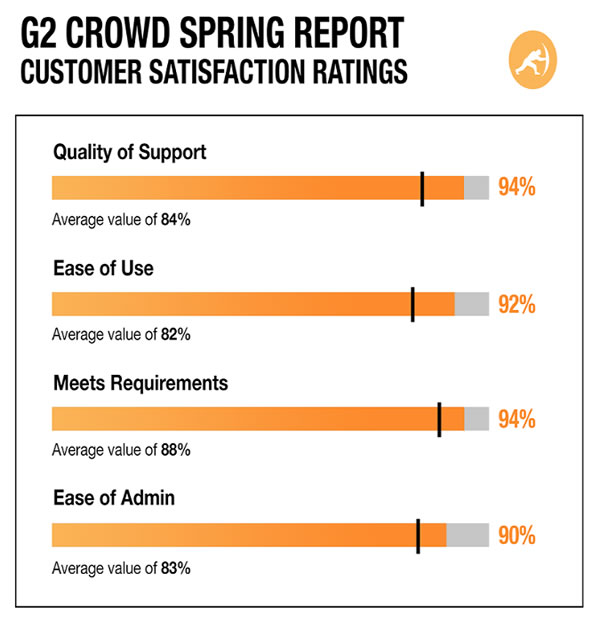 "TitanHQ are honored that our flagship email security solution SpamTitan has been named a leader in the email security gateway category," said Ronan Kavanagh, CEO, TitanHQ. "Our customers value the uncompromised security and real-time threat detection. The overwhelmingly positive feedback from SpamTitan users on G2 Crowd is indicative of our commitment to ensuring the highest levels of customer success."
If you want to improve email security without breaking the bank and want a solution that your IT staff will like using, SpamTitan is the ideal choice.
SpamTitan is available on a 100% free trial to allow you to try before committing to a purchase; however, if you have any questions about the solution, contact the TitanHQ team who will be happy to help and can schedule a product demonstration.