This fall, TitanHQ will be attending several Managed Service Provider (MSP) events and trade shows throughout Europe and the United States.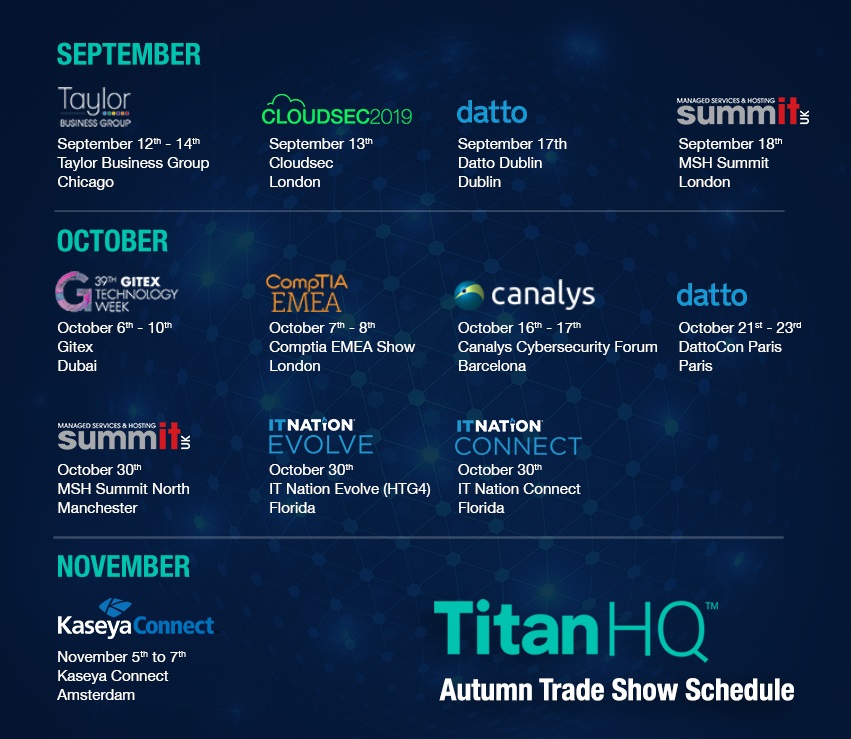 TitanHQ has been developing innovative cybersecurity solutions for MSPs for more than two decades and all solutions have been created with MSPs firmly in mind. By involving MSPs in the design process, TitanHQ has been able to ensure that its products incorporate features to make life easier for MSPs, such as easy integration into MSPs management systems through the use of APIs to features rarely found in cybersecurity products – such as full white label versions ready for MSP branding and the ability to host the solutions within MSPs own environments.
Trade shows give the TitanHQ team the opportunity to meet face to face with prospective clients to discuss their email and web security needs and get face to face feedback from current customers that have already integrated TitanHQ products into their technology stacks.
The TitanHQ team kicked off the fall schedule of trade shows on September 12 at the Taylor Business Group BIG 2019 Conference at the Westin Hotel in Chicago, where members got to meet the TitanHQ team to discuss the new TitanShield program and discover how TitanHQ products can improve security for their clients while saving MSPs time and money.
At the same time, TitanHQ was at the CloudSec Europe 2019 Conference in London demonstrating WebTitan Cloud, SpamTitan Cloud, and ArcTitan to MSPs and cloud service providers.
If you were unable to attend either of these two events or did not get the chance to meet with the team, all is not lost. The fall schedule has only just commenced and there are still plenty of opportunities to meet the team to discuss your requirements and find out how TitanHQ products can meet and exceed your expectations.
Trade Events Attended by TitanHQ – Autumn, 2019
| | | |
| --- | --- | --- |
| Date | Event | Location |
| September 17, 2019 | Datto Dublin | Dublin, Ireland |
| September 18, 2019 | MSH Summit | London, UK |
| October 6-10, 2019 | Gitex | Dubai, UAE |
| October 7-8, 2019 | CompTIA EMEA Show | London, UK |
| October 16-17, 2019 | Canalys Cybersecurity Forum | Barcelona, Spain |
| October 21-23, 2019 | DattoCon Paris | Paris, France |
| October 30, 2019 | MSH Summit North | Manchester, UK |
| October 30, 2019 | IT Nation Evolve (HTG 4) | Florida, USA |
| October 30, 2019 | IT Nation Connect | Florida, USA |
| November 5-7, 2019 | Kaseya Connect | Amsterdam, Netherlands |
If you plan on attending any of the above events this fall, be sure to come and visit the TitanHQ team and feel free to reach out ahead of the events for further information.
Rocco Donnino, Executive Vice President-Strategic Alliances, LinkedIn
Eddie Monaghan, MSP Alliance Manager, LinkedIn
Marc Ludden, MSP Alliance Manager, LinkedIn
Dryden Geary, Marketing Director