SMBs and Managed Service Providers (MSPs) that serve the SMB market have many spam filtering services to choose from. In this post perform a VadeSecure vs SpamTitan Email Security comparison to help you decide on the best solution to meet the needs of your business.
Who are VadeSecure?
VadeSecure is a French company that was founded in 2009. The company has developed a predictive email defense solution to protect businesses from email-based threats and spam email, and also consumers through their ISPs. The company has yet to make great inroads in the MSP market, although that is part of the company's plan, having recently raised $79 million in venture capital to help them achieve this aim.
SpamTitan Email Security from TitanHQ
TitanHQ is the leading provider of cloud-based email and web security solutions for MSPs that serve the SMB market. TitanHQ has more than 2 decades of experience in email and web security and has developed two award winning solutions for MSPs – WebTitan (Web Security) and SpamTitan Email Security. Here we will focus on SpamTitan Email Security.
VadeSecure vs SpamTitan Email Security
Take a quick look at VadeSecure and SpamTitan Email Security and you may think that both solutions are very similar, and in some respects they are. Both are cloud-based email security solutions that have been designed to block email threats and keep inboxes free from spam and malicious messages and attachments. Both solutions have been developed to provide an additional security layer for Office365 to block the many spam and malicious messages that bypass O365 security controls.
However, there are some very important differences between the solutions as far as MSPs are concerned. VadeSecure has been developed solely for the Telco market, but MSPs have unique requirements that are not well catered to. A deeper dive into the products and a more thorough comparison of VadeSecure vs SpamTitan Email Security from an MSP perspective reveals the two solutions are very different products.
SpamTitan is very much MSP focused. Over time, with the increased investment, VadeSecure may become a more MSP friendly solution, but as it stands VadeSecure and SpamTitan Email Security are not equivalent solutions.
Comparison of VadeSecure and SpamTitan Email Security for MSPs
SpamTitan Email Security has been developed by MSPs for MSPs. SpamTitan Email Security is therefore a very MSP-focused product, which incorporates many MSP-friendly features. SpamTitan is a true multi-tenant solution. With SpamTitan Email Security, MSPs are given a multi-tenancy view of all customers with multiple management roles. This allows MSPs to easily monitor all customer deployments and the trial-base, assess the health of those deployments, view activity volumes across your entire customer base, and quickly identify any issues that need to be addressed. VadeSecure lacks this customer-wide view of the system and does not integrate with RMMs or PSAs.
Configurability and Customization Potential
Configurability is also a key consideration. VadeSecure is not easily configurable to meet your needs. For instance, it does not support custom rules, so you have to use Office 365 Exchange admin functionality for configuration. In a similar vein, the potential for customization is limited with VadeSecure. With SpamTitan Email Security, there is plenty of scope for customization. You can create custom rules to meet the needs of your customer base thanks to highly granular controls that can be applied to domains, groups, or individual users. This level of granularity is important, as it allows you to carefully configure the solution to meet the needs of each client. You can tailor the solution to suit the risk tolerance of each individual client and adopt a more aggressive or more permissive approach on a per client basis and minimize false positives and false negatives. VadeSecure lacks the granularity to allow this for each customer.
Management and Reporting
You are implementing email security to provide your customers with greater security, but you need to make sure the solution remains effective over time. You will therefore need to identify issues as they arise and perform tweaks to continue to protect your clients to the highest degree. To achieve this, you need highly granular reports. Without them you will not have the visibility you need. SpamTitan's suite of pre-configured and customizable reports give you full visibility into your deployments to allow you to quickly identify and correct any issues.
You can also generate reports (manually or automatically) that you can send to your clients to show them how effective the solution is, the threats that are being blocked, and why continued protection is essential. With VadeSecure you lack this visibility and cannot find out what has been blocked for end users or obtain detailed information on spam emails and threats.  Client management is also more difficult with VadeSecure. MSPs need to login to each client's Office 365 environment for management, which makes reporting much more time consuming.
Revenue Potential and Margins
Because SpamTitan allows MSPs to customize their deployments, MSPs have superior management capabilities and can offer clients greater value, which means greater margin potential for MSPs. It also makes it harder for clients to switch providers as their MSP is more of a strategic partner rather than just an IT service provider.
With TitanHQ there is also greater potential to make more margin by cross selling other services. MSPs that sign up with TitanHQ and join the TitanShield program have access to two other revenue generating solutions: WebTitan DNS filtering and ArcTitan Email Archiving. These allow you to maximize monthly recurring revenue with each client. Additional revenue-generating solutions are not available with VadeSecure.
VadeSecure Vs SpamTitan Email Security Pricing
Currently, pricing with VadeSecure is complex and the solution is expensive for MSPs. VadeSecure is charged on a per module basis, which means you need to factor in a lot of additional costs, such as anti-virus protection and GreyMail which are not included as standard. With SpamTitan there is one flat fee that includes all features of the solution. TitanHQ pricing is totally transparent and there are no hidden extras.
After speaking with customers that have tried VadeSecure, we have learned that the total number of users are not aggregated into the MSP discount with VadeSecure. You could have 100 x 10-seat licenses (1,000 users), but VadeSecure pays at 10 seats each and not the 1,000 seats overall. In contrast, TitanHQ's appreciates how MSPs work and has developed a flexible pricing policy accordingly.
Quick Comparison of Features
In the image below we have compared the basic features of both SpamTitan and VadeSecure as a quick reference to show you some of the key differences between VadeSecure and SpamTitan Email Security.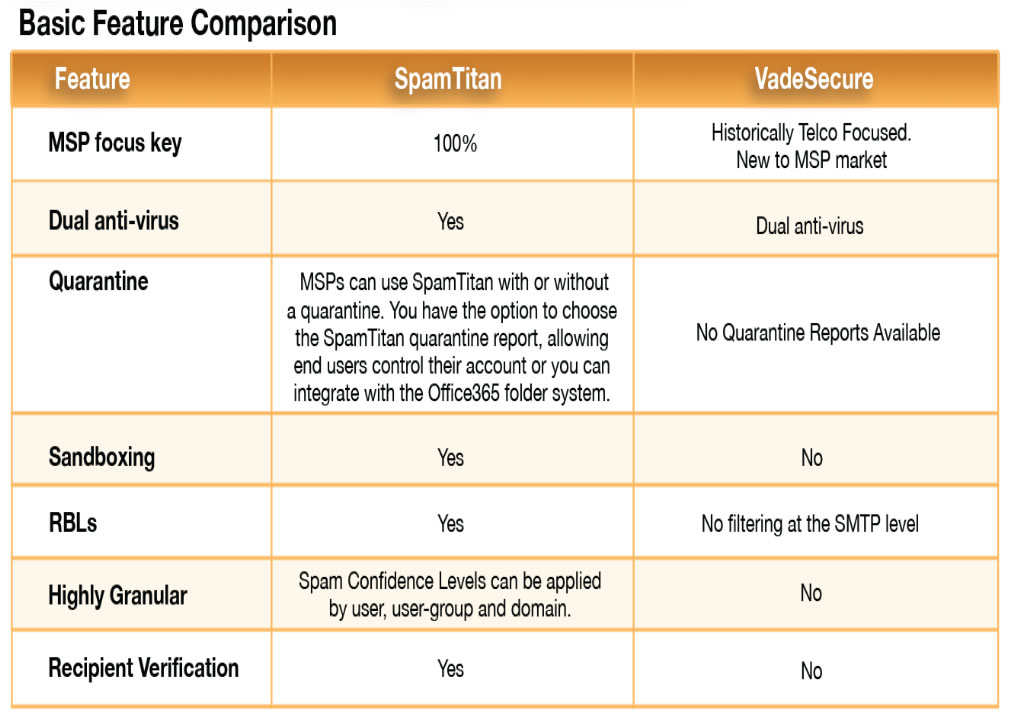 MSPs that serve customers with Office 365 environments should adopt a layered approach to security and should not rely on the anti-spam and anti-phishing defenses incorporated into Office 365. Additional layers are required to better protect clients, which will mean you spend less time on support and remediating phishing attacks.
TitanHQ can provide two additional layers to your security stack: SpamTitan and WebTitan, both of which work seamlessly together to protect against all email and web-based threats.
To find out more about these solutions, how you can reduce the cost of email security and web security for your customers while earning a profitable margin, contact the TitanHQ team today and ask to speak to the channel team.