If you receive an email alerting you to a new WhatsApp voicemail message that you have received, it could well be the latest WhatsApp scam email that is currently doing the rounds. This new scam is particularly nasty.
Malicious WhatsApp scam email discovered
The WhatsApp scam email is being used as part of an attack on businesses and consumers, and will result in Nivdort malware being loaded onto the device used to open the email.
Security researchers at Comodo discovered the WhatsApp scam email and have warned that the malware contained in the email attachment has been developed to affect users of Android phones, iPhones, as well Mac and PC users.
The WhatsApp scam email looks like it has been sent by WhatsApp, although there are a number of tell-tale signs that the WhatsApp scam email is not legitimate. For a start, WhatsApp will not send messages to a user's email account, but will only inform users of a missed call or voicemail message through the app itself. However, many of the 900 million users of the chat software program will not be aware of that.
The email contains the imagery typically associated with the Facebook-owned messaging platform, but a check of the sender's address will reveal that this email has not been sent from WhatsApp. The email also contains a zipfile attachment. Opening the zip file will result in malware being installed onto the device used to open the attachment.
The attackers are sending out multiple variants of the email with different subject lines. Each subject line also contains a string of three, four, or five randomly generated characters after the message, such as "xgod" or "Ydkpda"
The subject lines in some of the scam emails have been detailed below: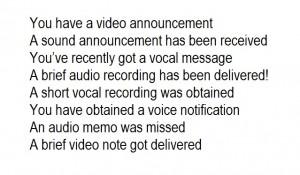 If you receive any email from WhatsApp you should treat it as suspicious. You should never open any email attachment from any person you do not known, and must be particularly caution with .zip files. If in doubt, delete the email and remove it from your deleted email folder.
Malware Delivered by the WhatsApp scam email campaign
Nivdort is a family of Trojans that collect data from the computers on which they are installed. In order to avoid being detected the malware is loaded into the Windows folder. The latest variant is loaded to multiple system folders and also the registry. Even if detected by anti-virus software it is possible that not all traces of the malware will be removed. The malware may still be able to receive commands and exfiltrate data from the infected device.