A DNS content filtering solution is an Internet content filter that conducts the filtering process in the cloud. Equally as effective at protecting networks against malware, ransomware and phishing attacks as software-based or hardware-based solutions, DNS content filtering solutions have lower maintenance overheads and can improve network performance.
DNS content filtering solutions are so-called because of the way they are implemented. Networks connect with the filtering solution via a redirection of the DNS server settings. Thereafter, the DNS content filtering solution auto-configures on the network and enables network administrators to apply user policies via a centralized, web-based portal.
For many businesses, DNS content filtering is a "set and forget" solution, as all software updates and updates to the key filtering mechanisms are performed in the cloud by the service provider. More pro-active network administrators can monitor web activity in real time or pull reports of historic web activity via the web-based portal.
Managed Service Providers will also find DNS content filtering solutions less maintenance-heavy than software-based or hardware-based solutions. The administration of each client´s Internet filtering service can be managed from one location and, as the multi-tenanted solutions function in the cloud, client call-outs are eliminated.
DNS Content Filtering and SSL Inspection
It was mentioned above that DNS content filtering can improve network performance. This is due to the resource-intensive SSL inspection process being removed from network servers and being performed in the cloud. By moving the SSL inspection process to the cloud, DNS content filtering also eliminates the labor-intensive task of whitelisting.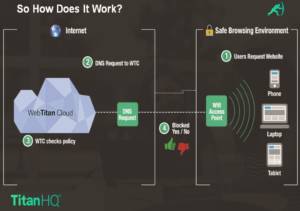 In some cases – with software-based and hardware-based filtering solutions – the SSL inspection process has been known to significantly reduce Internet speeds. This can, during times of peak web traffic, also affect business-critical web applications such as email. By removing the process to the cloud, a filtered Internet service is delivered to network users with imperceptible latency.
The elimination of whitelisting – the process that allows trusted websites to bypass the filtering mechanisms sometimes used to relieve the pressure on the network – enhances network security. Although a trusted website may be malware-free one day, there is no guarantee that a vulnerability is later exposed that can be exploited by cybercriminals.
Why is the SSL Inspection Process Important?
The SSL inspection process is not just important – it is essential. Due to Google´s policy of enhancing the rankings of encrypted websites in its search engine, the majority of the world´s most-visited websites are encrypted. Internet filters that lack SSL inspection cannot read their content or identify malware infections. Finding nothing wrong, they allow network users to access them.
However, the presence of an SSL Certificate, an https:// prefix, or a green padlock symbol is no longer a sign that a website is secure (even if Google says it is). Recent research uncovered malware in 37% of the "secure" websites tested and found that every major ransomware family identified since January 2016 had been distributed by an encrypted website at some point.
The SSL inspection process not only protects networks from malware and ransomware, but network users from phishing. Earlier research discovered that 99.5% of encrypted websites with the word "PayPal" in their URL harbor malware or have been created for the purpose of executing a phishing attack. For businesses providing a publicly-accessible WiFi service, a DNS content filtering solution with SSL inspection can significantly enhance the online security of their customers, visitors and guests.
Try DNS Content Filtering from SpamTitan for Free
If you are responsible for network security in your business, or you are a Managed Service Provider interested in reducing the maintenance overhead of your service, we invite you to contact us and request a free no-obligation trial of one of our DNS content filtering solutions – WebTitan Cloud or WebTitan Cloud for WiFi.
Both are highly granular Internet filtering solutions with SSL inspection that protect networks from malware and ransomware, and network users from the threat of phishing. Both enable user policies to be set with the click of a mouse, and both have comprehensive reporting suites to assist network managers with risk assessments.
When you contact us, you will be asked about your current network set up and online security defenses in order that we can determine the best DNS content filtering solution for your circumstances. Our team of Sales Technicians will then guide you through the process of redirecting your DNS server settings if required and the easy-to-use features of the selected solutions.
Naturally, we will be on hand throughout the trial period to help you apply the optimal filtering parameters for your WebTitan Internet content filter. Then, should you choose to continue using our service after your free trial, no further configuration will be necessary in order to protect your network against web-borne threats and enhance your network´s performance.
DNS content filtering is a "set and forget" solution.
It eliminates the labor-intensive task of whitelisting.
Network security and performance are enhanced.
User policies can be set with the click of a mouse.
Suitable for both wired and wireless networks.
Compatible with all operating systems and devices.
White label options are available for MSPs and resellers.