A DNS filtering solution is a specific type of web filter that operates as a middleman between a web browser and the web page you are trying to access. When you – or somebody within your organization – types in a URL or clicks on a link, the DNS Internet filtering solution checks the request against its database of prohibited content and either allows the web page to be displayed or refuses the request.
The database of prohibited content is something you have complete control over. It can contain specific websites, specific content or specific types of files depending on what you want your DNS web filtering solution to achieve. Most organizations implement DNS filter solutions to mitigate the risk of web-borne threats, but they can also be used to enhance workplace productivity and resolve bandwidth issues.
This article expands on the three main motives for implementing DNS Internet filter solutions – security, productivity and the conservation of bandwidth – and highlights some of the features you should look for when you are evaluating your options. If you have any questions regarding DNS web filter solutions, please do not hesitate to contact us.
DNS Web Filter Solutions: Compatibility, Scalability and Flexibility
Because of the way in which DNS web filter solutions work, they are compatible with every operating system and web browser. All that system administrators have to do is set up an account with their service provider, log into that account, add their external IP address, set their policy parameters and redirect their DNS to the service provider´s servers.
Because there is no limit to how many users an organization can have, DNS web filter solutions have no scalability issues. Most service providers charge for their service depending on the volume of users, and most are accommodating in amending their subscription structure if an organization expands or contracts – refunding the underuse of a subscription service if necessary.
DNS web filter solutions are also incredibly flexible. Parameters for acceptable use policies can be set using blacklists, category filters and keyword filters – allowing for a high degree of "granularity". As account management is conducted via the same administrative portal used to set the policy parameters, adjustments to filter settings to reflect revised working practices can be made from any Internet-connected device with just the click of a mouse.
Why Implement a DNS Filtering Solution?
A DNS filtering solution is a vital tool for organizations that wish to increase their security profile. It was mentioned earlier that most organizations implement a DNS filtering solution in order to mitigate the risk of web-borne threats, and that this is achieved through the use of blacklists, category filtering and keyword filtering. Between them, these three filtering mechanisms contain the database of prohibited content also mentioned earlier.
Blacklists are lists of sites known to be "unsafe". You can get blacklists – for example – that block access to websites known to be harboring viruses, blacklists of sites containing pornographic material, or blacklists of sites that have unknown origins (sites that operate through a proxy).
Category filtering enables you to block access to all websites within certain categories. You choose what category filters you want to apply (pornography, online shopping, social media, etc.) or create and customize your own categories in order to enforce your organization´s acceptable use policies.
Keyword filters allow you to fine-tune your filter settings. You can either use keyword filters to block web pages containing certain words, or to allow access to web pages that might otherwise be blocked by an over-zealous category filter. Often, keyword filters are referred to as "granular settings".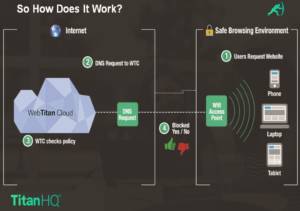 In additional to reducing the risk from malware and phishing attacks, a DNS filtering solution also enhances productivity in the workplace by blocking access to sites that employees may use for "cyberslacking". However, because of the granular settings, it is possible to block one user-group from accessing certain sites while allowing access to another user-group. You may want to use this filter if, for example, your marketing department engages in social media marketing, but you do not want everybody in your organization to have access to Facebook, Twitter, Instagram or LinkedIn.
Your organization may also want to implement a DNS filtering solution in order to conserve bandwidth. Bandwidth most frequently becomes an issue when users are viewing video streaming sites such as Netflix and YouTube. By using the category filters on a DNS filtering solution, you can block access to different types of file formats – in this case video file formats – with the option of applying the filter to specific user-groups or at certain times. Organizations with public WiFi can use time-based filters to conserve bandwidth during peak traffic times, but relax the restrictions during quieter periods.
The Key Elements of a DNS Internet Filtering Solution
A DNS Internet filtering solution should be a tool that, once the policy parameters are set, you should be able to leave alone to get on with its job – adjusting it as necessary as your organization´s working practices or acceptable use policies change. In order to reduce the maintenance overhead as much as possible, you should look for these key elements when evaluating a DNS web filtering solution:
Phishing Protection and Malicious URL Detection
In some DNS Internet filtering solutions, SURBL and URIBL filters are included alongside the blacklists to provide phishing protection and malicious URL detection. These filters check domain IP addresses to ensure they are not a known source of spam and phishing emails.
Backend Integration with Directory Services
If your organization uses a directory service such as NetIQ, Active Directory or LDAP, applying and adjusting the policy parameters by user-groups will much simpler if your DNS Internet filtering solution has back-end integration.
Automated Report Scheduling
Reports enable system administrators to identify which websites have been blocked by the DNS web filtering solution and which users have attempted to access prohibited content. Automated report scheduling is recommended in order that administrators maintain an oversight on the effectiveness of the solution.
Multi-Language Filtering
Malware and inappropriate material are not exclusive to the English language. It is advisable to implement a DNS Internet filtering solution that blocks unwanted content in all languages even if you do not have multi-lingual employees working in your organization.
Imperceptible Latency
The time it takes for your DNS Internet filtering solution to check requests against your policy parameters should be imperceptible to Internet users. Too much latency can negate the benefits of DNS Internet filter solutions in terms of enhanced productivity.
Customer and Technical Support
As mentioned above, a DNS Internet filtering solution should be a tool that you can leave to get on with its job once the policy parameters are set. However, there may still be occasions when you need available customer and technical support.
DNS Web Filtering Solution Pricing
DNS web filtering solution pricing is very easy to explain. With no need to purchase hardware and no software to install, the only cost associated with DNS Internet filter solutions is the subscription you pay to the service provider. This is usually based on the number of users that will connect to the Internet via the DNS filtering solution and the length of contract you subscribe to.
Many service providers will offer discounts for extended contracts, whereas others will allow you to spread the DNS web filtering solution pricing over monthly installments – an ideal structure for organizations that acknowledge the need for a DNS web filtering solution, but who are tied to budget constraints or who are charitable organizations with uncertain funding.
DNS Filtering Solution Cost Comparison
Due to the variable factors of key elements, the number of users and the pricing structure, a DNS filtering solution cost comparison is not practical to provide. What is practical to provide is a cost comparison of not implementing a DNS filtering solution due to the ever-increasing risk of malware infecting your organization´s computer system or network.
Depending on how deeply the infection has infiltrated your computer system or network, it may cost many thousands of dollars to resolve the problem. If a hacker has been able to extract confidential company information or personal data, the consequences could be far greater due to the potential loss of business, regulatory fines and civil action.
WebTitan´s DNS Internet Filter Solutions
WebTitan´s DNS Internet filter solutions have all the key elements that a DNS Internet filtering solution should have – and more. Our WebTitan Cloud Internet filter has been specifically designed for ease of installation and management, with an intuitive interface to make setting policy parameters simply and the enforcement of acceptable use policies straightforward.
WebTitan Cloud protects your organization and your users from malware, phishing attacks and viruses. Our DNS Internet filter solutions block access to unsuitable material such as pornography and hate speech, and control access to non-work related content in a way that suits your organization – with a comprehensive reporting suite to give you vision of your employees´ browsing activity.
Our DNS Internet filter solutions also protect your users, your clients and visitors to your organization when they connect to a wireless Internet network. WebTitan Cloud for WiFi allows you to provide a safe browsing environment for all your users and, if your organization is situated in a retail-orientated sector, the solution´s reports will reveal your clients´ network usage – giving you the potential to tailor your services to your clients´ needs.
With WebTitan Cloud and WebTitan Cloud for WiFi, you can be assured of:
A comprehensive range of APIs for backend integration with directory services.
Automatic software updates and automated report scheduling.
Robust protection for web-borne threats – including those in a different language.
Imperceptible latency, irrespective of the number of users.
Industry-leading customer and technical support.
DNS Filter Solutions for MSPs
If your interest in DNS filter solutions derives from your organization being a managed service provider, you will appreciate the benefits of a solution that requires no hardware or the installation of software, that can be administered from any Internet-connected device, and that will likely meet the varied requirements of your client database.
WebTitan´s DNS filter solutions for MSPs have the added benefits of being available in white label format. This means that MSPs and resellers can market the service as their own and avoid the scenario of clients approaching the service provider directly. WebTitan also offers the choice of hosting DNS filter solutions in the cloud or within your own infrastructure. Speak with us for more information.
Request a Free Trial of WebTitan´s DNS Filter Solutions
If you have a responsibility for the online security of your organization, you are invited to contact us and request a free trial of WebTitan´s DNS fliter solutions. Our team of Sales Technicians will discuss your requirements with you to determine whether you are best suited by WebTitan Cloud or WebTitan Cloud for WiFi, and then guide you through the creation of a free account to begin your free trial.
Once your trial has started, you will have the opportunity to find the optimal filtering parameters for your specific requirements so that, should you decide to continue using our service, no further configuration of your DNS filter solution will be required. Naturally, our team of Sales Technicians will be on hand at all times to explain the features of your chosen WebTitan solution and assist with its management if required.