DNS security for MSPs and ISPs can be labor-intensive, but that need not be the case. TitanHQ has developed a powerful DNS filtering solution – WebTitan – that provides excellent protection against internet-based threats, allows effortless content control, and has been built from the ground up to meet the needs of MSPs and ISPs.
Improving DNS security for MSPs and ISPs is vital given the rise in phishing and malware threats. To protect against those threats, WebTitan provides AI-driven protection using an active database of 650 million users with real-time updating of malicious online threats, including emerging phishing URLs and zero-minute threats. WebTitan includes real-time categorization of more than 500 million websites, 6 billion web pages in 200 languages, and has 100% coverage of Alexa's 1 million most visited websites.
With WebTitan you can block illegal, undesirable, and malicious content at source, with highly granular controls for precise filtering without overblocking. To make management even easier you can assign clients as administrators and let them manage their own content-control settings. TitanHQ also offers flexible policies to suit different environments such as schools and libraries, Wi-Fi owners, businesses and nonprofits, and highly regulated industries such as finance and healthcare.
DNS Security for MSPs and ISPs Without the Hassle
Blocking malware attacks and controlling the content that can be accessed by end users used to be a labor-intensive process. That is not the case with WebTitan. WebTitan is a powerful multi-tenant web filtering solution that can be implemented in minutes and seamlessly integrated into your own infrastructure and management, billing, and reporting systems through TitanHQ APIs. With WebTitan, DNS security for MSPs and ISPs is made as simple as possible.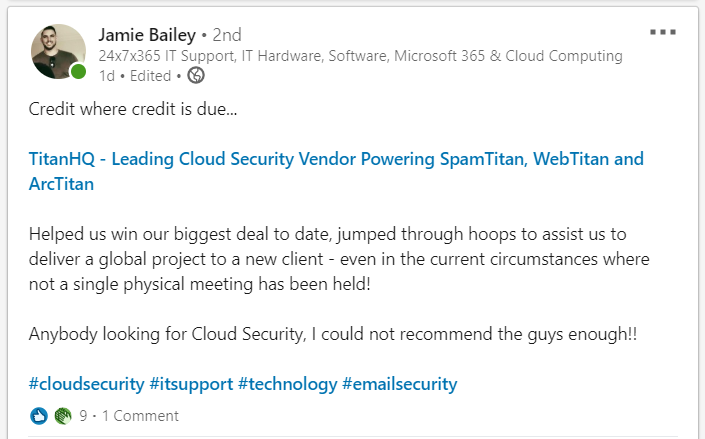 WebTitan has been designed for use by MSPs and ISPs and incorporates a range of features to make content control and internet security straightforward and cost-effective, eliminating the high management overhead often associated with DNS security. MSPs and ISPs get advanced customer management features to reduce their workload, the solution is scalable to hundreds of thousands of users with no latency, and the solution is fully customizable. You can host WebTitan in your own environment, rebrand the solution and add your own logos and color scheme, and customize and brand your reports.
Further, the highly competitive and fully transparent pricing policy means content control and online threat protection is cost effective for ISPs, MSPs, and their clients. The MSP and ISP-friendly features and industry-leading customer support have made WebTitan the go-to web filtering solution for service providers and the leading alternative to OpenDNS Cisco Umbrella.
What Your Customers Get
Ransomware, malware, and phishing protection. Protection from malware, ransomware and the web-based component of phishing attacks. More than 60,000 malware iterations are blocked every day.
A quick and easy to use DNS filter to manage and control web usage – Block malicious sites and control the web content employees and guest users can access.
Easy to implement; Easy to use. Customer accounts are up and running within 20 minutes
Improve network performance: A no latency DNS filtering solution that can be used to reduce bandwidth waste and abuse.
Highly granular content filtering with flexible user policies
Support for dynamic IP's
Works with any device
Full reporting suite. WebTitan contains a comprehensive reporting suite providing automated graphical reports and extensive reports on demand.
Fully automated updating – Does not add to your patching burden and requires minimal management while ensuring maximum security.
Whitelists and blacklists Global whitelists and blacklists and custom categories can be configured to allow/block by full website address or by IP address
Benefits for MSPs
Save on customer support time, hours and cost – No more costly ransomware call outs.
Easy to deploy, manage and sell our awarded-winning cloud based web filtering solution
Simple Integration into your existing service stack through API's and RMM integrations
Competitive pricing with a core focus on the SMB market.
Generous margins and monthly billing
White labelling – WebTitan can be fully rebranded with your logos and color scheme with us working seamlessly in the background.
Set & forget. WebTitan requires minimal IT service intervention
Short sales cycle – only a 14 day free trial required to test
World class support – The best customer service in the industry with scalable pre-sales and technical support and sales & technical training
Multi-tenant dashboard – MSP-client hierarchy enables you to keep clients separated and choose whether to manage client settings in bulk or on an individual basis
MSPs joining the TitanSHIELD MSP program and become a TitanHQ Certified Partner receive one-to-one training with our sales engineers and have a dedicated account manager, assigned sales engineer support, access to the Global Partner Program Hotline, access to the Partner Knowledge Base, 24/7 priority technical support, online technical training and FAQs, access to the Partner Technical Knowledge Base, and full access to an extensive range of marketing materials and sales tools.
To find out more about WebTitan for Service Providers, to schedule a product demonstration, and to register for a free trial (with full technical support), give the TitanHQ team a call today.
Feedback from MSP clients:
"By reducing malware-related security incidents, you're reducing your number one uncontrollable expense: the people on your IT operations team, like your help desk techs." MSP, Washington, US
"It's baked into our fees as well, and our Crypto calls dropped to 0" MSP, London, UK
 "Web filtering is one of the, if not the greatest bang for your buck services. It's built in anti malware has protected our clients, saving us thousands of hours of repair time I am absolutely certain." MSP, New York, US
 "I don't remember the last time one of our customers got Cryptolocker. I bundle it with our offering so that they get it no matter what just to make my life easier on virus removal or data problems." MSP, Seattle, US
 "Filtered DNS that doesn't allow your clients to participate in botnets or any command and control network? Yes please" MSP, San Francisco, US
"a key part of our security stack as we've scaled to over 6,000 managed endpoints, while decreasing virus and malware related tickets by 70%." MSP, Boston, US
 "It has paid for itself many times over by reducing malware calls." MSP, Toronto, Canada