TitanHQ has developed a suite of cloud-based solutions for managed service providers (MSPs), which includes spam filtering and web filtering, but one solution you may not be aware of is ArcTitan email archiving for the MSP.
In contrast to a backup, which is used for restoring the email system in the event of disaster, an email archive is a searchable repository for long term email storage. Emails are protected by end-to-end encryption and are stored in a tamper-proof archive in the cloud. If emails ever need to be recovered, for example for e-discovery or an audit, the archive can be searched, and emails can be quickly retrieved. That is not possible with a backup. All businesses should therefore use an email archive as well as backups.
ArcTitan is a fast and secure email archiving solution that has been purpose built for MSPs. ArcTitan is 100% cloud based, so no hardware is required, and it could not be any simpler to implement, especially since our support engineers are on hand to get you up and running quickly. We will even work directly with your email service provider to manage the deployment for you if you so wish.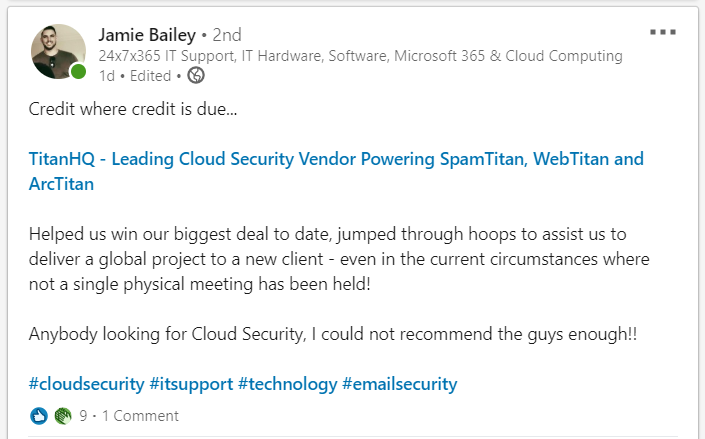 ArcTitan will be compatible with your email server, can be seamlessly integrated into Office 365 (with capabilities beyond those of Microsoft), and the solution can be provided in white label form ready for your corporate logo and color scheme to make it easier to resell as a hosted service and reinforce your brand.
An email archive is important for compliance and will be needed by many businesses for long term secure email storage. What's more, when it comes to email archiving for the MSP, the service has next to no management overhead. ArcTitan really is a set and forget solution and there is excellent margin opportunity. Managed service providers that have not yet started offering email archiving-as-a-service to their clients are missing out on easy extra recurring monthly revenue.
Key Features of ArcTitan
Scalable, email archiving that grows with your business
Email data stored securely in the cloud on Replicated Persistent Storage on AWS S3
Lightning fast searches – Search 30 million emails a second
Rapid archiving at up to 200 emails a second
Easy to implement into your own management systems
Automatic backups of the archive
Email archiving with no impact on network performance
Ensure an exact, tamperproof copy of all emails is retained
Easy data retrieval for eDiscovery
Protection for email from cyberattacks
Eliminate PSTs and other security risks
Facilitates policy-based access rights and role-based access
Full audit logging for compliance
Only pay for active users
Slashes the time and cost of eDiscovery other formal searches
Migration tools to ensure the integrity of data during transfer
Seamless integration with Outlook
Supports, single sign-on
Save and combine searches
Perform multiple searches simultaneously
Limits IT department involvement in finding lost email
Compliant with regulations such as HIPAA, SOX, GDPR, Federal Rules of Civil Procedure, etc.
Great margins for MSPs
To find out more about ArcTitan and to start generating extra reliable, recurring, monthly revenue, give the TitanHQ channel team a call today. You can take advantage of a free demo to see for yourself how easy it makes email archiving for the MSP with your own email system.
We are sure you will be so impressed you will want to offer email archiving-as-a-service to your clients and our team will help you every step of the way to help ensure success.
The TitanHQ MSP Program – TitanSHIELD
The TitanHQ MSP Program – TitanSHIELD – was the product of our extensive experience working closely with MSPs for more than 2 decades. During that time we gained a deep understanding of the SMB marketplace, and we have developed multiple solutions for Managed Service Providers that offer everything MSPs could reasonably ask for to best meet the demands of their clients.
Our award-winning multi-tenanted solutions – ArcTitan Email Archiving, WebTitan DNS Filtering, and SpamTitan Email Security –  are full of features to help MSPs save time and money. The solutions work on any operating system, client accounts can be up and running within 20 minutes, and fully automated updating minimizes the management overhead while ensuring maximum protection from threats. Furthermore, all TitanHQ solutions are available in white label format ready to receive an MSPs logos and there is a choice of hosting options.
The TitanShield MSP Program allows MSPs to take advantage of TitanHQ's proven technology so that they can sell, implement and deliver our advanced network security solutions directly to their client base. Benefits include partner support, a dedicated account manager, assigned sales engineer support, access to the Global Partner Program Hotline, access to the Partner Knowledge Base, 24/7 priority technical support, online technical training and FAQs, access to the Partner Technical Knowledge Base, and full access to an extensive range of marketing materials and sales tools.
Contact the MSP team at TitanHQ today for more information and to apply to join more than 1,500 MSP members of the TitanSHIELD program.