TitanHQ has developed a suite of cloud-based solutions for managed service providers (MSPs), which includes spam filtering and web filtering, but one solution you may not be aware of is ArcTitan email archiving for the MSP.
In contrast to a backup, which is used for restoring the email system in the event of disaster, an email archive is a searchable repository for long term email storage. Emails are protected by end-to-end encryption and are stored in a tamper-proof archive. If emails ever need to be recovered, for example for e-discovery or an audit, the archive can be searched, and emails can be quickly retrieved. That is not possible with a backup. All businesses should therefore use an email archive as well as backups.
ArcTitan is a fast and secure email archiving solution that has been purpose built for MSPs. ArcTitan is 100% cloud based, so hardware is required, and it could not be any simpler to implement, especially since our support engineers are on hand to get you up and running quickly. We will even work directly with your email service provider to manage the deployment for you.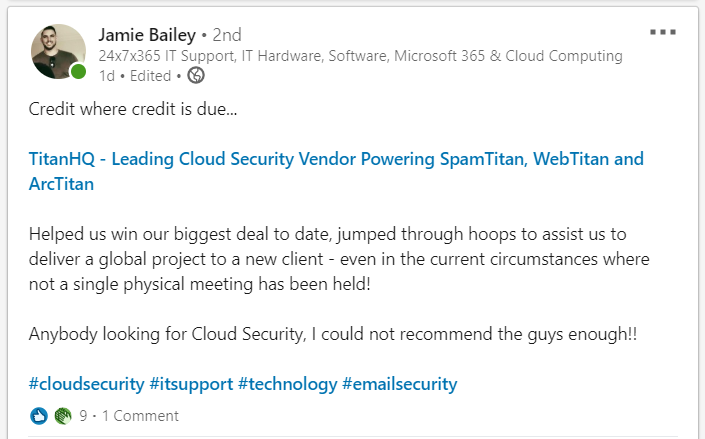 ArcTitan will be compatible with your email server, can be seamlessly integrated into Office 365 (with capabilities beyond those of Microsoft), and the solution can be provided in white label form ready for your corporate logo and color scheme to make it easier to resell as a hosted service and reinforce your brand.
An email archive is important for compliance and will be needed by many businesses for long term secure email storage. What's more, when it comes to email archiving for the MSP, the service has next to no management overhead. ArcTitan really is a set and forget solution and there is excellent margin opportunity. Managed service providers that have not yet started offering email archiving-as-a-service to their clients are missing out on easy extra recurring monthly revenue.
To find out more about ArcTitan and to start generating extra reliable, recurring, monthly revenue, give the TitanHQ channel team a call today. You can take advantage of our free trial to see for yourself how easy it makes email archiving for the MSP with your own email system.
We are sure you will be so impressed you will want to offer email archiving-as-a-service to your clients and our team will help you every step of the way to help ensure success.