Mocha Beans, the Galway-based coffee shop chain, has recently implemented TitanHQs WebTitan Cloud for Wi-Fi and has become the first chain of coffee shops in the Republic of Ireland to be accredited under the Friendly Wi-Fi Scheme.
The Friendly Wi-Fi Scheme was created in the UK in 2014 in collaboration with the UK Council for Child Internet Safety (UKCCIS) and the Registered Digital Institute. The Friendly Wi-Fi Scheme is the world's first public Wi-Fi accreditation scheme, and was developed to ensure that public Wi-Fi networks can be used by children and young people without them being placed at risk of accessing inappropriate website content such as pornography, child abuse imagery, videos, and websites.
The Friendly Wi-Fi Scheme was developed after concern was raised by children's charities that minors could be easily subjected to inappropriate website content while accessing public Wi-Fi networks.
Any establishment displaying the Friendly Wi-Fi symbol has had its Wi-Fi network checked and verified by an independent body to ensure that content filters have been applied that block inappropriate material.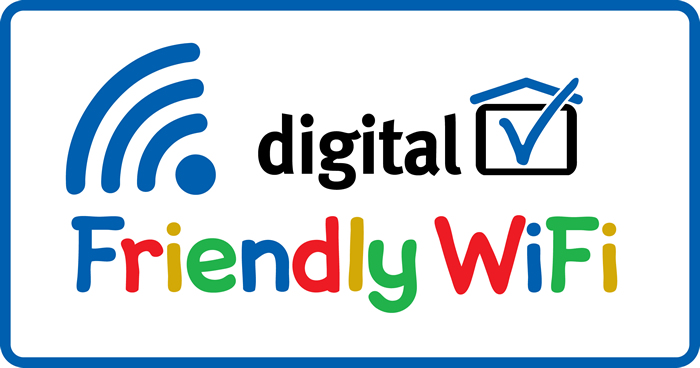 TitanHQ is a Proud Supporter of the Friendly Wi-Fi Scheme
TitanHQ is a proud supporter of the friendly Wi-Fi scheme. By using WebTitan Cloud for WiFi, operators of Wi-Fi hotspots can carefully control the website content that can be accessed by customers. WebTitan Cloud for Wi-Fi can be configured to block adult content such as pornographic images, videos, and websites, and prevents Wi-Fi users from accessing any of the sites contained in the Internet Watch Foundation's URL blacklist.
Not only does WebTitan Cloud for Wi-Fi prevent the accessing of inappropriate and illegal website content, the web filtering solution also blocks phishing websites and malware to ensure the Internet can be accessed securely and safely by all users.
Mocha Beans recently chose TitanHQ to provide its customers with clean and safe internet access. According to Cathal Keogh, MD of Mocha Beans, "Providing guest Wi-Fi in a coffee shop or restaurant is now expected. It was important for us to ensure we did everything possible to protect guests while using our free Wi-Fi service."
In the words of Ronan Kavanagh, CEO at TitanHQ, "Today's businesses know that security threats are evolving rapidly and constantly. For those offering public Wi-Fi, WebTitan for Wi-Fi allows them to deliver secure browsing via the cloud on any device, anytime."