Email archiving solutions are one of four options an organization has when evaluating the optimal way to remove data from a mail server and store it in a secure location where it is easily accessible. For smaller organizations with good in-house security and a low volume of email traffic, a hardware, software or hybrid solution may be appropriate. However, for larger organizations a hosted email archiving solution is the best way to ensure the integrity of email data.
What are Email Archiving Solutions?
A hosted email archiving solution is a cloud-based solution that copies email data as it enters or departs the email server and stores it in a secure data center. It is typically a "set and forget" solution with low maintenance overheads that can be configured to work across multiple servers in order to centralize an organization´s email database. This makes searches for archived data more efficient, and results in better email management.
Subject to the access levels set by an administrator, users are able to recover their lost, misfiled or deleted emails quickly and easily, either via a web-based platform or via an Outlook plug-in. This facility increases productivity and reduces the demands made on IT support, who can focus on more business-critical issues. With the exception of Microsoft´s hosted email archiving solution, cloud-based solutions are usually compatible with all operating systems and all leading email services. Cloud archives are more scalable than on-premises infrastructure – There is no need for additional physical servers, networking equipment, or software licenses and there is typically less latency with cloud archives, compared to on-premises email archiving solutions.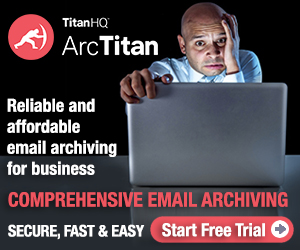 Comparisons with Other Archiving Solutions
A hosted email archiving solution compares favorably with other archiving solutions due to its capacity to expand as an organization´s volume of archived data grows. Hardware solutions and software solutions – and therefore hybrid solutions – have limits on how much data they can store and, as those limits are reached, organizations have to purchase addition hardware, reassign servers or migrate data. These costs will not apply if your organization´s email data is archived in the cloud.
Other archiving solutions also have compliance issues. Organizations in regulated industries are required to retain data for a specific length of time and have an actionable disaster recovery plan. Hardware solutions can get lost, damaged or stolen, while software solutions can be corrupted due to malware or system failures. A hosted email archiving solution does not have these problems, as data is regularly backed up and scanned for viruses.
Not all Cloud Hosted Solutions are the Same
It is important to note that not all cloud hosted solutions for email archiving offer the same level of service or features. For example, not all cloud hosted solutions archive emails at the same time as they pass through the mail server. Periodic archiving can result in compliance issues if the opportunity exists to delete emails before the hosted email archiving solution has copied them. It can also result in the loss of intellectual property or data that an organization may later rely on to defend HR disputes or civil action.
The way in which emails are archived can also affect the solution´s effectiveness. Ideally an organization should select a hosted email archiving solution that removes duplicated data before archiving emails. This process accelerates searches, reduces the number of search results and makes navigation of the results easier. It is also recommended to avoid cloud hosted solutions for email archiving that limit the number of searches that can be run concurrently or that limit the number of results.
Hosted Email Archiving and GDPR Compliance
Hosted email archiving is especially appropriate for organizations that collect, process or store the personal data of EU citizens. Under the General Data Protection Regulation (GDPR), all businesses that deal with EU citizens must implement measures to ensure the privacy of EU citizens and prevent the loss, theft or unauthorized alteration of their data. The rules apply whether the organization is physically located in the EU or not.
Because of the necessity to be able to produce personal data within thirty days (under the "Individual Rights" chapter of GDPR), a hosted email archiving solution is the most efficient way to comply with the EU Regulation. Certainly it will be more cost-effective than searching through databases backed up onto removable storage; plus, if an EU citizen subsequently exercises their "Right to be Forgotten", their data can be erased with the click of a mouse.
ArcTitan Cloud is a hosted email archiving solution that archives up to 200 emails per second as they enter or depart an organization´s system. Archived email data is encrypted and stored in an IL5 certified data center on Amazon S3 after it has been deduplicated, indexed and compressed for increased search speed. Consequently ArcTitan Cloud can search a database of 30 million emails in less than a second and is scalable up to 60,000 users.
ArcTitan Cloud is compliant with Sarbanes-Oxley, HIPAA, and other legislation for e-discovery and audit. It has full email audit functionality, including tamper-evident audit trails that administrators can use to identify data that has been altered without authorization and any other unusual activity. Our hosted email archiving solutions also includes a granular delegation feature that enables access levels to be set by department, user-group or individual user.
In addition to its features to optimize effectiveness, security and compliance, ArcTitan Cloud has been designed with ease-of-use in mind. A simple and intuitive interface means that end users will be able to use ArcTitan Cloud almost immediately after deployment. Furthermore, as ArcTitan Cloud does not use proprietary formats, there are no costly or time-consuming data conversions to perform prior to being able to transfer existing archive data.
ArcTitan Cloud Eliminates the Threat of Database Ransoms
One important consideration for organizations is the threat of database ransoms. Database ransoms differ from ransomware threats inasmuch as hackers enter the mail server, extract the data, and replace it with a ransom demand. Although the email data will likely be encrypted to comply with industry regulations – and consequently of no use to the hackers – organizations will be unable to function effectively without having access to recently sent and received emails.
ArcTitan Cloud eliminates the threat of database ransoms by enabling organizations to restore their email databases with the click of a mouse. The entire database does not necessarily have to be restored. Administrators have the option of restoring archived emails to the mail server by date, by user, and by any tags that have been applied to group emails. The ability to restore databases with this degree of flexibility also eliminates the threat of malicious actions by departing employees.
There is also a new breed of ransomware gang that conducts manual attacks. After gaining access to networks, they move laterally, identify all valuable data – including emails – and then deploy their ransomware payload. Since many businesses are reliant on email data, they are forced to pay the ransom to recover their emails. A cloud-based archive provides protection against these attacks, allowing email data to be easily restored from the cloud archive.
Scalable, email archiving that grows with your business
Email data stored securely in the cloud on Replicated Persistent Storage on AWS S3
Lightening fast searches – Search 30 million emails a second
Rapid archiving at up to 200 emails a second
Automatic backups of the archive
Email archiving with no impact on network performance
Ensure an exact, tamperproof copy of all emails is retained
Easy data retrieval for eDiscovery
Protection for email from cyberattacks
Eliminate PSTs and other security risks
Facilitates policy-based access rights and role-based access
Only pay for active users
Slashes the time and cost of eDiscovery other formal searches
Migration tools to ensure the integrity of data during transfer
Seamless integration with Outlook
Supports, single sign-on
Save and combine searches
Perform multiple searches simultaneously
Limits IT Department involvement in finding lost email
Compliant with regulations such as HIPAA, SOX, GDPR, Federal Rules of Civil Procedure, etc.
Find Out More about our Email Archiving Solution
If your organization is evaluating the deployment options for email archiving solutions, we invite you to take advantage of a free demo of ArcTitan Cloud. Our demo gives your end users the opportunity to experience the benefits of our hosted email archiving solution, and your system administrators the opportunity to identify optimum configurations so that, if you subsequently decide to implement ArcTitan Cloud, user adoption can be expediated
To find out more about our offer, or to ask about any of the issues mentioned above, do not hesitate to contact us and discuss your current archiving set up with one of our Sales Technician Team. Our friendly and experienced team will be happy to answer your questions and organize your free demo of ArcTitan Cloud – liaising with your IT department if necessary to enable a seamless deployment of our hosted email archiving solution.