Ever since Cisco acquired OpenDNS in 2015, businesses have been looking for OpenDNS alternatives because of issues they have encountered with the renamed Cisco Umbrella service. WebTitan Cloud fits businesses´ requirements perfectly due to the lower cost, ease of use, and vastly superior customer service and support.
If your business has encountered issues with the Cisco Umbrella service, searching for suitable enterprise-level OpenDNS alternatives can be challenging. Typically you are confronted with alternatives to OpenDNS´ free Home and Family versions, or solutions that are not at all adequate for your needs.
Among the limited choice of enterprise-level OpenDNS alternatives is WebTitan Cloud – our DNS-based content filtering solution that enables businesses to monitor networks, control Internet activity, and protect end-users from online threats such as malware, ransomware, C2 callbacks and phishing.
In many ways, WebTitan Cloud is a straight swap for OpenDNS Umbrella, inasmuch as both solutions are DNS-based web filtering solutions that automate threat protection and use predictive AI intelligence to identify attacks before they reach end-users. Both solutions plug a gap in security and protect end users from threats on the web, the number of which have been significantly increasing each year. Businesses that fail to implement a web filtering solutions are exposed to these threats.
OpenDNS Umbrella has three different tiers. The most basic is DNS Security Essentials, which is a bare bones DNS filtering solution offering basic web filtering capabilities that are mostly only suitable for very small businesses. DNS Security Advantage adds important additional protections needed by most SMBs, including partial SSL inspection. This feature allows encrypted website content (HTTPS sites) to be checked for threats, but only for risky websites. This package also provides more tools for investigations. The top tier package is Secure Internet Gateway (SIG) Essentials, which is Cisco's most comprehensive web filtering solution with a host of features that are required by large enterprises that are heavily targeted by threat actors and need enhanced protection for their extensive workforce.
WebTitan Cloud offers all the features of the most basic Umbrella package, with many features provided only in the next two tiers of the Umbrella solution – all of the essential features that are demanded by SMBs and MSPs that serve the SMB market. However, WebTitan Cloud has the advantage of being less expensive and easier to use, and it is more suitable for businesses subject to regulatory compliance, as data stays within the same region – That is not the case with Umbrella.
WebTitan Cloud Pricing Beats OpenDNS Pricing
When you are comparing like-for-like OpenDNS alternatives, price is an important factor. Due to the frequency with which prices and services change – and the various payment cycles on offer – it would be impractical to compile a price comparison of all OpenDNS alternatives. However, when compared to OpenDNS pricing on a like-for-like basis, WebTitan Cloud comes out very favorably indeed.
Whereas the pricing for WebTitan Cloud is transparent (you can find it here), the only publicly accessible OpenDNS pricing on the Cisco Umbrella website is for small businesses with up to 90 users. Quotes for large business and enterprise packages (which include multiple additional features you have to pay for, but may never use) have to be applied for.
Our WebTitan Cloud vs. OpenDNS Pricing Comparison
Based on prices for the basic solution, which only includes email support unless the Enhanced support ass-on service is also purchased is detailed in the table below. Bear in mind that prices are regularly updated, but the table should give you an idea of the difference in price between WebTitan and OpenDNS Umbrella.

We selected the OpenDNS pricing for the "DNS Security Essentials" package for 100 users and compared it against WebTitan Cloud. The difference was substantial. Whereas the cost for 100 OpenDNS users came to $3,240 per year (which you have to pay in advance), the cost for 100 WebTitan Cloud users amounts to $1,080 per year, resulting in savings of $2,160 per year. With WebTitan you have the option of paying in advance or paying monthly to spread out the cost.
This means that, for the same key features, you will pay more than double the price for OpenDNS than you will for WebTitan Cloud. Furthermore, with WebTitan Cloud, you get the option of a free trial before you commit to our service. With Cisco Umbrella you can have a free trial, but only for the most advanced package. There is no free trial available for the other two tiers, which are substantially different. WebTitan customers will qualify for bigger discounts if payment is made in advance and for longer term commitments. You also get phone support included in the price, which is an add-on service at an additional cost with OpenDNS Umbrella.
WebTitan Cloud vs. OpenDNS: Ease of Use
Ease of use is another important factor to consider when looking at DNS alternatives. If your chosen solution is too complicated to use, system administrators will struggle to find a balance between allowing your business to operate efficiently and protecting your business from web-borne threats such as malware, ransomware, C2 callbacks and phishing.
With regard to a WebTitan Cloud vs. OpenDNS comparison, both solutions are easy to set up – requiring a redirection of the MX server record. However, based on comments posted in the OpenDNS community forum, OpenDNS´ documentation can be difficult to follow, reports are not so customizable, and updates are slow to take effect. Of course, if you ever need to talk to anybody, you´ll have to pay for it.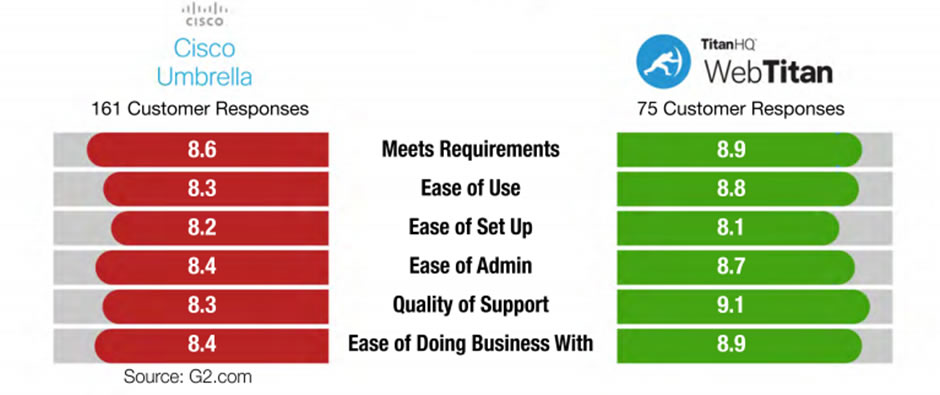 Know Where You Data is to be Compliant
If your business operates in a regulated industry, it is likely you want to keep your data within a certain region. For example, if your business operates as a healthcare organization and is subject to HIPAA regulations, it is better to maintain data within the US to avoid it being subject to other jurisdiction´s rules governing data residency, such as the European Union´s General Data Protection Regulation.
Whereas WebTitan Cloud is regionalized, so all data is guaranteed to stay within the same region, OpenDNS is a shared AnyCast system that selects the data path based on factors such as cost, the number of hops, and the least congested route. There is no guarantee your data will stay within the same region, which may cause issues if this is a regulatory requirement.
Experience Why WebTitan Cloud is the Best of the OpenDNS Alternatives
As mentioned above, we offer a free trial of WebTitan Cloud before you commit to our service so you can evaluate WebTitan Cloud in your own environment and decide whether it is the best of the Open DNS alternatives for your requirements. Our offer is open to every business, regardless of whether you are already using OpenDNS, another of the DNS alternatives, or no DNS-based solution at all.
Alternatively, if you have any questions before starting your free trial, you are invited to contact us and talk with our experts about your requirements. Our experts will be happy to answer your questions, can organize a demonstration of WebTitan Cloud tailored to your requirements, and calculate an all-inclusive price for using our service so that you can make your own comparison against OpenDNS pricing. Contact us today to find out more, and start your WebTitan Cloud experience for free.