Security experts agree that the best spam filtering service includes layers of security features to protect organizations from excessive levels of spam and threats such as malware, phishing, and ransomware. What they might not agree on is which features should be given priority when choosing the best spam filtering service for business.
In our minds, several factors contribute to making a spam filtering service the best. Naturally, a high spam detection rate comes at the top of the list, followed by ease of use – without which finding an acceptable spam threshold can be difficult. Then there are factors such as outbound scanning and greylisting to consider, and finally cost.
Do I need a Spam Filtering Solution?
Although basic spam filtering exists on most email platforms, cybercriminals are increasingly able to circumnavigate the filters. Basic spam filters simply do not have the required level of complexity to protect against these threats; and, as a result a powerful spam filtering service is necessary to fully protect users and data.
Spam filters exist for both inbound email and outbound email.
Inbound spam filtering scans incoming messages for spam, malware, and compliance with filtering policies.
Outbound spam filtering scans outgoing emails to identify data loss and account takeovers.
Discover how we can prevent malware attacks. Sign up for a FREE demo of SpamTitan today.
Book Free Demo
The Best Spam Filtering Service
No two businesses are identical, and therefore each may have different motives for implementing an email filtering service. In our experience, businesses have a wide range of priorities when for looking at a spam filtering service. Some will undoubtedly have had security incidents that has prompted them to investigate spam filter service providers, while others may be taking a safety first approach and implementing an anti spam filter as a precaution.
SpamTitan is a multi-award winning solution with powerful features to protect against advanced email attacks.
6 Reasons to Choose SpamTitan
Sandboxing – user machine learning and behavioral analysis to enable your security team to safely detonate suspicious files
Office 365 Protection – strengthen your office 365 email security with a defense in depth approach
Zero Day Attack protection – anticipate new attacks using predictive technology
Email Blocking – allow whitelisting, blacklisting, advanced reporting, recipient verification, and outbound scanning
Advanced Protection – scan all inbound mails with double anti-virus protection and prevent whaling and spear phishing
Data Leak Prevention – powerful data leak prevention rules to prevent internal data loss
What Our Customers Have to Say
"Quite simply, this has almost completely eliminated the amount of spam email going out to users. And, on the rare occasions, spam does make it through, the blacklist (and whitelist) features are so easy-to-use, I can flag it there on the spot. The set up is also quite simple ensuring that you will be up and running in no time!"   Isley U.  Grant Coordinator
"SpamTitan is outstanding! Between the Block Lists, Spam Filtering and Virus controls, 95% of the messages targeting our mail server are rejected. Of the remaining 5% that get through, 99% valid emails. Of the 95% that are blocked, easily less than 1% are false positives." Harold B. Director, Forensics and Discovery
An Email Spam Filter Service Should Have High Detection Rates
According to research conducted by the Radicati Group, the average office-based employee receives 90 emails per day. Of these 90 emails, 14 emails are spam emails that have not been detected by email filters. The research did not reveal how many spam emails were detected and blocked, but at a detection rate of 99% (which most advanced spam filter services are capable of) that would imply an average of 140 spam emails are sent to every office-based employee every day.
SpamTitan´s email spam filter service has a verifiable spam detection rate of 99.97%. A spam detection rate this high reduces the average number of spam emails received each day from 14 to 4 – reducing the chances of employees falling for a phishing scam or exposing the network to malware by 72%. Employees would also spend 72% less time identifying and deleting spam emails, enhancing their productivity. Of course, detection rates are variable depending on the settings applied, which brings us onto our second consideration – ease of use.
Protect your customers from malware, ransomware, phishing, viruses, botnets and other cyber threats. Book a FREE demo of SpamTitan today.
Book Free Demo
An Anti Spam Filter Should be Easy to Use
In order to best manage threats from phishing, email-borne malware, and ransomware, an anti spam filter has multiple mechanisms to determine the risk level of each inbound email. These mechanisms include acceptable spam thresholds (mentioned earlier), Sender Policy Frameworks, whitelists and blacklists, and recipient verification tools. Most anti spam filters – but not all – allow you to apply granular email policies per individual user, user group or business-wide to protect potentially vulnerable teams from spam while relaxing the controls for others. (You may, for example, want to apply more relaxed controls for your Sales Department´s emails to prevent potential leads being identified as spam).
Whatever user policies you choose to apply, they should be easy to implement. Setting the acceptable spam thresholds too leniently can result in more spam being delivered to employees´ inboxes – setting the thresholds too high can result in business-critical emails being quarantined until manually forwarded by an administrator. Fortunately, with SpamTitan, you will find our anti spam filter works very well with LDAP and Active Directory to accelerate the simple application of user policies.
Why an Email Filtering Service Should Scan Outbound Emails
In the past, several businesses have evaluated their email filtering service based on its inbound email scanning abilities, but there are good reasons why a business should also scan its outbound emails for spam and malware. Cybercriminals are now capable of compromising business email accounts and using them to send bulk spam emails from a "trusted source". In these cases, cybercriminals could be using your business email account to send malware to your clients.
An email filtering service with outbound scanning will identify any attempts to use your business account to send spam email, and block employees sending emails that have inadvertently been infected with malware. This precaution can prevent your business email and your business website being incorrectly identified as a source of spam and blacklisted by spam detection agencies. If your emails are blocked, and access to your website is denied, it could result in a substantial loss of business – and credibility.
What the Greylisting Process Does and Why it is Important
The "Greylisting" process is a controversial one. It effectively returns every non-whitelisted email to its sender to be added to the sender´s mail retry queue. The reason the greylisting process does this is to identify non-genuine email sent from spammers´ IP addresses not yet recorded on Real Time Blacklists and SURBL filtering mechanisms – the mail retry capability on spammers´ mail servers often being disabled due to the amount of undelivered spam emails that are returned.
Greylisting is a great way to prevent the delivery of spam and email-borne threats and contributes to SpamTitan´s high spam detection rate. However, is a controversial process because it can delay the delivery of business-critical emails. Consequently not all email filtering services include this feature among its security mechanisms. The way to overcome this issue is by whitelisting the senders of business-critical emails – a process that is simple to do via SpamTitan´s administrative portal with the click of a mouse.
The Cost of an Email Spam Filter Service
There is no comparison between the cost of an email spam filter service and how much it can save businesses annually, but the cost of manually identifying and deleting spam email is estimated to be billions of dollars each year – and that is before the cost of recovering data on a network that has been infected by malware or encrypted by ransomware. However, there are a series of factors businesses can take into account to ensure they are getting the best deal.
Here at SpamTitan, we price our subscription email spam filter service according to the business´s choice of deployment (we offer "Gateway" and "Cloud" deployment with further "Cluster Node" and "Private Cloud" options), the number of mailboxes the business wants to protect, and the payment schedule. Typically, the cost of SpamTitan´s email spam filter service is around $10.00 per user per year depending on what options you choose, and you are more than welcome to contact us for a no-obligation quote before taking advantage of our free trial offer if you wish.
Discover how we can prevent malware attacks. Sign up for a FREE demo of SpamTitan today.
Book Free Demo
How the SpamTitan Spam Filtering Service Works
SpamTitan incorporates advanced predictive techniques to detect new ransomware and malware variants, phishing and spear phishing attempts, and zero-day attacks. Each incoming message is subjected to a series of checks to identify spam emails and malicious messages. Before an email is delivered it must pass each of these checks.
SpamTitan's advanced threat detection uses Inbuilt Bayesian auto learning and heuristics to defend against advanced threats.
Bayesian Analysis—Organizations can block an email based on its content or attached files. Bayesian analysis learns from each message scanned – the more messages it scans the greater its effectiveness.
Auto Learning – use of AI pre-empts cyberthreats and thought pattern detection in real-time.
Heuristics – detecting viruses by examining code for suspicious properties.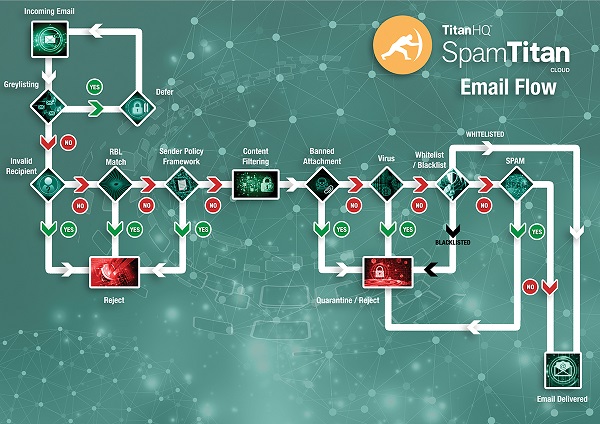 Features of SpamTitan Compared to Microsoft Office 365
Microsoft Office 365 is one of the world's leading software platforms, boasting over 200 million business users. Microsoft has incorporated security features into Office 365 to detect and block unsolicited messages and malware; however, a common criticism from users of Office 365 is that those checks fail to detect many spam and phishing messages. Some businesses find it lacking against highly-sophisticated cyber threats especially phishing attacks.  Because of this many organizations are adopting a defense-in-depth strategy, using SpamTitan spam filtering, to protect their Office 365 users from advanced and persistent phishing threats.
SpamTitan for Office 365 allows you supplement Office 365's native email security with award-winning protection from a dedicated security provider. SpamTitan's sandboxing feature protects against breaches and sophisticated email attacks by providing a powerful environment to run in-depth, sophisticated analysis of unknown or suspicious programs and files. SpamTitan for Office365 adds more advanced security like protection from phishing and spear phishing, including Business Email Compromise and zero-day protection.
When SpamTitan is used with Office 365, users are much better protected from email threats, including sophisticated phishing attacks and new malware variants.
See SpamTitan´s Spam Filtering Service in Action
As you know, the threat landscape is constantly evolving with new threats emerging everyday. SpamTitan offers protection from the most current threats. Moreover, for us email and spam filtering is not just another option on a long list services; it is our core offering. This focus, results in a higher overall catch rate and protection rate than clients experience from vendors who are trying to be "all things to all people".
There is no one-size-fits-all spam filtering services, but we have tried to make the SpamTitan spam filtering service as flexible as possible to meet most business´s needs without over-complicating the filtering or administration process. If you would like to find out more SpamTitan, book a demo to see our spam filtering service in action.
Alternatively, do not hesitate to contact us to discuss your current online security arrangements and seek advice about which of our deployment options would be best for your specific circumstances.
Enhance productivity and reduce emails threats by 72% or more.
Easily apply filtering policies by user, user-group or business-wide.
Protect IP reputations and business credibility with outbound scanning.
Capture spam from previously unknown spamming sources with greylisting.
Choose from a choice of deployment options – on premises or in the cloud.
FAQs
How does SpamTitan block malware?
SpamTitan blocks malware using multiple layered defenses. Dual antivirus engines are used for detecting known malware and sandboxing is used for analyzing suspicious email attachments to detect zero-day malware threats. Risky email attachments (.exe, .scr, .js etc.) can be blocked to prevent emails containing those attachments from being delivered to inboxes. Content filtering is also used to identify message text often associated with malicious messages, and previous sources of malware are automatically blocked.
What is an email impersonation attack?
An email impersonation attack is one where the sender of an email is spoofed to make it appear that a message has been sent from their email account. Employees are often fooled by these scams, when an email appears to have been sent from a trusted source. Features within SpamTitan prevent those messages being delivered.
How can I block email impersonation attacks?
You can block email impersonation attacks by ensuring tools such as Sender Policy Framework (SPF) and Domain-based Message Authentication, Reporting, and Conformance (DMARC) are configured correctly. These email authentication techniques are used to determine whether the sender of an email is authorized to send messages from that domain. Both are important controls for blocking email impersonation attacks and both are used by SpamTitan.
Will replacing Office 365 spam filtering improve spam detection rates?
Replacing Office 365 spam filtering with an alternative solution is not guaranteed to improve spam detection rates because how a spam filter is configured has as much bearing on the spam detection rate as the software itself. Therefore, rather than replace the Office 365 spam filter, it may be better to augment it with a simple-to-configure spam filter such as SpamTitan.
What is email content filtering?
Email content filtering is the process of evaluating the content of an email to determine the likelihood of the message being spam or malicious. Advanced spam filters that incorporate content filtering are "trained" using a sample of legitimate messages and machine learning techniques can then predict when messages deviate from the norm and are likely to be spam.
Why is my spam filtering service suddenly detecting fewer spam emails and allowing them into my inbox?
Your spam filtering service may suddenly be detecting fewer spam emails and allowing them into your inbox for several reasons. Most likely is that the spam originates from a source not yet added to an RBL blacklist (an issue that Greylisting may resolve). Alternatively, a change may have been made to your service's spam filtering threshold by the software provider, a system administrator, or a managed service provider.
Is it possible to block emails sent from outside the United States?
It is possible to block emails sent from outside the United States by configuring the geo-blocking capability on your mail filter to block emails from non-US IP addresses. This won't guarantee a total block on emails originating from non-US sources because some spammers and cybercriminals use VPNs and proxy servers to disguise their location or to make it appear they are located in the US.
What is the best configuration for a spam filtering service?
The best configuration for a spam filtering service varies from organization to organization and from user to user depending on a variety of factors. These include the nature of an organization's activities, the degree of risk an organization is willing to take, the susceptibility of users to phishing, and other controls the organization has implemented to protect the security of sensitive information.