Web
Titan

Cloud for WiFi
Prevents your guests from accessing unsuitable websites. Immediately protects your network.
Secure WiFi is becoming a Commercial Obligation
Organizations are under increasing commercial pressure to provide wireless internet access for clients. However the provision of WiFi access can be risky. WiFi guest can be exposed to unsuitable websites and malware.
The risks of providing wireless internet access for your clients can be mitigated by implementing a WebTitan Cloud for WiFi. The solution allows you to control the content that can be accessed, creates a safe environment to access the internet, and provides your organization with reports regarding network usage – which give you the potential to tailor your services to your clients´ needs.
Datasheet
WebTitan Cloud for WiFi
Features of WebTitan Cloud for WiFi
Up and running in a matter of minutes.
100% Cloud Based
No hardware or software installations required.
Fast: DNS solution = zero added latency.
Supports static or dynamic IPs.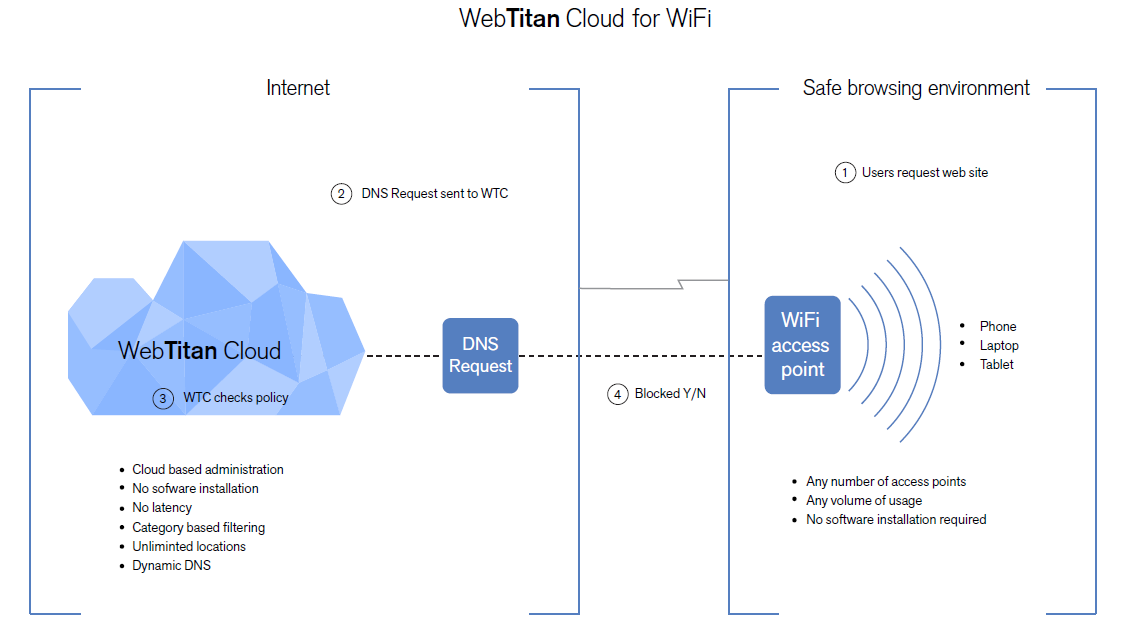 Who uses WebTitan Cloud for WiFi?
WebTitan Cloud for WiFi has been designed for companies who want to offer web content filtering and malware protection to their customers.
This ranges from: Hotspot providers who want a robust low management solution to ensure users of their services cannot access content they would deem unsuitable, such as pornography, hate speech or violence to Service Providers who want to provide protect the integrity of their clients' networks.
Typical Customers
WebTitan Cloud for WiFi is suitable for organisations for organisations of all sizes. Our WiFi web filtering solution is ideal for:
Wireless WiFi ISPs, MSPs and other WiFi service providers
Cafes, coffee shops & restaurants
Retail outlets & shopping malls
Schools & universities
Health systems & hospitals
Hotels
Offices
Libraries
Airports
Rail & bus networks
Why filter WiFi?
The provision of a WiFi hotspot can be risky. Your WiFi guest can be exposed to unsuitable websites and malware. Many companies choose to filter their WiFi to:
Protect their brand: business owners do not want any issues arising from providing WiFi access in their premises, such as customers or minors accessing unsuitable content from their network or violating any laws when online.
Protect users:  the internet is the main conduit of malware online. Owners want to assure users that they are safe when online on the WiFi network, this also goes to brand protection and brand enhancement
Save bandwidth: prevent users from using the WiFi network to download large amounts of content, such as streaming websites, or videos or movies.
The benefits of WebTitan Cloud for WiFi
Shared
WebTitan Cloud for WiFi is a multi-tenented platform. You can create new customers and accounts easily and manage any number of locations from one account. You can also delegate administration to the customer so that they can dictate the policy of what they want their guests to be able to see. This can be set up in minutes and is all managed from an intuitive web based interface. No local software installs required.
Standardized
Our multiple API's allows integration with your billing, auto provisioning or monitoring system. Being able to standardise across these systems provides freedom and simplicity.
Secure
WebTitan Cloud for WiFi allows the administrator to set instant alerts in order to discover who is trying to view restricted content. They can  find out exactly what content customers are accessing via your WiFi network. Policies can be created per location preventing users from accessing unwanted content and blocking malicious websites.
Simple & Immediate
WebTitan Cloud simplifies WiFi security management. It takes care of all the complexities of content filtering and security while presenting your customers with a logical interface that requires no training. It requires;
NO specialist training,
NO software installation and
NO need for technical expertise to either set up or manage customer accounts– it's that simple .
It is a DNS based solution requiring a simple DNS redirect to the WebTitan cloud servers. It is therefore simple to set up and manage, completely scalable and avoiding any latency effects.
The implementation was totally painless from our perspective. We now have a secure network that provides our customers safe Internet access while they browse and shop in Selfridges.
Need Help Ordering?
Call us on USA +1 5859735070 or IRL +353 91 545555
What We Do Is Better
Let's get started today