Email archiving solutions have been developed by many cloud service providers, but prices can vary considerably between products, even between products that include a virtually identical set of features. Finding the best value email archiving solution for your business can be a challenge.
While the difference in price may only be a dollar or two per user, when multiplied by the number of employees in the organization the cost difference can be of the order of several thousand dollars a year.
To help you get the best possible price on email archiving, we have created a 2019 email archiving price comparison grid. The grid includes some of the leading names in email archiving and gives a typical price per user per month and per year, along with the total annual cost for a business with 100 mailboxes. The prices were taken from price lists available on 04/05/2018.
As you can see from the grid, TitanHQ's email archiving solution, ArcTitan, is very competitively priced and is an affordable solution for most businesses. Being cloud-based, an email archive is quick and easy to set up and no hardware or software is required.
2019 Email Archiving Costs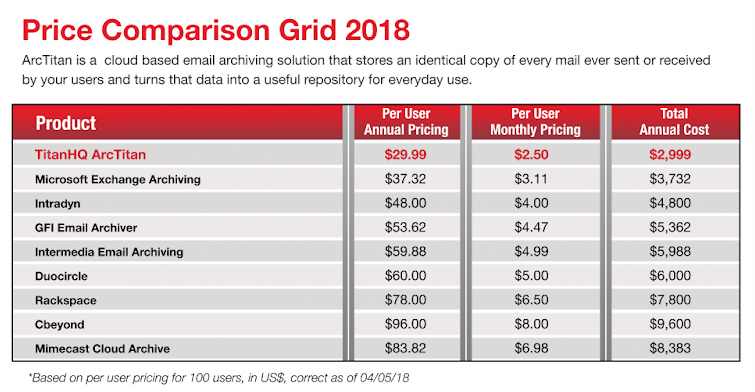 Key Features of ArcTitan
100% cloud-based – No hardware or software is required
No limits on numbers or storage space
Virtually unlimited scalability
Enhances Search and Storage functionality of Office 365
Rapid archiving and retrieval – Processes 200 emails a second
Intuitive design ensures easy use by all employees on desktop and mobile
Full encryption of emails at rest and in transit to meet HIPAA obligations
Full audit trail maintained
Remote access to the archive from authorized users from any location or device
Full protection against data loss and mail server outages
Industry-leading customer support
As with all other TitanHQ solutions, ArcTitan is available on a no-obligation free trial. The free trial is for the full product and all product features are available. During the trial, businesses have access to an experienced engineer who will check the configuration and will make recommendations. Technical support is available throughout the trial at no cost.
At the end of the trial, if you are happy with the product you can purchase a license and can continue to use ArcTitan as before. There is no need for any further installations and the same excellent service will seamlessly continue. If you are not happy for any reason, there is no obligation to proceed with a purchase and TitanHQ will wish you the best of luck with your search for an alternative solution.
If you have any questions about ArcTitan, to book a product demonstration, or to sign up for the free trial, contact TitanHQ today.