G2 Crowd, the trusted business software review platform, has recognized SpamTitan as a High Performer for email security. The solution has been praised for speed of implementation, ease of use, quality of support, and its spam filtering capabilities.
Finding the right software solution can take a lot of time and effort. Even when software is carefully and painstakingly reviewed, making a purchase can be risky. G2 Crowd helps businesses find the most suitable software and services and make informed buying decisions, taking the guesswork out of software selection.
The G2 Crowd platform contains more than half a million independent, authenticated reviews from users of software solutions that give honest feedback on software solutions after having put them through their paces. The platform is trusted by businesses and its user reviews are read by more than 2 million buyers every month.
This December, G2 Crowd released its Winter Secure Email Gateway Grid℠, which ranked SpamTitan as the highest performer in the mid-market segment. According to G2 Crowd, "High Performers provide products that are highly rated by their users," and have achieved consistently positive reviews from the people that matter – customers.
The high position is due to consistent 5-star reviews from users. 93% of user-reviewers on the site have awarded SpamTitan 5 stars out of 5, with the remaining 7% giving the solution 4 stars out of 5. SpamTitan has attracted praise across the board, notably for how easy it is to set up, use, maintain, its reporting tools, the quality of customer support, and price.
SpamTitan has also been rated as a 5-star email security solution by users of Spiceworks and has won more than 37 consecutive Virus Bulletin Spam awards.
Not only is SpamTitan an ideal solution for SMBs to block spam email, malware, and phishing threats, it has been developed to also meet the needs of managed services providers to allow them to easily add spam filtering and phishing protection to their service stacks.
SpamTitan is available with three deployment choices: SpamTitan Gateway, SpamTitan Cloud, and SpamTitan Private Cloud, to meet the needs of all businesses.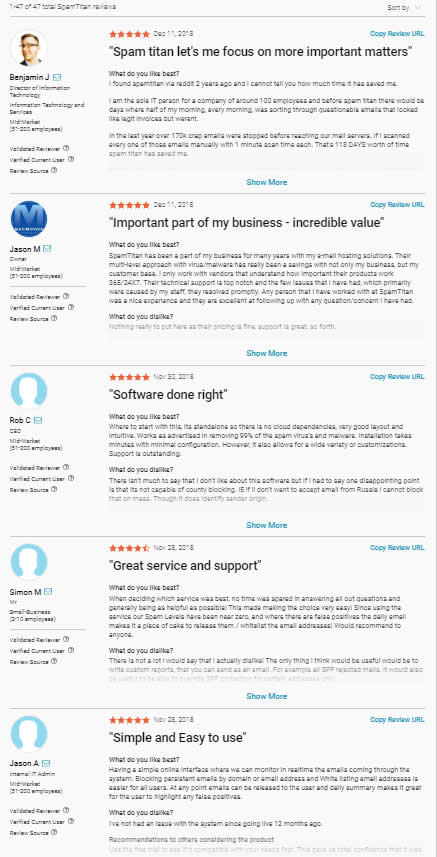 Check out the SpamTitan reviews on G2 Crowd and contact TitanHQ to schedule a product demonstration. SpamTitan is also available on a free 14-day trial to allow you to test the solution for yourself in your own environment.