TitanHQ is on the road again and has kick started a busy 2019 schedule of conferences with events on both sides of the Atlantic.
On February 14, 2019, TitanHQ Alliance Manager Patrick Regan attended the TitanHQ-sponsored Datto Roadshow in Tampa, Florida, and has been meeting with MSP partners from the region to help them with their existing and new email security, DNS filtering, and email archiving projects. TitanHQ has been working very closely with Datto MSP partners to ensure they get the most out of TitanHQ products to better support their clients.
On the other side to the pond, TitanHQ Alliance Manager Eddie Monaghan kicked off a week at the IT Nation Q1 EMEA Meeting in London and has been meeting MSP clients and finding what is going in in their world.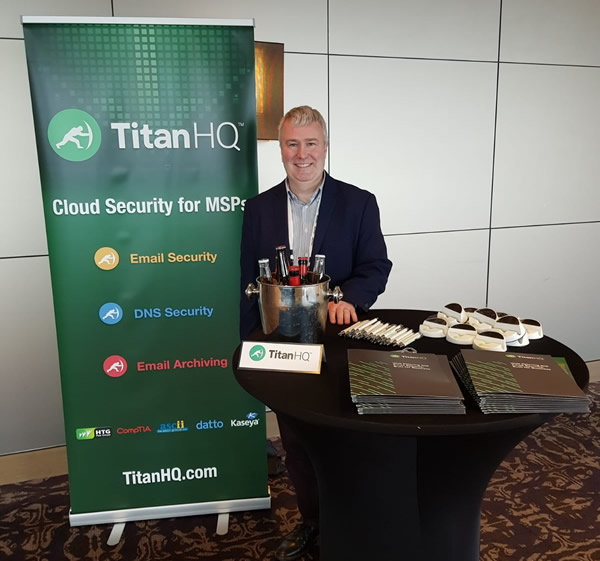 TitanHQ Alliance Manager, Eddie Monaghan 
At both locations and in the upcoming roadshow events the TitanHQ team is available to meet with prospective MSP partners to explain about TitanHQ's award-winning email security (SpamTitan), web security (WebTitan) and email archiving (ArcTitan) solutions and how they can easily be slotted into MSPs security stacks to better help and protect their clients. Current MSP partners will be given tips to help them get the very most out of the products.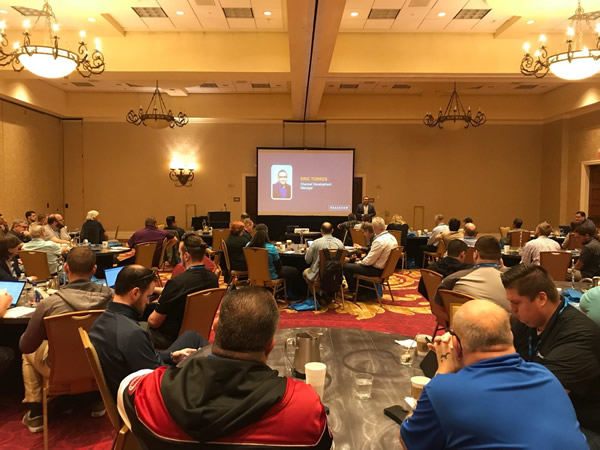 Partner with TitanHQ
TitanHQ is the leading provider of email and web security products for MSPs serving the SMB market and now provides its products to more than 1,500 MSP partners serving clients in more than 200 countries. The combination of SpamTitan and WebTitan allows MSPs to provide their clients with superior protection against malware, ransomware, phishing and other cyber threats.
All TitanHQ products have been developed to specifically meet the needs of MSPs and save them support and engineering time by blocking cyber threats at source.
TitanHQ has developed it's TitanShield Program to help partners in a wide range of industry sectors take advantage of TitanHQ's suite of products. The TitanShield Program consists of four elements which meet the needs of MSP, ISP, and technology partners:
The MSP Program: Allows MSPs and resellers adopt the TitanHQ platform and security solutions to provide TitanHQ products direct to their clients.
The OEM program: TitanHQ's entire suite of products is supplied in white-label form ready to take your company's branding.
The Technology Alliance Program: Allows tech companies to partner with TitanHQ to offer spam filtering, web filtering, and email archiving solutions to clients alongside their own products.
The Wi-Fi Program: A program for Wi-Fi providers allowing the incorporation of TitanHQ's cloud-based WiFi content filtering solution partners' WiFi services.
Over the coming few months, TitanHQ will be visiting Dublin, heading across the channel to the Netherlands, and will be travelling through the UK and United States. If you are a current MSP partner or are interested in finding out how TitanHQ products could benefit your clients and be slotted into your technology stack, be sure to come and meet the team at one the following events.
We look forward to seeing you at one of the roadshow events in 2019.
TitanHQ 2019 MSP Roadshow Dates
February 2019

Date
Event
Location
February 14, 2019
IT Nation (HTG) Q1 EMEA Meeting
London, UK
February 14, 2019
Datto Roadshow
Tampa, FL, USA

March 2019

Date
Event
Location
March 5, 2019
CompTIA UK Channel Community
Manchester, UK
March 7, 2019
Datto Roadshow EMEA
Dublin, IE
March 11, 2019
CompTIA Community Forum
Chicago, IL, USA
March 12, 2019
Datto Roadshow NA
Norwalk, CT, USA
March 19, 2019
Datto Roadshow EMEA
London, UK
March 26, 2019
Datto Roadshow EMEA
Houten, Netherlands
March 26, 2019
Datto Roadshow NA
Toronto, Canada

April 2019

Date
Event
Location
April 25, 2019
Datto Roadshow
Long Island, NY, USA
April 29, 2019
IT Nation Evolve (HTG 2)
Dallas, TX, USA

May 2019

Date
Event
Location
May 6, 2019
Connect IT Global (Kaseya Connect)
Las Vegas, NV, USA
May 13, 2019
IT Nation (HTG) Q1 EMEA Meeting
Birmingham, UK
May 14, 2019
Wifi Now
Washington DC, USA

June 2019

Date
Event
Location
June 17, 2019
DattoCon
San Diego, CA, USA