Q3, 2019 has seen TitanHQ register record-breaking growth in the MSP market with its busiest ever quarter for MSP sales. TitanHQ now has more than 2,200 MSP partners and its cloud-based email security, web security, and email archiving platforms are now used by more than 8,200 businesses around the world.
Many great success stories start from humble beginnings, and TitanHQ is no exception. The company started life as Copperfasten Technologies in 1999 and sold anti-spam appliances to local businesses from its Galway, Ireland base. The company then developed its own cybersecurity solutions, starting with the anti-spam and anti-phishing solution, SpamTitan.
The product portfolio grew to include WebTitan web filtering, a powerful DNS-based web security solution to protect businesses from the full range of internet threats. That was followed by the launch of ArcTitan, a cloud-based email archiving solution for businesses that eases their email storage and compliance burden.
That trio of core TitanHQ products has proven to be a massive hit with managed service providers, although not by accident. Many companies have developed innovative solutions for SMBs but have only realized the importance of the MSP market later on. Additional features are then added to appeal to MSPs. TitanHQ took a different approach. Its solutions were developed by MSPs for MSPs and MSPs were considered at every stage of product development. The result is a suite of security solutions tailor-made for MSPs.
This approach, along with cutting-edge technology and industry-leading customer support, has seen the company go from strength to strength and become the gold standard in email and web security and the leading global provider of cloud-based security solutions for MSPs servicing the SMB market.
Phishing attacks on businesses are soaring, new malware variants are being released at record levels, and the current ransomware epidemic is threatening to derail businesses. Many SMBs lack the internal resources to block these threats and turn to MSPs to provide the security they need.
To cope with the increased demand, MSPs need solutions with 100% cloud-based architecture that seamlessly integrate into their existing centralized management systems and are easy to implement, use, and maintain. Ideally, those solutions need to be flexible, have a range of hosting options, be available in white-label form to take MSP branding, and also include generous margins. That is a big ask, and many solutions only tick a few of those boxes. However, TitanHQ's suite of solutions include all those features and more.
TitanHQ also offers extensive sales enablement and marketing support, world-class customer service, and each MSP has a dedicated account manager, engineers, and a support team to help them maximize their sales opportunities and really grow their businesses.
As part of the celebration of the Q3, 2019 MSP growth, TitanHQ has launched a new initiative to ensure Q4 will be an even bigger success.
On October 22, TitanHQ announced a new disruptive price package for a SpamTitan Email Security and WebTitan DNS filtering bundle at an exclusive once-in-a-lifetime price. The initiative has been called Margin Maker for MSPs and is intended to ensure MSPs build profitability instantly in Q4, 2019.
The two solutions are provided in two private clouds, customized to meet MSPs email and web security needs, and secure the most common attack vectors – email and the web. The package includes advanced protection for email, including Office 365 environments, complimented by WebTitan DNS filtering to block web-based threats and implement content control for on-premises and remote workers. These solutions are naturally provided with extensive sales enablement and marketing support.
The aim is to make TitanHQ's email and web security platforms even more appealing to MSPs and to encourage MSPs to offer both SpamTitan email security and WebTitan web filtering to their clients and maximize revenues.
One MSP that is already boosting its profits and achieving increased, reliable recurring monthly revenues is UK-based OpalIT. The MSP has bases in Newcastle and Edinburgh and a 6,000+ customer base. Prior to joining the TitanShield program, OpalIT was offering its clients firewall filtering and email filtering with Barracuda and Vade. The company has now switched to TitanHQ's cybersecurity bundle and is pushing SpamTitan Email Security, WebTitan DNS filtering, and ArcTitan email archiving to its clients and is reaping the rewards.
"Opal IT moved to TitanHQ because of our MSP focused solutions, ease of deployments, extensive APIs functionality and the increased margin they're now making.  Our cybersecurity bundle solutions allow MSPs to provide their downstream customers with a layered defense approach" said Rocco Donnino, EVP Strategic Alliances, TitanHQ.
If you are a managed service provider, now is the perfect time to sign up with TitanHQ. Come and meet the TitanHQ channel team at the following MSP events to find out more about the TitanShield program for MSPs, OEMs, and service providers, and take advantage of the amazing new MSP package.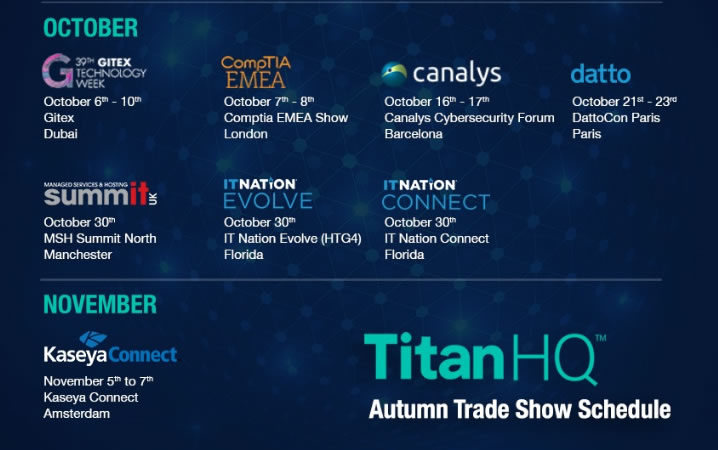 If you are unable to attend any of these events, be sure to give the TitanHQ team a call to find out more and take advantage of this exciting new and exclusive offer.