Hosted email security is most often a cloud-based email filtering service provided by an established online security company. The reason why many businesses choose to use hosted email security software is to take advantage of its advanced features in order to increase spam detection rates and limit the number of phishing emails entering the network, as well as those harboring malware and ransomware.
Cloud-based email filtering services are low maintenance solutions, with software updates being performed by the company providing the service. They also have the advantages of being universally compatible with every operating system, infinitely scalable and cost-effective – requiring no hardware purchases or software installations, and being supported by the service provider´s technical team.
How Hosting Email Security Works
To better protect their networks against spam email, businesses create an account with a service provider, add their domain and a domain administrator, and then connect to the service provider´s servers by redirecting their MX records. Thereafter, all incoming emails pass through the service provider´s servers, and are filtered according to policies created by the domain administrator.
User policies can be imported from existing directory tools or created and amended as required. Domain administrators can apply different acceptable spam thresholds by user, group, domain or business-wide via a centralized management portal (a default threshold is applied until this is done), and schedule reports to be sent to each user when mail is quarantined by the hosted email security software.
Thereafter, domain administrators can easily monitor the volumes of spam emails being detected, tagged, quarantined and rejected in real time via the management portal or historically via a suite of customizable reports. These reports can help business with reviewing their online security and compiling risk assessments if the business operates within a regulated industry.
Hosted Email Security Software with Greylisting
Not all hosted email security software is the same. Although most use Real Time Blacklists and SURBL filters to block emails from known sources of spam, those with higher spam detection rates use a process known as greylisting to help identify emails from previously unknown sources of spam. Greylisting can delay the delivery of emails to users, but the benefits can be substantial.
Research has shown the average spam detection rate for the top ten email filtering services without greylisting is 96.86%. Even with this high spam detection rate, an office-based employee will receive an average of twelve spam emails per day. By comparison, hosted email security software with greylisting detects 99% of spam email – reducing the number of spam emails received to a daily average of four.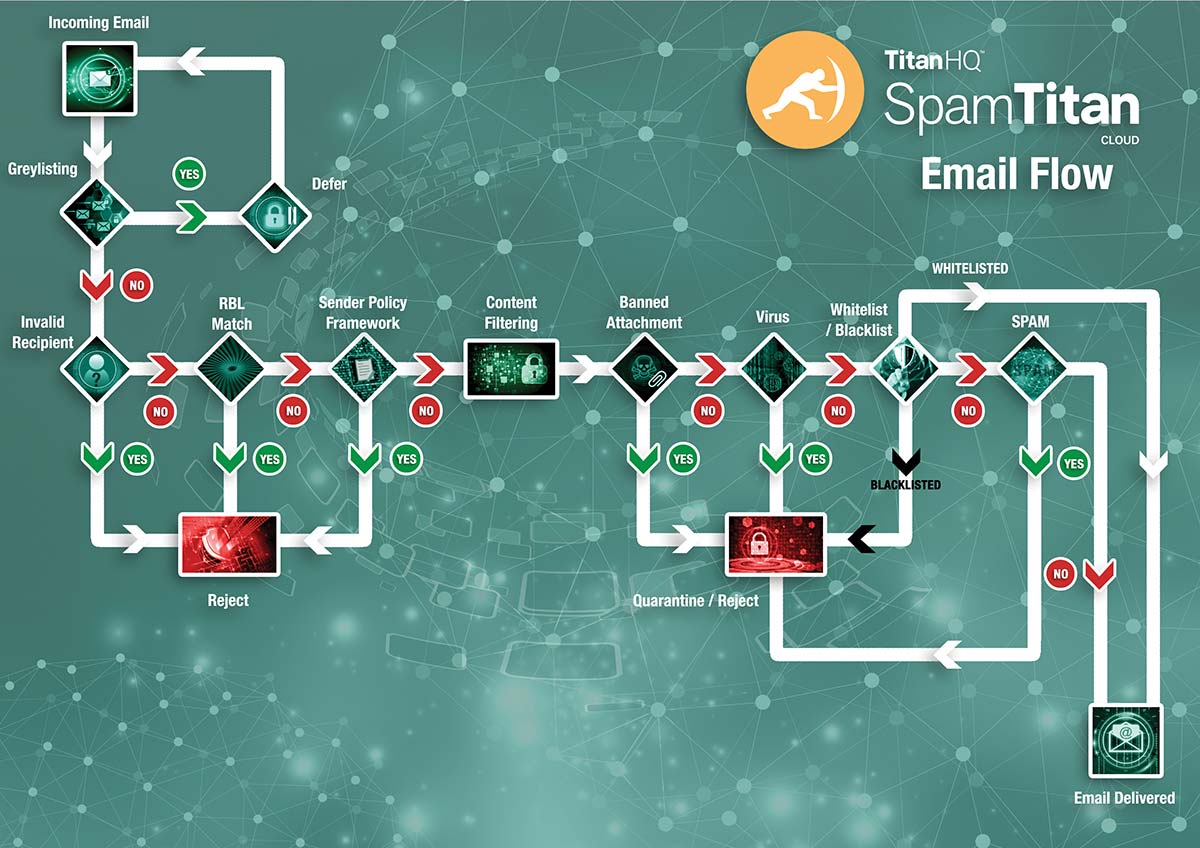 Click to View
The time spent by a single office-based employee identifying and deleting eight spam emails per day may not be very long. But, multiply that time by thousands of employees, and over the course of a year a business can save tens of thousands of dollars in lost productivity as well as reduce the number of potential threats entering the mail network by 67% – usually for no additional cost.
Hosted Email Security from SpamTitan
SpamTitan has been producing online security products since 1999. In nearly two decades, thousands of businesses across the world have used our services to mitigate web-borne and email-borne threats, and enhance productivity in the workplace. Our hosted email security software has achieved spam detection rates of 99.97% in numerous tests with no or minimal false positives.
SpamTitan´s hosted email security software includes greylisting among a number of front-end tests to maximize spam detection. Our software scans both inbound and outbound mail for malware in order to provide an extra layer of security and prevent the potential IP blacklisting. Multiple web authentication settings and recipient verification types provide domain administrators with flexibility over how they wish to apply the software´s parameters, plus SpamTitan is available in a choice of deployment options.
In addition to providing a cloud-hosted service, SpamTitan offers business´s a Gateway on-premises email filtering service that can be installed seamlessly into a physical or virtual infrastructure. We also offer a cluster option, and the possibility for SpamTitan´s hosted email security software to be hosted in a private cloud – an ideal solution for Managed Service Providers.
To find out more, contact one of our security experts today. Our team will be happy to answer any questions you have, help determine which format of hosted email security would best suit your needs and invite you to take a free trial of SpamTitan so you can evaluate the merits of our hosted email security software in your own environment.
FAQs
Does a hosted email filtering service include antivirus protection?
Most hosted spam filtering services include antivirus protection. SpamTitan has dual antivirus engines (Bitdefender/Clam AV) that check all attachments for malware and malicious scripts. In addition, SpamTitan uses sandboxing to provide extra protection against malware. If an attachment passes the AV controls, it is sent to the sandbox for in-depth analysis.
Can hosted email filtering be used to Improve the Microsoft 365 spam filter?
A third-party hosted email filtering solution is often chosen by businesses to improve the Microsoft 365 spam filter. Microsoft 365 includes Exchange Online Protection (EOP) as standard, but it only has a basic set of spam filtering mechanisms. SpamTitan Cloud is a hosted email filtering service that works seamlessly with Microsoft 365 to improve malicious email detection for Office 365 mailboxes.
Is hosted email protection better than on-premises email security solutions?
TitanHQ offers spam filtering solutions with multiple deployment options. The level of protection provided by those solutions is very similar, but the on-premises email security gateway – which is delivered as a virtual appliance – better meets the needs of some businesses. If you are unsure which option is best for you, give the TitanHQ team a call.
Are hosted email security services expensive?
All hosted email security services are likely to provide great value for money, as they will prevent email threats from reaching inboxes where they can be clicked by employees. The cost of email security is far lower than the cost of mitigating a cyberattack. That said, you can keep costs to a minimum by choosing SpamTitan. Quotes can be provided on request with prices starting at around $1 per user, per month.
To what extent is hosted email security managed by the provider?
One of the main advantages of hosted email security is the service provider performs all updates, so the solution does not add to the patching burden of the IT security team. AV engines and threat intelligence feeds keep the solution constantly up to date, and when new versions of the solution are released, they are applied automatically.