Depending on the size of your organization and the nature of its business, a hosted spam filter may be the most suitable solution to prevent spam, phishing emails, spoofed emails and email-driven cyberattacks.
A hosted spam filter is a filtering solution hosted in the cloud. Like other cloud-based applications, a hosted spam filter does not incur capital expense, is infinitely scalable and can be managed from any Internet-connected device.
In addition to these advantages, the software driving a hosted spam filter is updated by the company providing the hosting. This not only saves the disruption of site visits and downtime to update virtual and physical appliances, but also ensures that the spam filtering solution is identifying and quarantining the latest web-borne threats.
Why You Need a Professional Spam Filtering Solution
Spam cost industry billions of dollars each year. Industry experts suggest it takes an average employee four seconds to identify and delete each spam email. For an organization employing 1,000 staff – each receiving just five spam emails each day – this means that it will lose 219 days of productivity each year due to spam email.
A potentially bigger cost to industry comes from the volume of phishing emails, spoofed emails and email-driven cyberattacks that evade detection. Although organizations are strengthening their security defenses with employee online awareness training, statistically it is only a question of time before an employee innocently clicks on a sophisticated spoofed email and infects the organization´s entire network.
A report produced by the Ponemon Institute in 2015 – "The Cost of Phishing and Value of Employee Training" – concluded that the average cost of repairing the damage caused by a successful cyberattack was $1.8 million. That figure failed to include regulatory fines. By comparison, the cost of protecting your organization with a hosted spam filter is around $10.00 per employee per year.
How Hosted Spam Filter Solutions Work
Hosted spam filter solutions work in exactly the same way as virtual and physical appliances. Inbound emails are inspected against lists of senders and their IP addresses to identify those known to have originated from untrustworthy sources. The multi-layered security mechanisms also check for breaches of sender policy frameworks to detect phishing emails and spoofed emails.
Any emails rejected by the filter are quarantined – as are any emails found to have infected attachments or links to compromised websites by anti-virus software. The solution also checks that outbound emails do not contain spam or viruses in order to prevent the organization´s outgoing email servers from being blacklisted by global blacklisting services.
The primary distinctions between a hosted spam filter and other email filtering solutions is that the security mechanisms are always up-to-date, and its cloud-based hosting makes the service simple to implement and manage. Organizations simply have to adjust their mail exchanger (MX) records in order to redirect inbound and outbound traffic to the service provider´s email servers and then manage the solution via a web-based portal.
Evaluating the Best Hosted Spam Filter
Cloud-based spam filtering solutions come in many formats. Some will be better than others at identifying and quarantining spam emails, while others will have more efficient front-line tests such as recipient verification to prevent backlogging. In order to evaluate the best hosted spam filter, organizations should ask service providers the following questions:
Can the advertised levels of spam detection be verified?
Will the filter reduce the load on my email server?
Is there a choice of options for what happens to the spam emails?
What anti-virus software is used by the hosted spam filter?
What front-line tests does the filter conduct?
Is there more than one cloud-based hosting option?
Thereafter, the best hosted spam filter will likely be determined by an organization´s individual situation. If yours is a smaller organization with limited IT resources, a low maintenance overhead may be a consideration. With a cloud based solution no software or hardware investment or maintenance is required.
SpamTitan Cloud – A Professional Spam Filtering Solution for Business
SpamTitan Cloud is a professional spam filtering solution for business. As verified by the leading testing and certification authority – VB Bulletin – SpamTitan blocks 99.97% of unwanted and malicious emails. Due to the solution being hosted in the cloud, emails are filtered and checked for viruses before reaching an organization´s mail server – substantially reducing the load even if the organization opts to have spam email above a certain score tagged and delivered.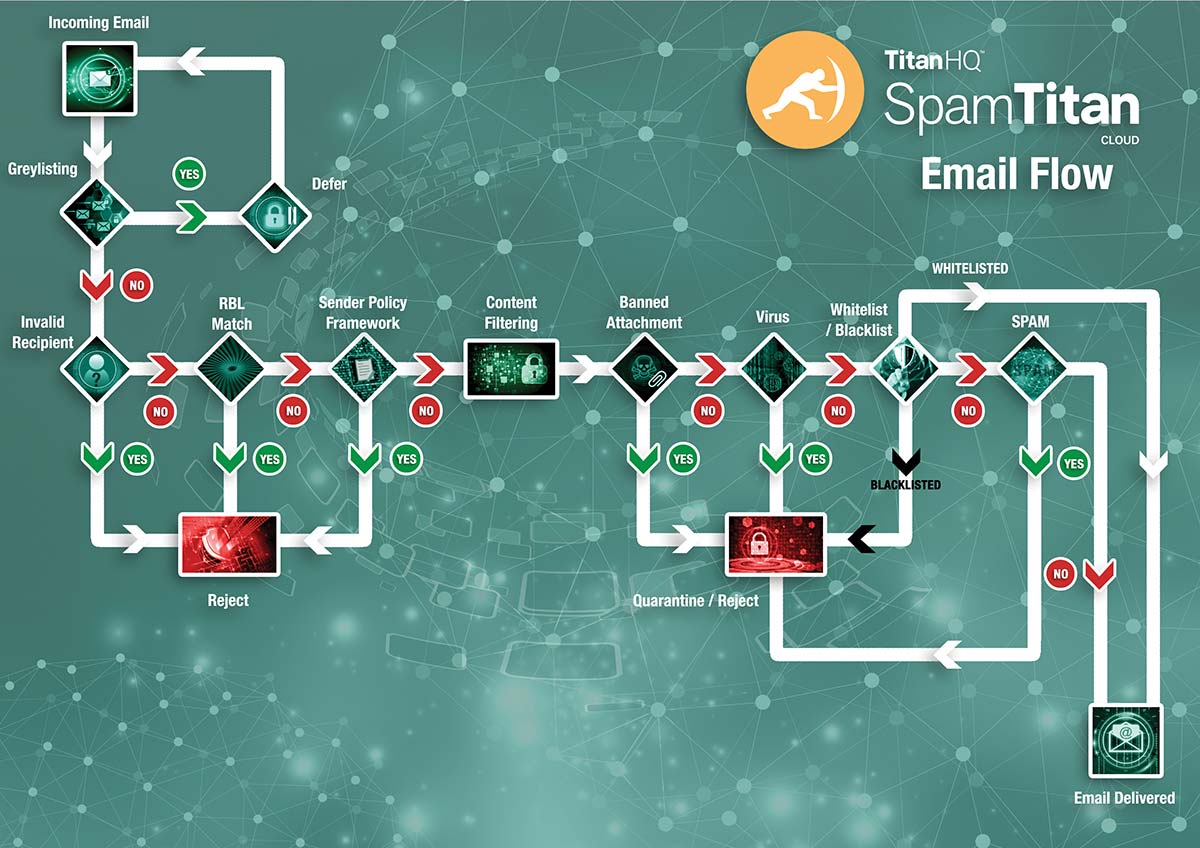 Click to View
Double anti-virus protection is provided by the top-rated Bitdefender and Clam Anti-Virus, while front-line tests such as RBL (Realtime Blackhole Lists), SPF (Sender Policy Framework), Recipient Verification, Greylisting and SMTP Controls prevent delays in the delivery of incoming emails. SpamTitan Cloud can be hosted in our own cloud, but the options exists for larger organizations and MSPs to have the solution hosted in a private cloud or within their own infrastructure.
Due to the advantages that SpamTitan Cloud has over virtual and physical appliances, our hosted spam filter provides protection against unwanted and malicious emails for more than 5,000 customers in more than 120 countries. Many of our customers have been kind enough to write verifiable testimonials about their experience with SpamTitan Cloud. Copies of the testimonials are available on request.
Test the Advantages of SpamTitan Cloud – for Free
We believe that the best way to evaluate any spam filtering solution is to test it in your own environment. In this respect, we invite you to test the advantages of a fully-enabled SpamTitan Cloud hosted spam filter for free for fourteen days. The offer comes with full technical and customer support and with no obligation on you to purchase a license once your trial period has ended.
FAQs
How does a hosted spam filter block malware?
A hosted spam filtering service will include antivirus protection that detects malicious email attachments. It is important to choose a hosted email spam filter that also includes sandboxing, as AV engines can only detect previously identified malware variants. Suspicious attachments that pass AV checks are sent to the sandbox and are investigated for malicious actions. Without a sandbox, those new threats would not be detected.
Why should I pay for a professional spam filter when there are free options available?
There are consumer-focused spam filtering solutions available that do a good job at blocking email threats, but it would be unwise to use them to protect business email environments. Consumer-grade solutions lack the detection mechanisms needed to identify the advanced threats faced by businesses. The use of consumer solutions by businesses also violates the terms and conditions and is a legal risk. A professional spam filter such as SpamTitan is not expensive to use. Prices start from as little as $1 per user, per month.
Is it possible to get email hosting with spam filtering?
Most email service providers, including Microsoft and Google, provide email hosting with spam filtering. The standard of spam filtering has improved in recent years; however, many email threats bypass the spam filtering mechanisms of email service providers. Microsoft, for example, only includes basic protection as standard. Users have to pay extra for more advanced spam filtering mechanisms. Many businesses choose a third-party provider that can provide equivalent or better protection at a lower cost.
What alternatives are there to hosted spam filtering?
A hosted spam filter is only one of the options available. Many businesses prefer to deploy a spam filter within their infrastructure on existing hardware or purchase a dedicated spam filtering appliance. A software-based spam filter or cloud spam filter is generally better than a physical spam filtering appliance due to the flexibility provided, ease of maintenance, and avoidance of large upfront costs.
Should I use a cloud spam filter or an on-premises email filtering solution?
Cloud spam filters and software-based spam filters offer an equivalent level of protection, although the latter tend to be more customizable. On-premises solutions are often better in highly regulated industries and are ideal for any company that is nervous about cloud computing. If you are unsure which option is best for your business, call TitanHQ for advice.

Within minutes you will be filtering your inbound and outbound emails to prevent spam, phishing emails, spoofed emails and email-driven cyberattacks.