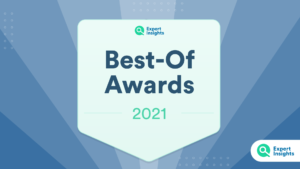 TitanHQ has announced that three of its cybersecurity solutions have been named winners at the 2021 Expert Insights' Best-Of" Awards, beating some of the best-known email security, web security, and email archiving products on the market.
For more than 25 years, TitanHQ has been developing innovative cybersecurity solutions to protect businesses from email and web-based threats to their networks and data. TitanHQ's multi-award-winning products are used by more than 8,500 businesses in over 150 countries, and 2,500 Managed Service Providers (MSPs) offer TitanHQ solutions to their customers to protect them from phishing, malware, ransomware, botnets, viruses, and other cyber threats.
Expert Insights is a respected website that was created in 2018 to help businesses research and select the best cybersecurity solutions to protect their networks and data from cyber threats. Through impartial product reviews, advice from cybersecurity experts, and industry analysis, IT leaders can discover the best cybersecurity solutions to meet their unique needs. The website helps more than 40,000 businesses a month with their research into cybersecurity products and services.
Each year, Expert Insights recognizes the leading cybersecurity service and solution providers and their products at the Expert Insights' Best-Of" Awards. Technical experts with decades of experience in the cybersecurity industry assess products based on several factors, including ease of use, range of features, the protection provided, and market position, as well as how each product is rated by verified business users. The top products then receive an Expert Insights' Best-Of" Award.
This year, TitanHQ was recognized by Expert Insights for the powerful threat protection provided by its products, the ease-of-use of the solutions, and their cost-effectiveness, which is why the solutions have proven to be so popular with enterprises, SMBs and MSPs looking for comprehensive protection against email and web-based threats.
"2020 was an unprecedented year of cybersecurity challenges, with a rapid rise in remote working causing a massive acceleration in cybercrime," said Expert Insights CEO and Founder Craig MacAlpine. "Expert Insights' Best-Of awards are designed to recognize innovative cybersecurity providers like TitanHQ that have developed powerful solutions to keep businesses safe against increasingly sophisticated cybercrime."
WebTitan, TitanHQ's powerful DNS-filtering solution was named a winner in the Web Security category, the SpamTitan anti-phishing and anti-spam solution was named a winner in the Email Security Gateway category, and ArcTitan was named a winner in the Email Archiving category.
"The recent pandemic and the growth of remote working initiatives have further highlighted the need for multiple layers of cybersecurity and our award-winning solutions form key pillars in this security strategy," said Ronan Kavanagh, CEO, TitanHQ. "We will continue to innovate and provide solutions that MSPs can use to deliver a consistent, secure and reliable experience to their customers."