Reselling Office 365 doesn't offer much in the way of profit for MSPs, although there are benefits for MSPs that come from offering Office 365 and it is possible to make Office 365 more profitable.
Before explaining where the margin is for MSPs in Office 365, let's first take a look at the benefits for MSPs from offering Office 365.
Benefits for MSPs from Offering Office 365 to Clients
SMBs are increasingly moving from on-premises solutions to the cloud and Office 365 is one of the most popular cloud services. Office 365 now has more than 135 million commercial monthly users and that number is growing rapidly.
MSPs may not be able to make much from Office 365 alone, but by providing Office 365 MSPs can win more business and gain a competitive advantage. There is no outlay involved with offering Office 365 to clients, the product is great and meets clients' needs, and money can be made from handling Office 365 migrations.
MSPs can also benefit from migrating existing clients from Exchange or SBS Exchange to Office 365. Office 365 is far easier to manage so they stand to save a great deal of time on troubleshooting and maintenance, which can be a major headache with Exchange.
By offering Office 365 you can win more business, reduce operational costs, and stay competitive. However, the best way to make money from Office 365 is through add-on services.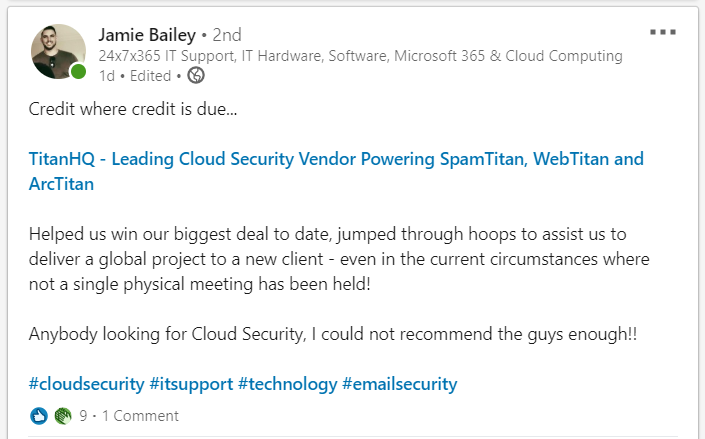 How MSPs Can Make Office 365 More Profitable
The margins for MSPs on Office 365 are rather thin to say the least. Many MSPs find that offering Office 365 on its own doesn't provide any profit at all. Charging extra per license to improve profitability is an option, but clients could just go direct to avoid the extra cost.
The margins may be small, but managing Office 365 does not require a great deal of effort. You may only make around 50c or $1 per user but sign up enough clients and you could get a reasonable return. There is an opportunity for profit at scale; however, to make a decent return you need to sell services around Office 365.
One of the best ways to make Office 365 more profitable is by offering additional security services. Security is an area where Office 365 can be significantly improved, especially spam filtering. Microsoft has incorporated a spam filter and anti-phishing protections into Office 365, but they fall short of the protection offered by a dedicated third-party spam filter.
Phishing is the number one security threat faced by businesses and Office 365 anti-phishing protections leave a lot to be desired. By offering enhanced spam and phishing protection through a third-party spam filter, not only can MSPs make a decent margin on the add-on solution, by blocking phishing attacks and malware at source, a considerable amount of time can be saved on support. Offering spam filtering can help to generate additional recurring revenue, with SpamTitan provided as a high margin, subscription based SaaS solution.
There are plenty of other opportunities for selling third-party solutions to make up for the lack of options in Office 365. Email archiving is an easy sell and a quick win for MSPs. An email archive is important for compliance and security, saves on storage space, and improves efficiency, and gives clients access to emails from any location. Email archiving is available with office 365, but the solution has some severe drawbacks, and may not meet compliance requirements. Offering a feature-rich email archiving solution that is fully compliant, easy to use, with lightning fast search and retrieval should be an easy sell to Office 365 users.
Spam filtering, email archiving, web filtering, and encryption can be bundled together as an enhanced security package, with each element providing a decent return for MSPs. Given the cost of mitigating a data breach, by preventing breaches, an enhanced security offering will pay for itself and should not be too difficult to sell to Office 365 users.
Office 365 MSP Add-ons from TitanHQ
For more than 20 years TitanHQ has been developing innovative security solutions for businesses. Today, more than 7,500 businesses are protected by TitanHQ security solutions and more than 2,000 MSPs have signed up to the TitanHQ Alliance Program.
All TitanHQ solutions have been developed from the ground to meet the needs of the SMB marketplace and MSPs. TitanHQ's spam filtering solution – SpamTitan, email archiving solution – ArcTitan, and web filtering solution – WebTitan, save MSPs support and engineering time, have great margins, and can be easily integrated into MSPs security stacks to make Office 365 more profitable. All TitanHQ solutions are quick and easy to deploy, and can be implemented into your existing Service Stack through API's and RMM integrations. The MSP-client hierarchy enables you to keep clients separated and choose whether to manage client settings in bulk or on an individual basis. MSPs benefit from competitive pricing strategies, including monthly billing as we understand your clients are billed monthly.
There are multiple hosting options, including hosting the solution within your own data center, and all TitanHQ products can be supplied as a white label, ready to take your own branding. We have made our solutions as easy as possible to use, with intuitive controls and everything placed at your fingertips. However, should you ever have a problem, you will benefit from the best customer service in the industry, as well as scalable pre-sales and technical support and sales & technical training.
Why SpamTitan is Perfect for MSP's?
The best spam and virus protection for MSPs with dual AV engines and Bitdefender-powered sandboxing
Low management overhead – A set and forget solution
Use our private cloud or your own data center
Extensive suite of APIs for integration into your central management system
Multi-tenant solution with multiple management roles
Scalable to thousands of users
In and outbound email scanning with IP domain protection
Extensive drill down reporting
Flexible pricing models to suit your needs, including monthly billing
Generous margins for MSPs
Fully customizable branding
TitanSHIELD Program for MSPs
To make it as easy as possible for MSPs to incorporate our world class network security solutions into their service stacks, TitanHQ developed the TitanSHIELD program. The TitanShield MSP Program allows MSPs to take advantage of TitanHQ's proven technology so that they can sell, implement and deliver our advanced network security solutions directly to their client base. Under the TitanSHIELD program you get the following benefits:
| | | |
| --- | --- | --- |
| TitanSHIELD Benefits | Sales Enablement | Marketing |
| Partner Support | Private or Public Cloud deployment | Access to the Partner Portal |
| Dedicated Account Manager | White Label or Co-branding | Co-Branded Evaluation Site |
| Assigned Sales Engineer Support | API integration | Social Network participation |
| Access to Global Partner Program Hotline | Free 30-day evaluations | Joint PR |
| Access to Partner Knowledge Base | Product Discounts | Joint White Papers |
| Technical Support | Competitive upgrades | Partner Events and Conferences |
| 24/7 Priority Technical Support | Tiered Deal Registration | TitanHQ Newsletter |
| 5 a.m. to 5 p.m. (PST) Technical Support | Renewal Protection | Better Together Webinars |
| Online Technical Training and FAQs | Advanced Product Information | Partner Certificate – Sales and technical |
| Access to Partner Technical Knowledge Base | Competitive Information and Research | Sales Campaigns in a box |
| | Not-for-Resale (NFR) Key | Public Relations Program and Customer Testimonials |
| | Product Brochures and Sales Tools | TitanHQ Corporate Style Guide and Logo Usage |
| | Partner Advisory Council Eligibility | TitanHQ Partner Welcome Kit |
| | QTRLY Business Planning and Review | Access to TitanHQ's MVP Rewards Program |
| | Access to Partner Support | |
To find out more about TitanHQ's MSP offerings, for details of pricing and MSP margins, contact the TitanHQ Alliance Program team today and take the first step toward making Office 365 more profitable.