A gateway spam filter is an on-premises software solution for filtering email. Usually installed as a virtual appliance behind the network firewall, an email gateway spam filter eliminates the vast majority of spam emails from the communication flow, ensuring clean emails arrive at their destination.
Anti spam gateway solutions can have a positive impact on network security. Tests have shown anti spam gateway solutions can detect 99.9% of spam and reduce network´s exposure to email-borne threats such as phishing, malware and ransomware.
Why On-Premises rather than Cloud-Based Email Security Solutions?
The best spam filter for business use will depend on the needs of your business and the level of protection you need. Despite the trend towards cloud deployment, there are businesses for whom on-premises solutions are necessary. The businesses may be subject to federal or state regulations regarding the security, visibility and accessibility of data, or may have concerns about connectivity and latency because of their location. On-premise solutions can also be more customizable than cloud-based solutions.
In terms of spam filtering solutions, there is little difference between a gateway spam filter and a cloud-based spam filter. Both solutions are equally as effective at detecting spam (assuming they have the same features and settings) and require little maintenance. Updates are performed by the service provider, who also provides technical support to guide businesses through any issues they encounter.
Key Features of Anti Spam Gateway Solutions
If your business is considering the implementation of a gateway spam filter, it is important to note that not all anti spam gateway solutions are the same. Whereas all anti spam gateway solutions use real-time block lists to block emails sent from known sources of spam, not all use "Greylisting" – a process acknowledged to prevent emails from previously unknown sources entering the network.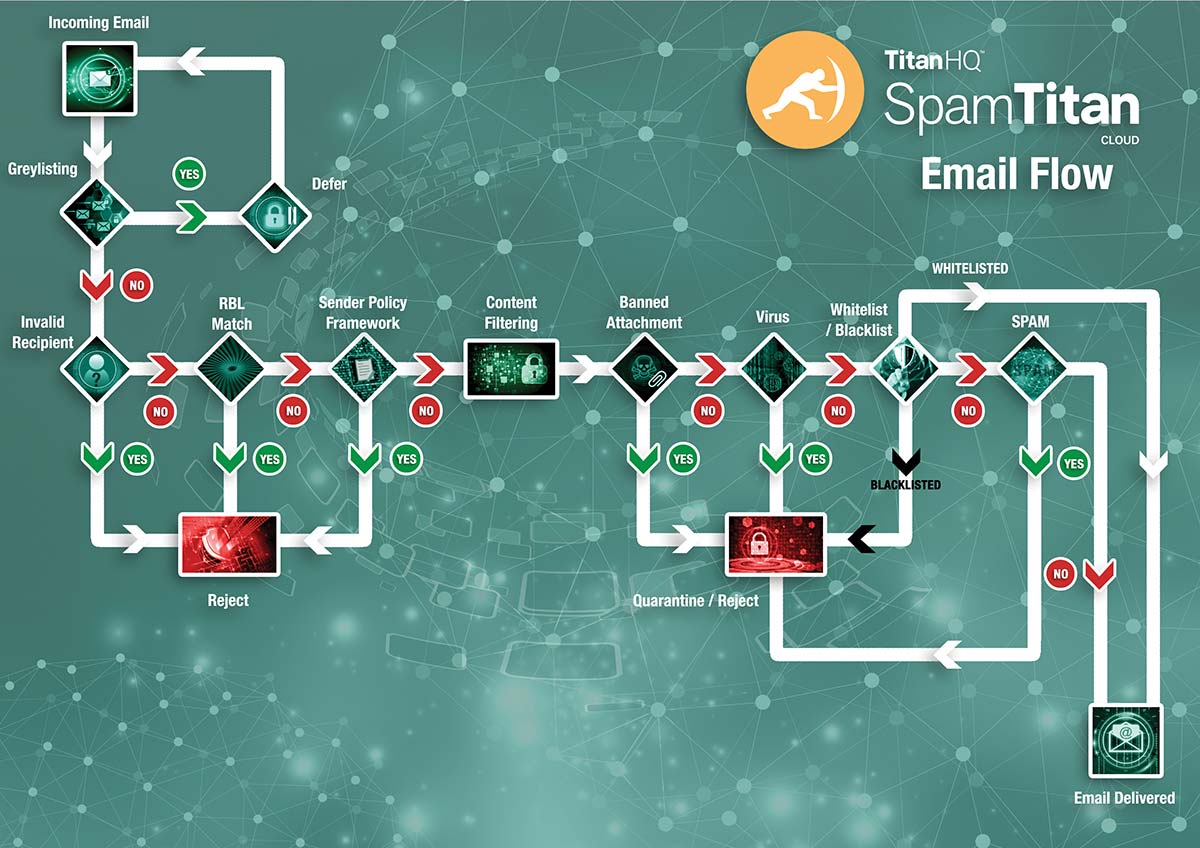 Click to View
Similarly, most anti spam gateway solutions have Recipient Verification and Sender Policy Framework tools to enhance email security. Few have SUBRL filtering to detect malicious URLs. This feature in particular can help reduce the network exposure to phishing attempts. With fewer phishing emails delivered, there is less likelihood of a user revealing log in credentials or other sensitive information.
The Benefits of an Outbound Secure Email Gateway
Not all business will be aware of the benefits of an outbound secure email gateway – or even what it is. An outbound secure email gateway allocates a Spam Confidence Score to each outbound email and inspects it for malware. If the Spam Confidence Score is too high, or it contains malware, the email is quarantined and a report sent to the network administrator.
This process prevents a business´s IP address being blacklisted by global block list agencies for high levels of spam – a scenario that could occur inadvertently, or if a corporate email account has been compromised by a cybercriminal and is being used to send spam from a "trusted source". The process also flags malware on the network that has not yet been identified by anti virus software.
Try SpamTitan´s Gateway Spam Filter for Free
SpamTitan is one of a group of companies that has been developing online security solutions since 1999. Due to our experience in the industry, we understand that for any online security solution to be effective it has to have ease of use. Therefore we have designed our gateway spam filter to have the lowest maintenance overheads and the maximum user-friendliness.
Our gateway spam filter is simple to install, configure and manage. User policies can be imported via directory synchronization or applied via a web-based administration portal. Spam Confidence Levels can be applied universally, or by individual user/user group as required; and, from the portal, network administrators can drill down into historic data to conduct risk assessments and identify sources of email-borne threats.
SpamTitan´s gateway spam filter includes all the features mentioned above to deliver a verifiable spam detection rate of 99.97% with 0.03% false positives. Our dual anti virus software has a 100% record of capturing inbound and outbound viruses, and includes advanced features for IP protection control. Furthermore, SpamTitan can help protect ant number of users, or any number of domains, and is universally compatible with every type of operating system.
To find out more about the features of SpamTitan´s gateway spam filter, and to request a free trial to evaluate SpamTitan in your own environment, do not hesitate to get in touch.

Our Sales Technicians will be happy to answer your questions about our anti spam gateway solution and explain more about how the secure email gateway will work in your specific circumstances. There is never a bad time to reduce spam and your exposure to email-borne threats, so contact us today.
SpamTitan´s gateway spam filter is an ideal solution for businesses wishing to keep their email security "in-house".
Features include greylisting to identify spam from previously unknown sources and SUBRL filtering to detect malicious URLs.
Outbound scanning helps identify compromised email accounts and account abuses to protect the business´s IP reputation.
Our gateway spam filter takes just minutes to install and is easy to manage via a centralized administration portal.
Take advantage of a free trial of SpamTitan to evaluate our anti spam gateway solution in your own environment.
FAQs
Why should a gateway spam filter include Greylisting?
A gateway spam filter should include Greylisting to reduce the number of spam emails evading front end tests. This is because the Greylisting process returns all non-whitelisted emails to senders' servers with a request for them to be submitted. Because of the number of emails returned to spammers' servers, the resubmit function is usually disabled, and the spam email is never returned – reducing the demand on the mail filter and ensuring genuine emails are processed promptly.
Is a spam filter gateway all I need to block phishing attacks?
A spam filter gateway is not all you need to block phishing attacks because the sophisticated nature of phishing attacks means that one method of control will not provide total protection. Multi-layered defenses are recommended that have overlapping layers of protection. An anti-spam gateway should be combined with a web filter, which will block the web-based component of phishing attacks.
Is security awareness training for the workforce necessary if I have a mail gateway spam filter?
Security awareness training for the workforce is not necessary in all industries, but is a best practice for every business regardless of whether a mail gateway spam filter is deployed. An email gateway spam filter will not block every malicious message. It is therefore important to provide regular security awareness training to the workforce, teach employees how to identify phishing emails, and condition them to follow cybersecurity best practices.
How much does an anti spam email gateway cost?
The cost of an anti spam email gateway can vary considerably depending on the features you need. It is not necessary to pay huge sums for protection – although that is possible – as an advanced anti spam email gateway such as SpamTitan will give you excellent protection from all email threats for as little as $12 per user, per year.
Does SpamTitan Include a Sandbox?
SpamTitan includes a sandbox powered by Bitdefender in addition to dual antivirus engines to better protect users from malware and ransomware threats. Unknown files and suspicious attachments that are flagged by AV checks are sent to the sandbox for in-depth analysis. This allows SpamTitan to block new malware variants that have not yet had their signatures incorporated into the virus definition lists of the AV engines.
Who decides whether an email is tagged as spam, quarantined, or deleted?
Who decides whether an email is tagged as spam, quarantined, or delete, is usually either the organization's system administrator (usually someone in the IT department), or a Managed Service Provider if a small business is subscribing to a gateway spam filter via a service reseller.
The rules can be flexible inasmuch as some spam emails can be tagged as spam and forwarded to a user's inbox with a warning, while it can make more sense to quarantine suspicious attachments or delete emails send to users with a known susceptibility to phishing emails.
How might a cybercriminal compromise a corporate email account?
The most common way a cybercriminal can compromise a corporate email account is to trick a member of the workforce into revealing their login credentials via a phishing email. Thereafter, the cybercriminal may be able to use the compromised account to send spam email, but is more likely to exploit the trusted source to send further phishing emails or BEC emails.
How can an anti spam gateway solution help reduce the network exposure to phishing attempts?
An anti spam gateway solution can help reduce the network exposure to phishing attempts via "point-of-click" SUBRL checks. These checks run embedded URLs through a further check at the time the link is clicked to ensure a link that passed the filtering controls at the time it was delivered to the user has not since been weaponized or used to trick users into revealing account credentials.