The best spam filter for business is not necessarily the highest-rated, the top-seller or the least expensive. There are several different types of spam filter and several different ways in which they can be deployed. Some email filtering solutions are easy to implement and manage, whereas others have high maintenance overheads.
Indeed, a spam filter´s "ease of use" can determine how effective it is at detecting spam emails and email-borne threats. If a spam filter is too complicated to use, its settings can either be applied at too high a level – preventing the delivery of business-critical communications – or applied too low, weakening the business´s defense against email threats.
One further consideration is the spam filter´s "granularity". The best corporate spam filter must have the facility to apply different sets of filtering policies to different users. For example, a higher acceptable spam threshold should be applied to emails received by the Finance Department than a Sales Department. This ensures potential sales leads are not quarantined.
This article looks at the different types of spam filter and the deployment options available, and considers their pros and cons. It also highlights some of the key features you should be looking out for to ensure you select the best spam filter for business to match your specific circumstances.
We offer  a free trial of SpamTitan so you can evaluate the effectiveness of our anti spam filter in your own environment. We will fully support your trial along the way with access to expert help if needed, from start to finish. Why not start your free trial today?
Hardware, Software or Cloud-Based Business Spam Filter?
Organizations evaluating the best spam filter for business have three choices – hardware appliances, software appliances and cloud based solutions. Due to the developments in technology, it is difficult to make a case for hardware spam filters. They usually have their own operating systems (requiring individual updates), lack scalability and can be difficult to manage for optimum performance.
Software appliances are more versatile and typically operate as a "gateway" between an organization´s firewall and its mail server. Usually compatible with every type of operating system, software appliances have fully automated updating, are scalable, and have simple end user spam management via a web-based interface.
Software appliances are suitable solutions for businesses that wish to keep their email security in-house. By keeping the spam filter and mail server on premises, both can be protected by existing edge defenses such as firewalls and DMZs, as well as being integrated into existing IT policies and management processes.
A cloud based email filtering service is the best spam filter for business for SMEs who want to implement a spam filtering solution and then forget about it. The implementation of a cloud based email filter simply requires an adjustment to the mail exchange record. Thereafter, policies can be adjusted as necessary, but otherwise the email filter has a minimal maintenance overhead.
Business Spam Filter Deployments
The deployment options depend on the type of appliance selected. Hardware appliances have to be deployed within an organization´s physical environment and spam filtering software has to be installed within an organization´s IT environment, often as a virtual appliance. An alternative option is to use cloud based or part cloud based solution. For Managed Service Providers (MSPs), the best email spam filter will likely be a cloud-based solution due to its ease of implementation, management, and incorporation into an MSP management, auto-provisioning systems.
Cloud based email filtering services are usually deployed in the service provider´s public cloud or in a private cloud. The main difference between a service provider´s public cloud and a private cloud is that the service provider will likely be proving a service for multiple businesses through their public cloud, whereas only your business´s email traffic will flow through the private cloud.
Private clouds are most suitable for large organizations and MSPs who want to channel all their client´s traffic through one dedicated area. However, if a large organization or MSP already has a private cloud, it should be possible for the best spam filter for business to be deployed within their own infrastructure.
The part cloud based solution ("hybrid solution") allows businesses to adopt a multi-layered approach to email filtering. Often businesses will take advantage of a cloud based service to reduce the volume of spam reaching the mail server and the server´s own filter. As well as giving businesses an extra level of security, a hybrid solution can be the best email filtering service for businesses lacking high bandwidth Internet access.
SpamTitan is a multi-award-winning email protection, anti-phishing, and email filtering solution. Start your free trial for SpamTitan today to discover how your can protect your users and organization against malware and phishing attack. TRY FREE TRIAL
Key Features of Email Filtering Solutions
Although most "standard" email platforms offer a degree of protection against spam emails and malware, they cannot compete with the increasing sophistication of spammers. 2% – 3% of unwanted or unsafe emails still evade detection according to Microsoft Outlook´s Benoît Roumagère, and it only takes one click on a malicious URL for an entire network to be compromised.
Therefore, when evaluating email filtering solutions, the key feature is the percentage of spam emails and unsolicited emails containing malicious URLs the solution blocks at its optimal settings. The service provider of the best spam filter for email should demonstrate exceptionally high, verifiable levels of spam and virus detection. When searching for the best spam blocker, organizations should take the following into account:
How email identified as spam is treated – quarantined, deleted, or tagged and delivered.
The percentage of false positives – i.e. the number of genuine emails that get blocked.
The reporting options available to identify false positives and whitelist senders.
The front-end tests that are conducted to accelerate the filtering process.
The quality of the anti-virus software protecting the business from malware.
Whether a mail continuity service is provided in the event of downtime or server outage.
The best spam filter for business should offer organizations the choice of how email is treated and reported. It should provide outbound mail filtering and front-end tests by default – but offer organizations to options to customize these features – and have top-rated anti-virus software for maximum protection. A mail continuity service is essential.
Four Essentials that Make the Best Email Filtering Service
Commercial spam filtering software will provide a reasonable level of protection against email threats, although may struggle to block more sophisticated phishing threats. Most email filters achieve their spam detection rates using mechanisms such as real-time block lists, Recipient Verification Protocols, Sender Policy Frameworks and a tool that allocates a Spam Confidence Level to each inbound email. In order to benefit from the best email filtering service, businesses should look for email filtering software that includes more advanced anti-spam features. The best spam filters also include features such as outbound mail scanning, greylisting, sandboxing, phishing protection and malicious URL blocking.
Outbound Mail Scanning
Outbound mail scanning checks outbound mail for content that could be mistakenly identified as spam and for malware. As mentioned above, some email filters can be over-zealous and block mail for something as innocent as a misspelled title or the overuse of a spam-related keyword in the email content. Malware could be present in outbound mail if, for example, an employee had prepared a file on their malware-infested home computer and attached it to a company email.
If one your organization´s outbound emails is identified as being spam or containing malware, your organization´s IP address could be added to a real-time block list. This is a global blacklist of known spammers and their IP addresses against which every spam filter compares every inbound email. To have your emails blocked globally would harm the flow of communication between your business and your customers and potentially damage your credibility.
When phishing attacks occur and mailboxes are compromised, they are often used to send further phishing emails internally and externally. Outbound scanning allows the security team to identify compromised email accounts and take prompt action to mitigate the threat.
Greylisting
Whereas the real-time blocklists contain the IP addresses of known spammers, greylisting identifies spam from previously unknown sources. Greylisting does this by requesting emails are resent by the originating server. Usually the originating server will respond to the request within a matter of minutes, but a server sending spam emails will be too busy to respond, and the request effectively denied.
The reason why greylisting is an essential feature of the best email filtering service for business is that the process eliminates spam from sources not included on real-time block lists and increases the spam detection rate from around 97% to close to 100%. It eliminates the 2% – 3% of unwanted or unsafe emails that evade detection and keeps your inboxes virtually free from all types of spam. It is important to note not all premium spam filtering services include this feature.
Phishing Protection and Malicious URL Blocking
Phishing protection and malicious URL blocking are two elements of antivirus software that prevent the delivery of emails containing links to unsafe websites. These essential features of the best email filtering service for business help avoid scenarios in which employees divulge their login credentials to a cybercriminal or visit websites that start downloading malware automatically. Phishing protection and malicious URL blocking can also be configured to prevent employees visiting websites hiding their true identity behind a proxy server.
Phishing is one of the most serious online security threats in the current environment. A cybercriminal with an employee´s login credentials can use that information to steal or corrupt data. For an organization in a highly-regulated industry, the breach of security could result in large fines and civil action for the failure to implement adequate precautions against data theft or unauthorized exposure. Again, not all premium spam filtering services include this feature.
Sandboxing
Anti-virus engines are used to detect known malware threats, but new malware variants are constantly being released. These zero-day threats are added to definition lists when the threats are identified, but there is a lag. Sandboxing plugs the gap and provides protection against these zero-day malware threats. When a suspicious email attachment is received that is not marked as malicious by the AV engine, it is sent to the sandbox for deep analysis to identify malicious actions such as C2 callbacks.
Ten Considerations for the Best Email Filtering Service
Ease of Use
Email Continuity Service
Choice of Deployment Options
Outbound Email Scanning
Detection Rate
Greylisting Option
Accelerated Filtering Process
Phishing Protection
Reporting Options
Malicious URL Blocking
Anti-Virus Software
Sandboxing
SpamTitan: Delivering the Best Spam Filter for Business
SpamTitan´s granular email filtering solutions are built to be as versatile as your business needs and include the four essentials necessary to make a good email filtering service the best email filtering service. We offer a software option – "SpamTitan Gateway" – and a cloud-hosted option – "SpamTitan Cloud" – with the complete range of deployment options available.
On their optimum settings, both email filtering solutions block 99.97% of spam, phishing emails and spoofed emails. According to the leading independent testing and certification agency – VB Bulletin – SpamTitan Gateway and SpamTitan Cloud have a low false positive rating of just 0.03% without the need to activate dual spam filters as described in the hybrid solutions section above.
Both solutions offer businesses the choice of how they want spam email to be managed, scan outbound mail by default, and run front-end tests such as real-time block list checks, Sender Policy Framework, Recipient Verification, and SMTP Control Tests on inbound mail in a fraction of a second. The option to activate Greylisting also exists.
Double anti-virus protection with phishing protection and malicious URL blocking is provided by two of the leading anti-virus platforms – Bitdefender and Clam AV – and our easy-to-use service is supported by industry-leading customer and technical assistance. For more than five thousand customers, SpamTitan has already proven to be the best spam filtering service provider for business.
How Office 365 Email Security can be Enhanced with SpamTitan
Most email services include proprietary email spam detection methods, although the use of dedicated, third-party email spam filters to analyze incoming emails significantly enhances spam detection. Microsoft has added a variety of antispam and antiphishing features to Office 365, yet even with recent enhancements to these features, the spam detection rate is inferior to dedicated third-party solutions such as SpamTitan.
A defense in depth approach is needed to significantly enhance Office 365 security and protect against new malware and ransomware threats and sophisticated phishing attempts. By layering SpamTitan on top of Office 365, users benefit from SpamTitan's predictive techniques such as Bayesian analysis, machine learning, and heuristics, which are lacking in Office 365. These features greatly improve protection against new and evolving threats and ensure malicious messages do not get delivered to inboxes.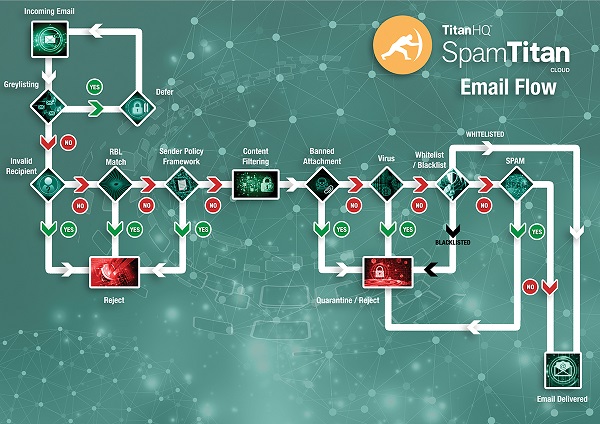 SpamTitan Features Lacking in Office 365
SpamTitan performs an extensive series of checks on all incoming emails to search for common spam signatures. However, the methods used by spammers and phishers are constantly changing. To detect new threats, SpamTitan uses a range of predictive techniques to achieve a spam detection rate of 99.97% while dual anti-virus engines are used to identify and block malware, ransomware, botnets, and cryptocurrency miners.
The image below details some of the advanced spam filtering mechanisms that have been built into SpamTitan which are not present in Microsoft's default Office 365 security offering.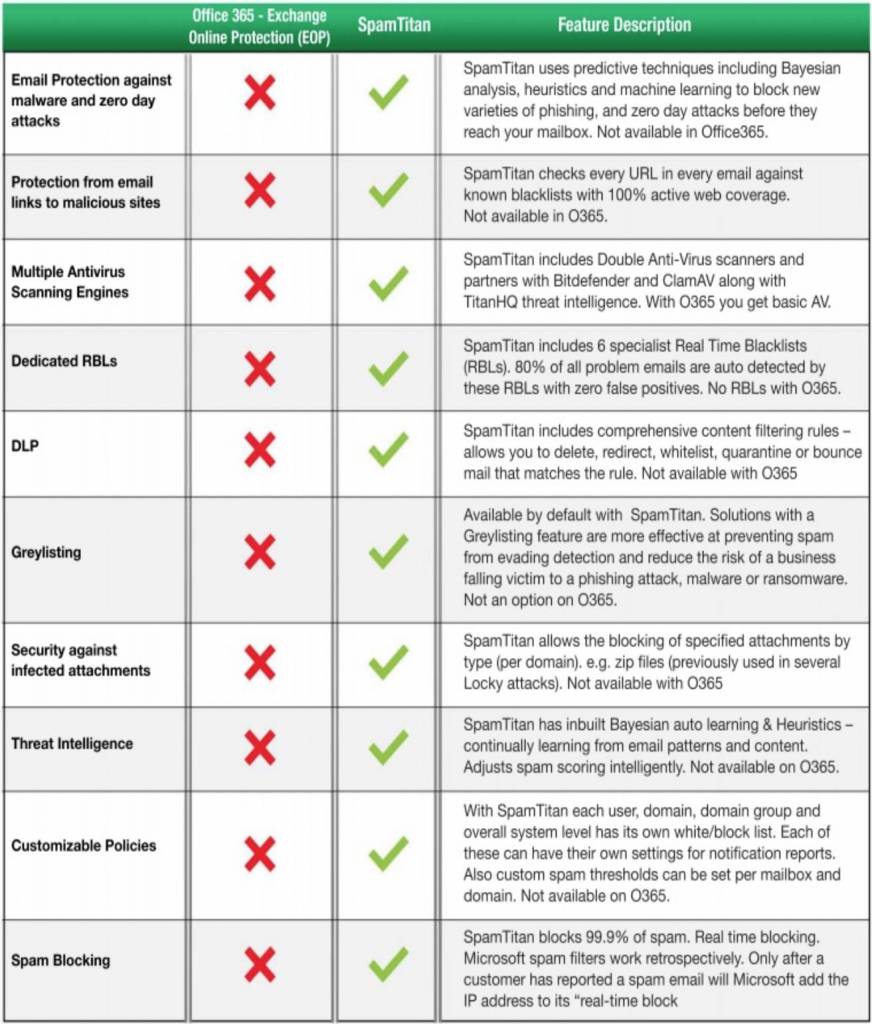 Speak with SpamTitan: The Best Spam Filtering Service Provider for Business
Speak with SpamTitan about your requirements and discover for yourself why our customers believe we are the best spam filtering service provider for business. Not only will our Sales technicians be able to guide you through the features and benefits of our spam filtering solutions, but you will also be invited to take advantage of a free trial of SpamTitan Gateway or SpamTitan Cloud – depending on which is the most suitable solution for your circumstances.
Our offer is for a fully-enabled spam filtering service with full customer and technical support, and the free trial should allow you plenty of time to experience the filtering service's ease of use and to find the optimal settings for your specific requirements. Thereafter, should you choose to continue using SpamTitan to protect your network, no further configuration of our email filters will be required. Larger organizations should also ask about our API set for integration with back-end management software such as Active Directory and LDAP.
We also invite inquiries from Managed Service Providers (MSPs) and resellers about rebranding SpamTitan if they wish to provide spam filtering to their clients as an add-on security product for their customers. There are also multiple hosting options available, including the option of hosting the solution in their own environment. If you are an MSP and would like to start offering spam filtering to your clients, contact the TitanHQ team today to find out more about how you can become a TitanHQ partner.
To find out more about some of the key protections you can put in place to improve your resilience against phishing, malware and ransomware attacks, contact the our security team today.
FAQs
How does SpamTitan treat emails that are suspected of being spam or malicious?
Administrators can create policies that will be automatically applied to emails based on their spam score. The emails can be delivered to the user's spam folder, sent to the user's inbox with a warning that the email may be spam or malicious, the email can be quarantined, or it can be rejected.
Can email policies be customized for different users and departments?
It is possible to set different spam thresholds for different users, user groups, and departments. This is easily achieved through Active Directory integration. You may want to set the thresholds different for individuals or groups based on the level of risk, increasing protection for individuals most likely to be targeted by threat actors. For instance, the finance and HR departments.
Does SpamTitan work on Microsoft Exchange Servers?
SpamTitan works with Exchange 2013, 2016, and 2019 servers and can also be configured for Exchange 2010 servers. If you use a Microsoft Exchange mail server, you will see a significant improvement in spam and malicious email detection with SpamTitan in place.
How Does SpamTitan's catch rates compare with other solutions?
SpamTitan has been independently verified as having a spam catch rate of 99.99% with a false positive rate of 0.003% and the solution blocks 100% of known malware. The independent AV software assessment company, AV Comparatives, conducted tests on anti-spam solutions and found the average detection rates for the top 10 solutions was 96.86%.
How much will the best spam filter for business cost?
The best spam filters for business use tend to start at around $1 per user per month, but may cost several dollars per user, depending on the solution and add-ons you choose (Some companies charge extra for support, for instance). You can often get discounts for multi-year contracts to lower the price.
What factors should businesses consider when choosing a spam filter?
The factors businesses should consider when choosing a spam filter include ease of use, granularity, deployment options, and the specific needs of different departments within the business. For example, if a business wants to protect its finance team from email threats, while still allowing its sales team to receive leads from unrecognized sources, it is important that system administrators can easily apply different email filtering policies to each team.
How can the ease of use of a spam filter impact its effectiveness?
The ease of use of a spam filter can impact its effectiveness if it is too complicated to deploy and configure. In cases in which the deployment is complicated, emails from trusted sources may be inadvertently blocked; while, if the spam filter is complicated to configure, mistakes could be made that allow email borne threats to evade detection.
What does granularity in a spam filter mean?
Granularity in a spam filter means different filtering policies can be applied to different users, teams, or departments - catering to the specific needs of the business. With regards to the granularity of SpamTitan, it is also possible to apply whitelisted sources, custom filtering rules, and custom attachment filters by user, team, or department.
What are the three main deployment options organizations have when considering spam filters?
The three main deployment options organizations have when considering spam filters are hardware deployments, software deployments, and cloud deployments. Most organizations now opt for cloud deployments as capabilities such as block lists and antivirus engines are updated in real time. Cloud deployments are also best for "time-of-click" URL analyses.
How can SpamTitan enhance Office 365 email security?
SpamTitan can enhance Office 365 email security by adding a defensive layer on top of Office 365. The defensive layer includes capabilities such as Bayesian analysis and botnet protection that reduce the amount of spam evading detection, and "time-of-click" URL analysis to detect websites that have been weaponized after being delivered by the frontend checks.
What is the significance of Greylisting in email filtering?
The significance of Greylisting in email filtering is that the feature returns all emails from non-whitelisted sources to their originating sender with a request for the email to be resent. Due to the volume of emails returned to spammers' servers, most have the "retry" capability deactivated in order to reduce bandwidth consumption. Consequently, Greylisted emails originating from spammers' servers are never returned.
Articles Related to Email Spam Filtering