OpenDNS used to be a free DNS-based web filtering service, although it has since been acquired by Cisco and has been rebranded as Cisco Umbrella. Cisco Umbrella is a popular web filter for businesses, although many firms are now abandoning the product and making the switch to WebTitan Cloud. In this WebTitan Cloud v Cisco Umbrella post, we cover some of the key reasons behind this switch.
WebTitan Cloud v Cisco Umbrella
If you are currently a Cisco Umbrella customer and are considering a replacement DNS-based web filtering service, or if you have yet to make a decision on the best web filtering solution to match the needs of your business, we hope this quick WebTitan Cloud v Cisco Umbrella comparison is useful. While there are many differences between WebTitan Cloud and the Cisco Umbrella DNS filtering services, both products perform the same function and are built on the same core principles. They allow businesses to exercise control over the websites, web pages, and content that their users and guests can access and will block web-based threats such as malware or ransomware downloads.
WebTitan Cloud v Cisco Umbrella: Key Differences
Cost and pricing
One of the main reasons why businesses switch from Cisco Umbrella DNS filtering to WebTitan is cost. Cisco Umbrella is a powerful web filtering solution, but generally speaking, WebTitan Cloud offers similar features and is a direct swap out. Businesses that make the switch can continue to filter the Internet to protect against web-based threats and exercise content control while making savings of up to 50%.
TitanHQ offers a simple and transparent pricing model with the option of monthly billing. All features are included in the price, rather than the multi-tiered system of Umbrella DNS filtering that only provides the advanced features in the upper product tiers. Some of the features that are lacking in the lowest tier product – DNS Security Essentials – are important for protecting against web-based threats, such as SSL inspection. The basic package does not include SSL inspection, and the middle tier – DNS Security Advantage – only offers SSL inspection for risky websites. URL filtering, the ability to filter out specific URLs, is only provided in the top tier product. SSL inspection and URL filtering are included in WebTitan Cloud.
User Interface and Reporting
One of the main complaints about Cisco Umbrella is the complicated nature of the product. There is a Cisco Umbrella ordering guide, which gives you an idea of the complexity of the product. The Cisco Umbrella ordering guide explains the different packages and options available, to determine what version of the solution and features you need. The complexity extends to operation of the solution. Many users complain about the overly complicated user interface, which can make configuration, maintenance, and generating reports time consuming and difficult. If the staff doesn't like using a product, they may avoid it, which will have an impact on security. WebTitan Cloud has a highly intuitive user interface with all information placed at your fingertips. That makes for simple configuration and management without the need for user training. It also means problems can be quickly identified and remediated, improving security.
The ease of working with WebTitan is reflected in user reviews on independent software review sites. WebTitan consistently scores high marks across all of the assessment categories, even though WebTitan is less than half the price of Cisco Umbrella. This can be seen in the image below, which was taken from the business software review site G2 Crowd. It is a similar story on Capterra, Google Reviews, and Software Advice.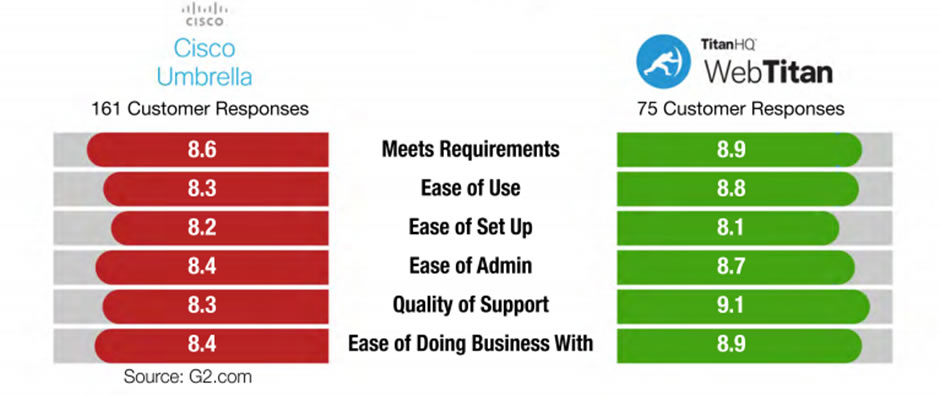 Flexibility
Cisco has a vast and diverse product range and is a massive IT provider. While its products have been developed to meet the needs of businesses, the options available are somewhat rigid. TitanHQ is much smaller by comparison, but as an independent entity, has the flexibility to work more closely with customers and better meet the needs of small to medium sized businesses. Commercial arrangements can be made to suit both parties. There are flexible pricing policies based on APs, IPs, and locations, and the option of monthly million if that suits you better.
Support
TitanHQ customers benefit from industry-leading customer support, with full support provided to all customers at no additional cost. That includes support during the free trial of the product. With Cisco Umbrella, phone support is only provided to customers on the platinum, gold, or silver plans and is an optional extra – at an additional cost – with other tiers.
Cloud Keys
In order to protect the entire enterprise network, WebTitan Cloud applies security rules across the entire organization, in addition to AD/LDAP integration to allow rules to be applied for groups and individuals. Sometimes, individuals may require access to content that violates enterprise-wide rules. WebTitan Cloud allows cloud keys to be generated, which allows filtering controls to be bypassed without the need to change policies. They can be configured to expire after a set time or number of uses.
Ability to Host Locally
Some businesses will have no qualms about using a web filter that is hosted on the service provider's servers, although this is far from ideal for some businesses such as Managed Service Providers (MSPs) and Managed Security Service Providers (MSSPs). Businesses that do not want to direct users to an external cloud service can host WebTitan Cloud in a private cloud or host the solution locally. With Cisco Umbrella, local hosting is not an option.
Ability to Rebrand the Solution
Another bugbear of MSPs and MSSPs is the inability to fully rebrand Cisco Umbrella.  WebTitan Cloud on the other hand is fully rebrandable and customizable. This includes a full white label and customizable user interface and block page ready for rebranding. This allows service providers to offer the solution to their customers while reinforcing their own brand image.
Further Information on WebTitan Cloud
Our WebTitan Cloud v Cisco Umbrella comparison includes just a few of the reasons why businesses are switching from Cisco Umbrella DNS filtering to WebTitan Cloud.
For further information on WebTitan Cloud, to schedule a product demonstration, why not register for a free trial today.