Organizations using a Microsoft Exchange Server to handle their emails may wonder why it would be necessary to implement an Exchange 2013 spam filter. After all, one would imagine that the world´s largest software company will have considered a mechanism to filter out spam emails in the server´s design. Well, it did.
However, because of the way in which Exchange Server filter works works, some spam email always gets through. Microsoft Outlook´s Benoît Roumagère put that figure at 2% to 3% in 2013; and, as spammer´s methods of delivery become more sophisticated, it is likely that the percentage of spam emails not caught by Microsoft´s filters has increased.
A further reason for implementing an Exchange 2013 spam filter is to increase protection against malware. Microsoft´s anti-virus products for business frequently receive poor reviews for their performance. With an Exchange 2013 spam filter, the level of protection against malware, ransomware and other viruses is much higher.
How an Exchange 2013 Spam Filter Works
An Exchange 2013 spam filter works by checking each email against a series of security mechanisms to identify spam. These include Global Blackhole Lists, Sender Policy Frameworks and Recipient Verification settings. Global Blackhole Lists are updated in real time and included in the filter´s front line tests to prevent a backlog of emails from accruing.
When a spam email is identified, it is usually quarantined and reported to the end-user or system administrator. The end-user or system administrator has the options of delivering the email or deleting it. The same process occurs when an email potentially containing malware in its content or as an attachment is identified by the filter´s anti-virus engine.
One other function of an Exchange 2013 spam filter is the scanning of outbound emails for spam and malware. This function does not exist on Microsoft´s Exchange Server, but it is an important one, as outbound email scanning prevents emails being sent out that might result in an organization´s IP address being included in Global Blackhole Lists.
Exchange 2013 Spam Filter Comparison
Microsoft offers businesses a premium spam filtering service – Exchange Online Protection (or "EOP") – but the service lacks certain functions that are present by default in an Exchange 2013 spam filter. EOP has also been criticized for having a high maintenance overhead, failing to offer an on-premise option, and for being 20% to 25% more expensive than alternative spam filtering solutions.
Some of the functions absent from EOP include "sandboxing" – in which email attachments suspected of being infected are isolated so that they can scanned at a later date – real-time dynamic link following, and "greylisting" – a security mechanism that asks a sender´s email server to resend an email suspected of being spam. Spammer´s servers rarely reply to the request.
Alternative spam filtering solutions to EOP vary in effectiveness and versatility. Consequently, when making an Exchange 2013 spam filter comparison, organizations should consider the following:
Can the advertised rate of spam detection be verified?
How are emails identified as spam handled?
What percentage of false positives does the spam filter return?
What anti-virus software is used to identify email threats?
What hosting options exist for the Exchange 2013 spam filter?
Does an email continuity service exist in the event of downtime?
Can independent testimonials be provided by the service provider?
Other factors will need to be considered depending on an organization´s individual circumstances. Smaller organizations with limited IT resources may have concerns about the maintenance overhead, while larger organizations may want their Exchange 2013 spam filter to include APIs to integrate the solution with third party management software.
| Comparison Table | Exchange 2013 | SpamTitan |
| --- | --- | --- |
| Spam Capture Rate | <99.50% | 99.97% |
| Genuine Emails Blocked | Variable | 0.03% |
| Choice of Reporting Options | Variable | Comprehensive |
| Antivirus Software | Microsoft | Dual Protection |
| Email Continuity | Yes | Yes |
| Deployment Options | Cloud Only | Cloud/On-Premise |
| Customizable Policies | No | Yes |
| Sandboxing | No | Yes |
| Greylisting | No | Yes |
| Phishing Protection | $24 per user/year | Included |
| Dynamic Link Following | No | Yes |
Exchange 2013 Spam Filters for MSPs
Managed Service Providers (MSPs) with clients using Microsoft Exchange 2013 will be particularly interested in the hosting options, the email continuity service and whether or not the Exchange 2013 spam filter supports multi-tenanting. If so, the MSP should enquire whether administration and reporting is "per domain".
Outbound scanning will also be a consideration if the MSP´s clients share an IP address, as will a flexible pricing model to address increases and decreases in demand. Also on the list of things to consider when conducting an Exchange 2013 spam filter comparison is whether or not the filter is available as a white label product for rebranding.
Spam Filtering Solutions from SpamTitan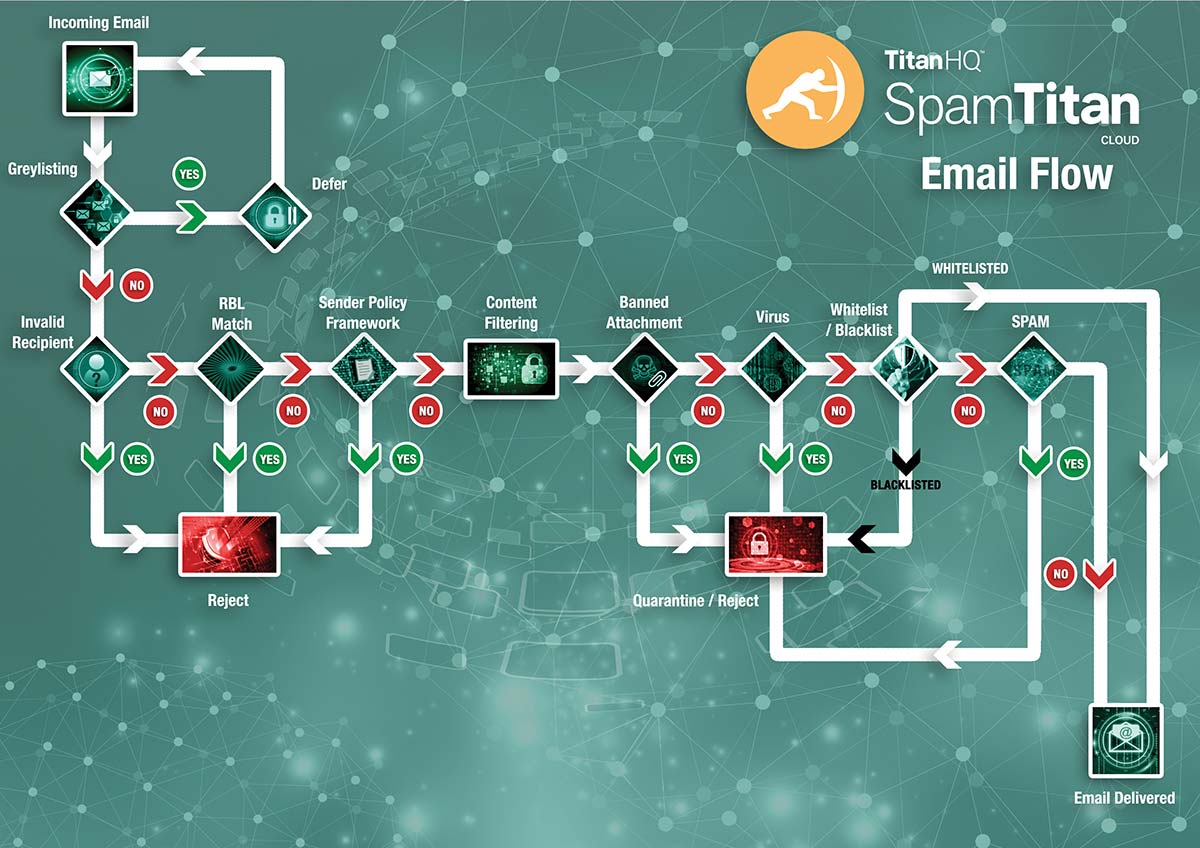 Click to View
SpamTitan has been developing email and web security solutions since 1999. More than 5,000 customers use our spam filtering solutions to prevent spam emails increase their protection against malware. We offer two options suitable to use as an Exchange 2013 spam filter – "SpamTitan Gateway" and "SpamTitan Cloud":
SpamTitan Gateway is a virtual appliance that is easily installed between your firewall and your Microsoft Exchange Server. It is a powerful Exchange 2013 spam filter that equips system administrators with extensive tools to control the flow of email, and protect against unwanted email and malware.
SpamTitan Cloud is a cloud-based Exchange 2013 spam filter that is quick to implement with a small change to your mail exchanger (MX) record. With virtually no maintenance overhead and a choice of three hosting options, SpamTitan Cloud is one of the most versatile spam filtering solutions available.
Both spam filtering solutions block 99.97% of spam email and return a low false positive percentage of 0.03% according to the leading independent testing and certification body VB Bulletin. System administrators have the choice of tagging spam emails, quarantining them, or automatically deleting them – with recovery options also available in the rare case of a false positive.
SpamTitan Gateway and SpamTitan Cloud both have dual anti-virus protection driven by the top-rated Bitdefender and Clam AV, while our email continuity service ensures the flow of communications during downtime or a server outage. Outbound scanning, sandboxing, real-time dynamic link following, and greylisting are included by default in our spam filtering solutions.
For MSPs, both Exchange 2013 spam filters are multi-tenanted solutions with per domain administration and reporting, and both are available as white label products for rebranding. As a market leader in the MSP category, SpamTitan naturally provides a flexible pricing model, but before talking about prices, why not try SpamTitan´s email filtering solutions for free
Try SpamTitan´s Email Filtering Solutions for Free
Although we are happy to provide independent testimonials, we believe that the best way to evaluate the benefits of an Exchange 2013 spam filter is to try one of our spam filtering solutions in your own environment. In this respect, we invite you to try SpamTitan Gateway or SpamTitan Cloud free for fourteen days – depending on which is the most suitable solution for your organization´s individual circumstances.

One of our friendly and experienced engineers will answer any questions you may have about an Exchange 2016 spam filter and guide you through the installation and configuration process for the most suitable of SpamTitan´s email filtering solutions.
Our offer includes fourteen days free access to a fully-enabled service, with comprehensive customer and technical support. We do not ask for any commitment to continue with our service once your trial period is over; but, if you agree that SpamTitan´s Exchange 2013 spam filter prevents spam emails that Microsoft is unable to catch and increases your protection against malware, we have a range of pricing plans available to suit every size of organization and every budget.
Microsoft Exchange 2013 Spam Filter: FAQ
How common is spam?
Estimates vary, but anywhere between 50-85% of all emails sent annually are spam emails, with the majority originating in Russia. This figure may be hard to believe, but that is a testament to the efficacy of spam filters, which drastically reduce the amount of spam entering email inboxes. Even so, spam still poses a threat to productivity.
What are the dangers of spam?
Spam emails is a major conduit of malware. Spam emails often have attachments that may contain viruses, adware, ransomware, or other malware that can have devastating effects on businesses. Companies can pay millions of dollars to recover files held hostage by ransomware, and adware can prevent employees working productively. If an employee falls for a phishing attack, they may hand over business credentials to unauthorized individuals who can then access private information. As well as the financial and reputational damage associated with these attacks, the business may also be subject to State- or Federal penalties if private client data was leaked.
What are the benefits of the MX 2013 Spam Filter over Microsoft's proprietary spam filters?
Microsoft does implement some spam detection filters that can prevent malicious emails from entering employees' inboxes. However, these protections are less sophisticated than the MX 2013 Spam Filter, which uses the latest techniques to identify and block spam emails. Microsoft's own spam filter can let through 2-3% of spam, resulting in millions of unwanted – and potentially dangerous – emails landing in inboxes every day. SpamTitan's Spam Capture Rate is 99.97%, greatly reducing the amount of spam getting through filters.
What are "sandboxing" and "greylisting"?
Sandboxing prevents unwanted emails from entering inboxes by opening attached files in a "safe" environment and testing them for malware. If malware is detected, the email is blocked.
GreyListing is a way of checking whether or not suspicious emails are legitimate or spam. The email will temporarily be rejected, and a request will be sent to the original server that sent the email. As spam email accounts are constantly sending emails, it will be too busy to respond to the request and if a certain amount of time has elapsed, the email will be blocked. This allows the spam filter to block emails from senders that might not yet appear on the blacklist.