Almost every email service includes a default spam email filter of some description. So why would a business need to implement a secondary email spam filter to block unwanted emails and potential risks? The most compelling reasons are the volume of spam email that still evades detection, the time spent dealing with spam email, and the risk that an infected spam email is opened in error.
Individually, the volume of spam email that evades detection by a default spam email filter may not amount to a lot – maybe four of five per employee per day. However, each spam email takes four or five seconds to identify and delete. If you multiple the four or five seconds by a thousand email users, the time taken to deal with spam email can equate to hundreds of days of lost productivity each year.
Furthermore, each spam email that evades detection by the email spam filter can potentially be a phishing email, or harbor malware or ransomware. A security-conscious employee may be able to spot each potentially unsafe email as it arrives but, within a network of a thousand email users, the risk that an infected email is opened in error increases a thousand-fold. For these reasons it is important to reduce the volume of spam email to the minimum amount possible.
SpamTitan´s Business Spam Email Filter Detects 99.97% of Spam Email
SpamTitan´s spam email filter has a verifiable spam detection rate of 99.97%. This exceptional detection rate places SpamTitan among the top online security solutions for blocking email-borne threats such as phishing, malware and ransomware. However, it is not by accident that our spam email filter detects a higher percentage of spam email than other spam filtering solutions.
Like most spam filtering solutions, SpamTitan uses a combination of Real Time Blacklists and SURBL filters to detect spam emails from known sources of spam. Our spam email filter also supports recipient verification to reject emails sent to non-existent email accounts, and allows system administrators to apply Sender Policy Frameworks in order to identify spoofed emails. What sets the SpamTitan email spam filter apart from other spam filtering solutions is a process known as "greylisting".
In the greylisting process, every incoming email is rejected and returned to the mail server from which it originated with a request for it to be resent. In most instances, the email is returned within seconds. Spammers´ mail servers however tend not to respond to the request due to being too busy, and the email is never resent. By eliminating spam emails from new sources of spam as well as known sources of spam, SpamTitan reduces the volume of spam email a business receives to the minimum possible.
SpamTitan is Not Only Effective, but Easy to Use as Well
The high spam email detection rate is achieved with the minimum amount of effort by system administrators and IT personnel. SpamTitan´s email spam filter comes in a choice of deployment options which are quick to implement, have no set-up costs and are updated automatically. As our email spam filter is managed via a central administrative portal – rather than as a per-client solution – it has practically no maintenance overheads.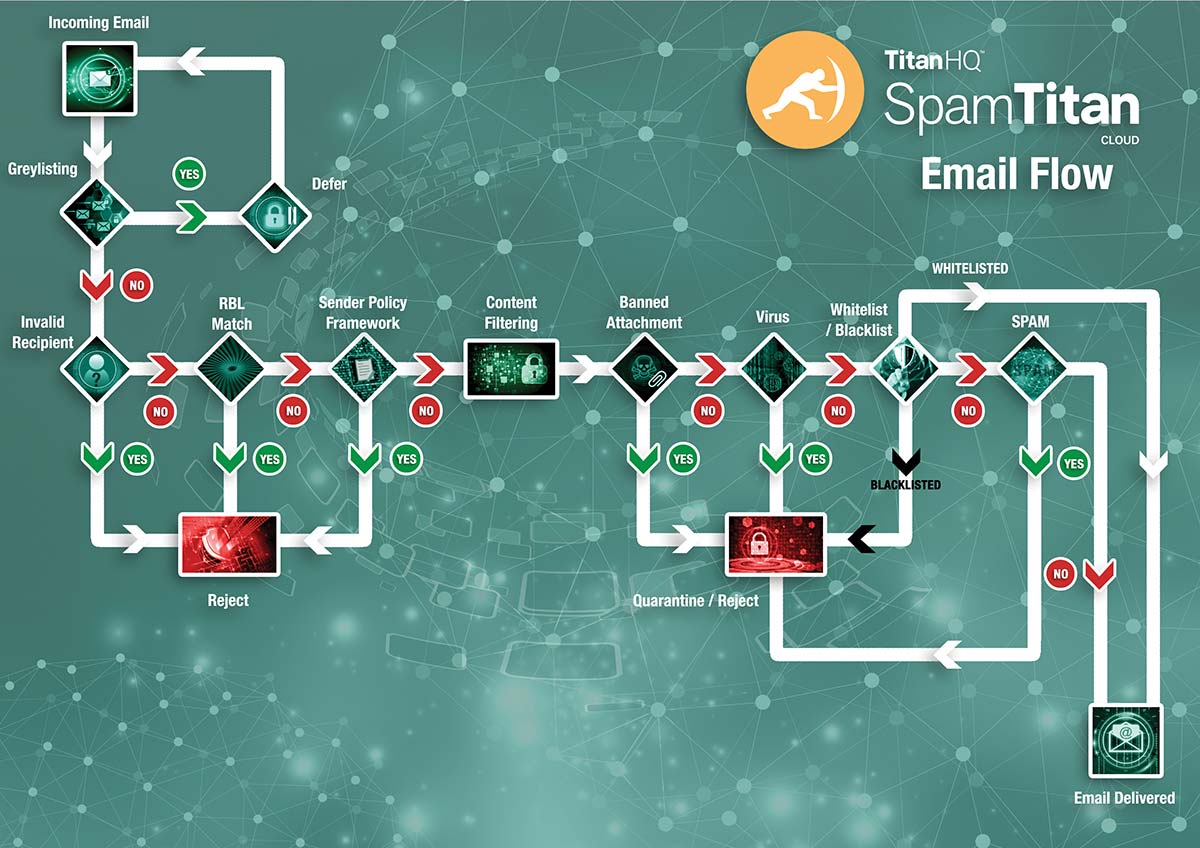 Click to View
User policies and acceptable spam thresholds can be applied and adjusted as necessary via the email spam filter portal´s intuitive interface, through which it is possible to whitelist or blacklist specific email addresses and schedule quarantine reports to identify emails not forwarded to their intended recipients. Depending on the size and nature of the network (SpamTitan supports an unlimited number of users and multiple domains), administrative control can be set-up at user, domain or group levels.
Our email spam filter can also be set-up to scan outbound emails. This can have multiple benefits for a company if a virus has been inadvertently introduced into the network, or if a cybercriminal compromises a company email account to use it to send spam and phishing emails. The early identification of a virus or compromised email account can prevent the company's IP address – and potentially its website – being blacklisted by other email filtering solutions.
Augmenting the Office 365 Email Spam Filter
Microsoft Office 365 includes a basic email spam filter at no additional cost called Exchange Online Protection (EOP). EOP is a reasonable spam filter that will block around 99% of spam email, but it is not as effective at blocking phishing emails. One study conducted by Avanan in 2019 revealed a quarter of phishing emails were not blocked by the Office 365 spam email filter and were delivered to inboxes. That level of protection is insufficient for many businesses.
You can improve the Office 365 email spam filter with ease with SpamTitan. SpamTitan integrates seamlessly with Office 365 and provides additional protection against phishing emails. SpamTitan also includes a Bitdefender-powered sandbox for analyzing suspicious email attachments that pass checks by the two antivirus engines. Email attachments are sent to the sandbox for in-depth analysis to identify any malicious actions such as command and control center call backs. The sandboxing feature is important for detecting zero-day malware threats – Threats that have yet to have their signatures added to the definition lists of the AV engines.
Take a Free Trial of Our Email Spam Filter
If you have concerns about the volume of spam email entering your email system, and you would like to reduce the volume of spam email to the minimum amount possible, you are invited to take a free trial of our email spam filter to witness its high spam detection rate and ease of use in your own environment. Implementation of our "Gateway" or "Cloud" solutions is both quick and easy and within minutes you could be protecting your network against the threat from phishing, malware and ransomware.
To start your free trial of the SpamTitan business email filter, simply click on the "Start Free Trial" button at the top of the page. Alternatively you are welcome to contact us with any questions you have about our email spam filter or to discuss your requirements with our team of Sales technicians. We also invite inquiries from Managed Service Providers, for whom a white label version of SpamTitan and a range of hosting options are available.
FAQs
What is IP address filtering?
IP address filtering is a method of controlling who can send emails to your organization. You can blacklist certain IP addresses that are being used to send spam, phishing emails, or malware. When an IP address is identified as being used for sending malicious emails it is automatically added to a blacklist. Administrators can set controls over what happens to messages from certain IP addresses: deliver, quarantine, or reject.
What are layered defenses and why are they important for blocking phishing emails?
The term layered defenses is often used in cybersecurity. It means using multiple, overlapping layers of security. If one element fails to block a phishing email, there will be other layers of protection that will block the threat. This is especially important for blocking sophisticated and zero-day phishing attacks. SpamTitan includes many different layers of protection and can also be combined with other solutions – such as web filters – to provide greater protection.
Why are my emails being marked as spam?
There are several reasons why emails may be marked as spam. Oftentimes it is due to "spammy" content, such as including excessive links in emails. It may also be because your IP address has been added to a blacklist, which can happen if your IP address, email account, or domain has been reported for sending spam. This can be a problem for businesses and is one of the reasons why outbound email filtering is important – to prevent spamming from your domain and having your domain/IP address blacklisted.
Will a spam filter block 100% of spam email?
It is possible to configure your spam filtering solution to be very aggressive and block all spam email, but there is a tradeoff. Highly aggressive filtering will see some genuine emails misclassified as spam and sent to the quarantine folder where they will remain until released. SpamTitan has been independently tested and shown to block more than 99.97% of spam email, with a false positive rate of just 0.03%. You can tweak spam thresholds to be more aggressive if you wish.
How does SpamTitan block zero-day malware threats?
SpamTitan uses dual antivirus engines to block known malware threats and sandboxing is used to identify new malware threats that have yet to have their signatures uploaded to the malware definition lists. Suspicious email attachments that pass the AV checks are sent to the sandbox where they are subjected to in-depth analysis to identify potentially malicious activity.
Does greylisting delay the delivery of emails?
Greylisting is an important mechanism for detecting new sources of spam, but since the process involves rejecting an email and requesting it be resent, there will be a small delay in receiving some emails. One way to avoid this is to use whitelisting for trusted IP addresses and domains. This will ensure messages from those IP addresses/domains are not subjected to the greylisting process.
SpamTitan is a multi-award-winning email protection, spam filtering, and email filtering solution.