Anti-Spam Solutions for Managed Service Providers
SpamTitan is the ideal anti spam software for Internet Service Providers, System Integrators and Managed Email Service Providers. In addition to providing the highest levels of spam and malware protection, SpamTitan has a number of features developed specifically for companies offering managed email services.
Why SpamTitan for Service Providers?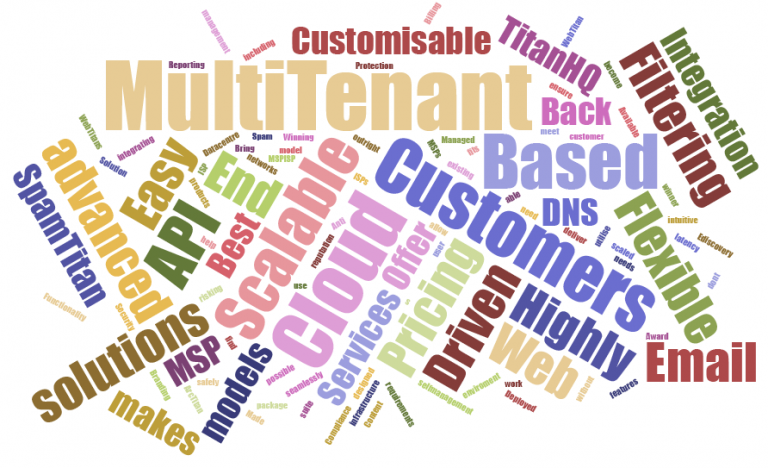 Zero-Day Threat Protection
Dual antivirus engines provide signature-based protection against 100% of known malware, while sandboxing allows in-depth analysis of suspicious attachments to identify zero-day malware threats. Spam and malware protection are externally validated each month.
Unlimited Number of Users and Domains
An unlimited number of domains can be entered and configured on our anti spam software as a single file – allowing you to migrate from an existing spam filtering solution to SpamTitan without interruptions to your service or having to complete the painstaking task of having to re-enter each domain one by one. There are no limits on the number of users – the solution will scale to meet your needs.
Easy Integration into Management Solutions
TitanHQ has an extensive set of APIs to allow service providers to integrate SpamTitan into third-party management products and MSPs infrastructure.
Per Domain Administrators
Per domain administrators can be created for each hosted domain, giving each administrator the ability to manage elements of their own email – including search and release from quarantine, the creation of unique whitelists and blacklists, domain-specific reporting, and domain history view.
By creating the administrators for each hosted domain, the support overhead for your managed service is reduced.
SpamTitan is designed with the lowest management overhead possible thus ensuring Total Cost of Service is kept to a minimum, which is essential in such a highly competitive market.
A full suite of reports can be set up for each domain including license count, mail usage, spam reports, etc. These can be created by the SpamTitan administrator or by the local domain administrator depending on requirements.
Extensive Drill Down Reporting
SpamTitan integrates with Active Directory allows detailed end user reporting. Comprehensive reports can be created on demand or via the scheduled reporting options.
Customers will always have up-to-the-minute protection thanks to automatic updates. The solution will not add to your patching burden.
You can rebrand SpamTitan with your logos and information to ensure your customers are continually reminded of the excellent services you provide. SpamTitan is available as a full white label software solution.
SpamTitan's pricing model gives the flexibility service providers need. Customer numbers often fluctuate when offering managed mail services. You also benefit from monthly billing to match your billing cycle.
SpamTitan Cloud can be hosted within our own private cloud, or if you prefer, you can host the solution within your own data center.
SpamTitan is offered to MSPs with generous margins. Helps you generate regular, recurring revenue from your clients.
World Class Customer Support
Our experienced engineers will help set up the solution and configure it in line with industry best practices. If you experience any issues, you benefit from industry leading customer support at no extra cost.
Summary of Benefits for Managed Service Providers
The best virus protection – Dual AV engines and sandboxing
Inbound and outbound email scanning with IP domain protection
Data loss protection
Advanced zero-day threat protection
Unlimited number of domains
Easy integration with management solutions
Multi-tenant solution with multiple management roles
Reduces workload
Low management overhead
Per domain reporting
Automatic updates
Scalable to thousands of users
Fully customizable – White label provided ready to take your branding
Can be hosted in our private cloud or your own data center
Flexible pricing model
Industry leading customer support
Join the TitanSHIELD Program for MSPs
TitanHQ is committed to delivering world class network security solutions to our MSP partners. The TitanShield MSP Program allows MSPs to take advantage of TitanHQ's proven technology so that they can sell, implement and deliver our advanced network security solutions directly to their client base.
Join the TitanSHIELD program and you will benefit from partner support, a dedicated account manager, assigned sales engineer support, access to the global partner program hotline, access to the partner knowledge base, 24/7 priority technical support, 5 a.m. to 5 p.m. (pst) technical support, online technical training and FAQs, access to partner technical knowledge base, and extensive sales and marketing resources for all TitanHQ solutions.
Try SpamTitan for Free
If your company offers a managed email service, you are invited to try SpamTitan for free to assess performance and ease of use. Internet Service Providers, System Integrators and Managed Email Service Providers are in an ideal position to evaluate our anti-spam solution for Managed Service Providers, as SpamTitan can be trialed alongside existing anti-spam solutions to achieve a like-for-like comparison.
For further information on our anti spam solution for Managed Service Providers, to schedule a product demonstration, and to register for a 14-day, no obligation free trial, give the TitanHQ channel team a call today.
A recent market study by HTF Market Intelligence predicts there will be "phenomenal growth" in the web filtering service market over the next six years. HTF Market Report is a global research and market intelligence consulting organization and a brand of HTF Market...
FAQs
How does spam filtering for MSP differ with SpamTitan?
Our email filtering service for MSPs has been developed by MSPs for MSPs. We understand the features MSPs need from a spam filtering service and several features that other anti spam service providers do not, including the option of having the solution in white-label form, providing multiple hosting options, flexible pricing with monthly billing, a dedicated account manager, assigned sales engineer support, and generous margins to help you improve the profitability of your business.
Can SpamTitan be Integrated into other management products?
TitanHQ provides an extensive set of APIs that can be used to seamlessly integrate the solution into third-party management products and MSPs' existing backend systems. MSPs are busy enough as it is dealing with customer support issues. They do not need to have to wrestle with cumbersome systems. All of TitanHQ's MSP-focused products have been developed to be easy to use and save MSPs valuable time.
Are there any hidden costs with MSP spam filtering?
Not with SpamTitan. SpamTitan pricing is simple and totally transparent, but that is often not the case with other service providers. One common issue arises from MSP's fluctuating seat numbers. SpamTitan will grow and shrink with your business, so you will only pay for capacity you need. We also offer monthly billing to match your cycle.
What is SpamTitan sandboxing?
When emails pass front-end checks, including scans using two leading antivirus engines, suspicious emails are sent to the Bitdefender-powered sandbox for in-depth analysis. AV engines detect known malware threats, whereas the sandboxing feature provides protection against zero-day threats for which signatures have yet to be obtained and added to AV engines.
What is SpamTitan Plus?
SpamTitan Plus is a premium product that includes AI-driven time-of-click protection from phishing URLs linked in emails and has the lowest false positive rate of any feed. SpamTitan Plus provides 100% coverage of all current market-leading anti-phishing feeds, increases detections of unique phishing URL detections 1.5 times, and phishing URL detections are 1.6x faster than current market leaders. It is phishing protection on steroids.